STRONG bidding activity continued to be seen on AuctionsPlus this week in the wake of widespread rain, with clearance rates finishing at 85 percent.
Significant price increases on some stock categories were also seen, with cow & calf units increasing by $280, and steers in the 200-280kg range averaging 366c, up 37c up on the week before. The effect of recent rainfall was seen particularly in the Northern Tablelands, NSW which topped as the largest purchasing region with more than 1500 head moving back into the region.
Cattle numbers saw a rise of almost 2000 head to total 7648 head this week.
This week saw cow and calf offerings halve; however the smaller offering saw another jump in prices, with the average for cows & calf units increasing by $280 to total $1643. Sales ranged from $1100 to $2050, for an 82pc clearance.
From Strath Creek, VIC a line of 25 Angus cross cows and 27 calves achieved the top price, finding a buyer in North East VIC. The nine-year-old cows averaged 615kg, while the Angus-sired calves at foot were 5-6 months old and average 216kg.
From Moss Vale, NSW, a line of 25 Angus cows 5-8 years averaging 552kg, with calves averaging 202kg sold for $1830 to a buyer from Yambuk, VIC.
Queensland highlights saw 5-6 year old Angus cross cows & calves from Chinchilla sell for $1570.
PTIC cows achieved a 100pc clearance this week, although numbers were in shorter supply. Prices ranged from $1390 to $2350 to average $1649.
From Balhannah, SA a line of registered PTIC Angus cows from Ravenswood Cattle Co sold for the top price. These cows were 32-34 months old averaging 607kg and will remain in SA. The same vendor offered two lines of PTIC Angus cows which both sold for $2030 and a line of Angus station-mated heifers which returned $1750.
From Mansfield, VIC a line of rising five year old PTIC Poll Hereford cows returned $2050. The line was part of an Autumn herd dispersal from TRT Pastoral Group, totalling 297 PTIC females which achieved a 100pc clearance averaging $1758.
PTIC heifers sold from $1150 to $1890 this week, averaging $1571 and returning an 80pc clearance, steady on last week.
The top price was returned by a line of rising three year old Angus PTIC heifers from Mansfield, VIC offered in the TRT Pastoral dispersal. The heifers were 32-34 months averaging 533kg and PTIC to Te Mania bulls, and were secured by a buyer across the border at Albury, NSW.
From Wongwibinda, NSW a line of 40 Angus PTIC heifers 30-31 months averaging 448kg sold for $1710.
Light steers less than 200kg sold from 343c to 447c this week, averaging 388c, 6c down on last week.
A line of 81 Angus steers averaging 168kg from Goulburn, NSW sold for the top price. Other highlights included 220 Santa cross steers, 5-8 months 186kg from Consuelo Cattle Co, Rolleston, which return 387c. Their 222 sisters, slightly older at 9-12 months averaging 192kg, sold from 302-320c/kg.
Steers 200-280kg increased again this week to average 366c, a rise of 37c on last week, with prices from 279c to 409c. From Goulburn, NSW Angus steers 212kg returned the top price; from Walcha, NSW Angus cross steers 258kg sold for 389c; and from Springsure, QLD Black Simmental composite steers 316kg returned 316c.
Steers 280-330kg ranged from 299c to 409c this week, averaging 329c, up 25c on last week. Top price was returned by a line of 31 Millah Murrah blood Angus steers, 281kg from Bathurst, NSW.
A line of Gilmandyke and Clunie Range blood Angus steers 290kg from Coonabarabran, NSW sold for 344c and from Seymour, VIC, a line of Angus steers 316kg sold for 316c.
Heavier steers 330-400kg averaged 326c this week, down 3c on last week, selling from 296c to 350c. Top price was returned by a line of Landfall blood Angus steers 365kg from Castra, TAS while from Greta, VIC a line of 37 Angus steers 332kg sold for 335c.
Steers more than 400kg sold from 297c to 311c this week, averaging 309c, down 11c on last week. From Vasey, VIC a line of Te Mania blood Angus feeder steers achieved the top price.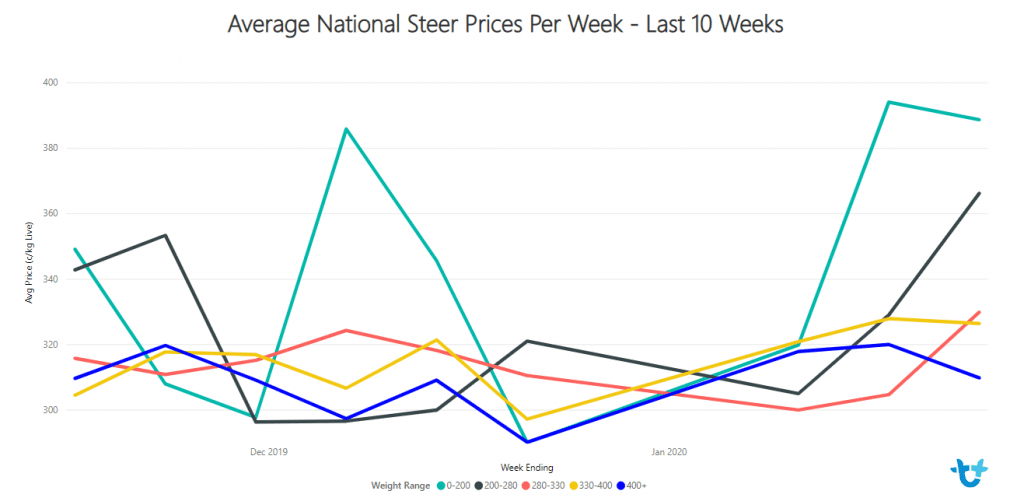 Light heifers less than 200kg sold from 297c to 542c this week, averaging 390c, up 34c on last week. Included was a line of Hazeldean Angus heifers 140kg from Cooma, NSW achieving the top price; while from Condamine, QLD a line of Angus cross heifers 145kg sold for 358c to a NSW buyer.
Heifers 200-280kg saw prices range from 231c to 359c this week, averaging 308c, up 12c on last week. Returning the top price was a line of Angus heifers 269kg from Coonabarabran, NSW, while in TAS, Poll Hereford x Angus heifers 263kg sold for 231c.
Heifers in the 280-330kg range averaged 300c, up 32c on last week and sold from 252c to 312c. From Gilgandra, NSW a line of Angus cross heifers 304kg achieved the top price. Other highlights include Angus cross heifers 280kg from St George, QLD which sold for 291c to a NSW buyer.
Heavier heifers 330-400kg sold from 268c to 316c, averaging 300c, a rise of 23c on last week. Top price was achieved by a line of Angus heifers 347kg from Mollyan, NSW. From Seymour, VIC Angus feeder heifers 399kg sold for 276c.
For heifers weighing above 400kg, a single price of 283c was returned for a line of 91 Reiland blood Angus 459kg from Brungle, NSW.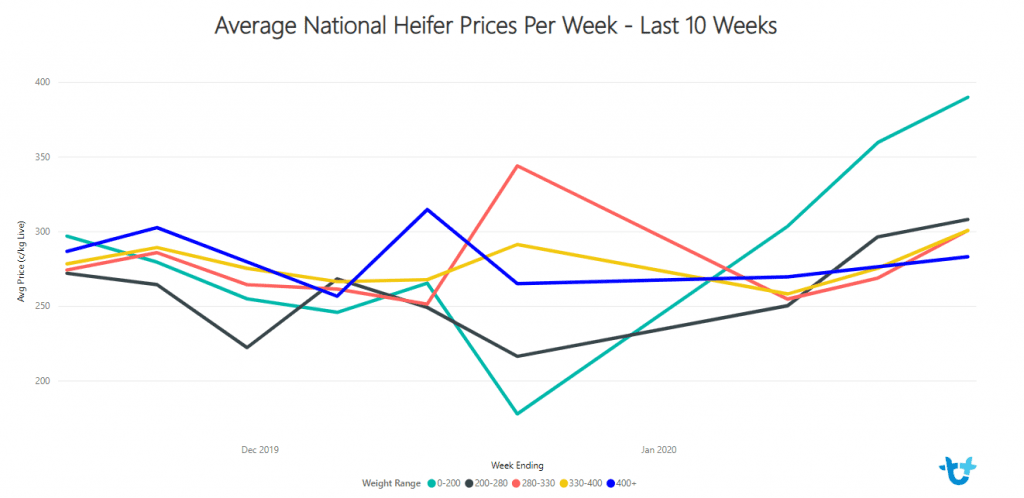 In a breakdown of young cattle sold this week, by weightrange:
Less than 200kg: Steers sold from 343c to 447c/kg to average 388c; heifers sold from 297c/kg to 542c/kg to average 390c/kg
200-280kg: Steers sold from 279-409c to average 366c, while heifers sold from 231-359c to average 308c
280-330kg: Steers sold from 299-351c to average 329c, while heifers sold from 252-312c to average 300c/kg
330-400kg: Steers sold from 297-311c to average 309c, while heifers sold from 268-316c to average 300c
+400kg: Heifers sold for 283c/kg.
Source: AuctionsPlus