WHAT does the future hold for southern cattle prices following an extremely bright start to Ballarat's annual sales?
Big money was needed to secure cattle with PTIC heifers topping at $3750 per head, and commercial two year old cows with calves at foot commanding up to $4400 per unit.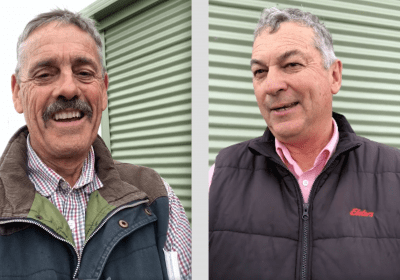 While it's clearly a lot of money, veteran Ballarat auctioneer Graeme Nicholson from Elders added some context to the market in a video interview with Murray Arnel after the sale.
"We all think it is a lot of money, but I think the actual changeover to quality young females out of your old cast for aged cows is still where it should be," Mr Nicholson said.
Expanding on his point, he said that while some heifers did make up to $3750, a lot of good heifers also made from $2500 to $3000.
"And I think anyone that has got the ability to change into good young cattle, this a great time to do it and buy quality cattle."
Mr Nicholson said a number of factors were putting a solid base of confidence into the market.
Southern breeders had received good money for their weaners, and with that money in the bank they were now confidently investing back into their herds.
Good seasonal conditions and low cattle numbers also meant there was more confidence now about where the industry and market is likely to be in 12 month's time.
"This year we've got feed, everyone has got a shed full of hay, even though it is dry grass every paddock is full of dry grass, so there is somewhere to go to get stock through to next year, and numbers aren't great."
Next week Ballarat will yard grown and weaner heifers followed by steers the following week.
Such is the demand for female cattle at present that Mr Nicholson predicted that heifers in some places will make make more per kilo than the steers.
Also coming up at Ballarat, Nutrien will conduct its annual grown steer and weaner sale on February 26 where a yarding of 4500 cattle is expected – for more information click here to watch Murray Arnel's interview with Xavier Shanahan.
To watch Murray' s full interview with Graeme (5 mins 23 secs) click on the video below:
https://www.facebook.com/eldersstudstock/posts/2903440226608142