PERSISTENT dry conditions saw steer prices in most weight categories trend downwards again this week on AuctionsPlus, while heifer market trends were mixed.
Commercial cattle numbers were down this week to total 7058 head with a national clearance rate of 50 percent, down 2pc from the previous week.
Steers and unjoined heifers were the best represented stock categories, making up 33pc and 35pc of listings respectively. Joined females made up 19pc or 1353 head, while cows with calves at foot and mixed sex lines made up 6pc each.
At auction, Queensland listings experienced a 38pc clearance rate, while New South Wales vendors recorded a healthier 54pc clearance. Things were looking brighter in Victoria and South Australia, where the best of the recent rain has fallen, with 72pc and 82pc clearance rates respectively.
Across the Bass Strait, competition was hot, with the Tasmanian cattle sale obtaining a 100pc clearance, all lots remaining on the island.
Cows with calves at foot sold this week averaged $1835. The top price of $2350 was paid for two lines of Angus cows and calves offered by Bruce Scott and Son, Hagley, TAS. These 3-9 year old cows had Landfall Angus sired calves at foot and have been joined back to Landfall bulls.
On the mainland, a line of eight-year-old Angus cows from Wallandoon Pty Ltd, Wallendbeen, NSW, sold for $1675. Another line of 47, four-year-old Poll Hereford cows and calves from Coolabah, Young, NSW sold for $1625.
PTIC heifers reached a top of $1700 and averaged $1392 this week. This top price went to a line of Angus/Friesian heifers joined to Blonde D'aquitaine bulls. The vendor, Londrigan, Wangaratta, VIC also had another similar line that sold for $1660.
PTIC cows sold to a $1304 average and reached a top of $1655 this week for a line of 72 Angus and Angus cross cows, 3-4 years, mated to Angus bulls, hailing from Wyaga, Goondiwindi, QLD.
In a breakdown of young cattle sold by weight range this week:
Steers less than 250kg sold from 333c to 380c/kg to average 361c; while heifers sold from 316-353c to average 336c
Steers 250-300kg sold from 304-366c to average 329c; while heifers sold from 252-330c to average 291c
Steers 300-350kg sold from 312-322c to average 318c; while heifers sold from 271-371c to average 313c.
Heifers +350kg sold from 326-328c to average 327c.
Steer highlights:
36 Ultra Black/Brangus steers 8-11 months, 323 kg, from Mundubbera, QLD made $1040/322c
100 Angus steers 10-12 months, 201 kg from Goondiwindi, QLD made $765/380c
51 Angus steers  9-12 months 345 kg, from Coonabarabran, NSW made $1075/312c
54 Charolais x Shorthorn steers, 7-9 months 152 kg, from Moree, NSW made $575/377c.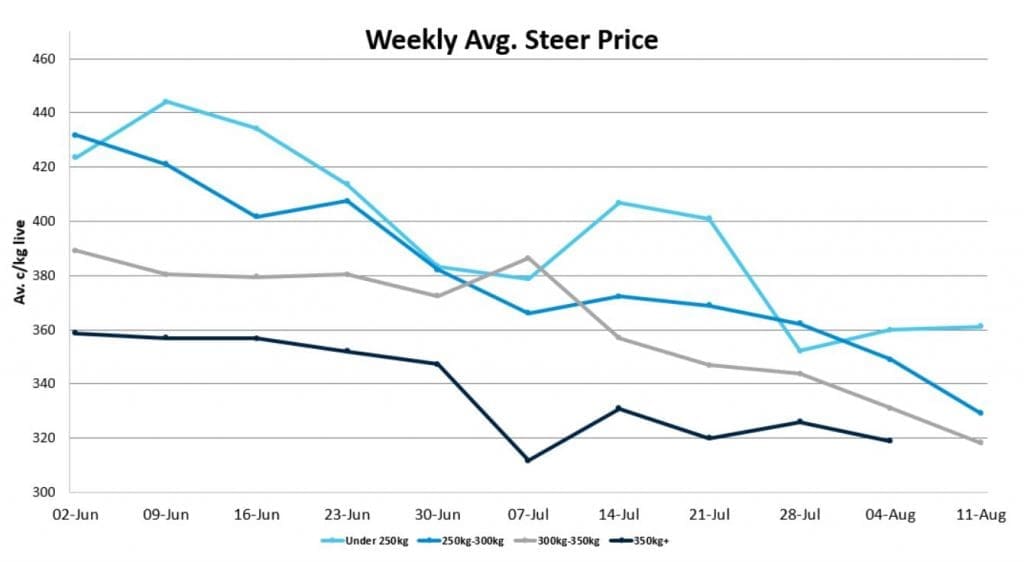 Heifer highlights:
67 Shorthorn/Shorthorn x heifers, 312 kg, from Talwood, QLD made $900/288c
38 Santa Angus/Droughtmaster x heifers, 191kg from Rockhampton, QLD made $610/320c
120 Angus heifers 10-12 months, 323 kg, from Coonabarabran, NSW made $1200/371c
50 Angus heifers, 10-11 months 253 kg, from Niangala, NSW made $835/330c
86 Angus heifers, 10-11 months 214 kg, from Omeo, VIC made $755/353c
30 Angus heifers, 14-15 months, 427 kg, from Hagley, TAS made $1400/328c.
Click here to view Friday's AuctionsPlus market snapshot video on Facebook, guest-presented by Beef Central's Jon Condon. His prediction about interbreed champion bull at the Brisbane Ekka came true, just minutes after this segment was shot.