CATTLE numbers soared this week to 11,774 head, up 27 percent or 2529 head on the week before.
The three Eastern States sales represented the largest cattle listing since mid-June, attracting strong bidder interest, with an average of 286 bidders logging into each auction.
Most steer and heifer weight categories trended downwards in price this week. Feeder and backgrounder weight cattle were well-represented in listings, with heavy feeder weight cattle actively sought-after by grass finishers.
Angus steers from Wycheproof, VIC weighing 415kg made 328c, heading to Mount Gambier, SA. Similarly, Angus steers from Holbrook, NSW 438kg also made 328c and were purchased out of Mansfield, VIC, while Angus steers 364kg from Bethungra, NSW averaged 311c.
Black cattle aside, other feeder-weight cattle were well represented. Charolais/Santa steers 389kg from Ballandean, QLD sold for $1205 or 310c.
Among larger lines out of Queensland, while Australian Agricultural Co offered 340 Gulf Composite flatback feeder and backgrounder steers off Dalgonally, Julia Creek. The Canobie-bred steers, surplus to AA Co's requirements, typically go into the company's 1824 brand program. The heavier feeder steers 18-24 months 402kg made 300c/kg $1205, while the lighter line averaging 366kg made 310c or $1135. The backgrounder types 18-24 months, 128 in the line, averaging 339kg made 315c or $1069. All were offered under forward contract terms.
Also in the state's northwest, from nearby Exley Station, Julia Creek, 190 Droughtmaster backgrounder steers 8-12 months averaging 224kg made $850; 200 weaned Santa steers and heifers from Winton, 4-10 months averaging 230kg and 213kg made $880 and $715 respectively; and 118 weaned Droughtmaster steers from Aramac, 7-11 months averaging 252kg made $885.
Two lines totalling 100 PTIC Brahman heifers 20-32 months, 436kg and 459kg out of Charters Towers both made $1280.
Breeding cattle
Replacement Angus heifers weighing 340kg from Tamworth, NSW, sold for $1600 or 470c. Seven to ten month old Angus heifers weighing 237kg from Hannaford, QLD, sold for $840 or 354c. While in Victoria, 10 to 12 month old Angus heifers from Bethanga, weighing 298kg sold for $1000 or 336c.
Joined females were mixed in quality this week on AuctionsPlus, averaging $1453 and selling to a top of $2280 for a line of 28 month old PTIC Angus heifers from Jugiong, NSW.
Cows and calves were well supplied, averaging $1985. The top-priced line of Limousin cows 2-9 years averaging 842kg with calves up to six months, from Deniliquin, NSW, made $2675.
A decent consignment of Blue-E cows (50pc Angus and 50pc Shorthorn) and calves from Woodstock, NSW, averaged $2033, while a line of 5-6 year old Hereford and Hereford/Shorthorn cows with their third CAF from Bairnsdale, VIC made $1800, heading south to Tasmania.
Numbers were back slightly in the WA sale this week. Yearling heifers weighing 456kg from Albany sold to $1098 or 450c/kg dressed. A line of mixed aged slaughter heifers and cows weighing 620kg sold to $1128 or 367c/kg dressed.
In a breakdown of young cattle sold this week, by weightrange:
Steers less than 250kg sold from 337c to 422c/kg to average 388c (down 10c); while heifers sold from 335-399c to average 360c (down 14c)
Steers 250-300kg sold from 323-418c to average 368c (up 3c); while heifers sold from 270-355c to average 315c (down 13c)
Steers 300-350kg sold from 269-371c to average 331c (down 19c); while heifers sold from 261-470c to average 308c (down 17c)
Steers 350kg + sold from 292-350c to average 317c (down 1c); while heifers sold from 275-381c to average 309c (down 3c).
Steer highlights
Angus steers 7 to 10 months, 290kg, from Hannaford, QLD sold for 402c/$1165
Santa Gertrudis steers 4 to 10 months, 230 kg, from Winton, QLD sold for 383c/$880
Ultrablack/Angus steers 12 to 15 months, 397kg, from Rathdowney, QLD sold for 309c/$1225
Angus steers 6 to 7 months, 231kg, from Canberra, ACT sold for 422c/$975
Angus steers 16 to 17 months, 438kg, from Holbrook, NSW sold for 328c/$1435
Brangus/Angus/Brahman steers 14 to 18 months, 292kg from Bingara, NSW sold for 292c/$1370
Angus steers 10 to 12 months, 301kg, from Bethanga, VIC sold for 371c/$1115
Hereford steers 14 to 15 months, 360 kg, from Tarwin Lower, VIC sold for 350c/$1260
Angus steers 15 to 16 months, 472kg, from Wycheproof, VIC sold for 309c/$1460

Heifer Highlights
Angus heifers 7 to 10 months, 237kg, from Hannaford, QLD sold for 354c/$840
Angus heifers 6 to 9 months, 229kg, from Bunya Mountains, QLD sold for 348c/$795
Angus heifers 12 to 20 months, 347kg, from Jackson, QLD sold for 306c/$1060
Angus heifers 12 to 14 months, 340kg, from Tamworth, NSW sold for 470c/$1600
Angus heifers 6 to 7 months, 202kg, from Canberra, ACT sold for 399c/$805
Angus heifers 13 to 14 months, 360kg, from Gunning, NSW sold for 381c/$1370
Angus heifers 10 to 12 months, 298kg, from Bethanga, VIC sold for 336c/$1000
Angus heifers 12 to 14 months, 358kg, from Bethanga, VIC sold for 328c/$1175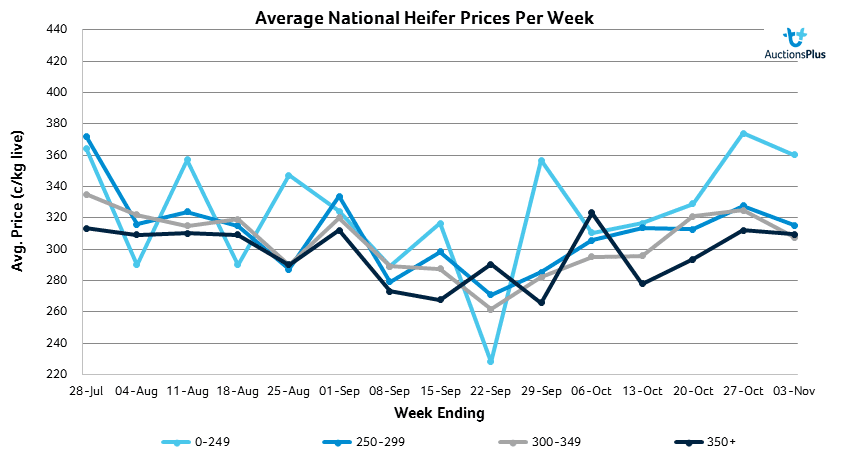 Source: AuctionsPlus