RECENT widespread rainfall across regions of Southern & Central New South Wales, Victoria and South Australia stimulated purchases on AuctionsPlus this week, resulting in a dearer market across most stock categories.
The most significant increase was achieved by PTIC heifers where category average prices leapt $237 to $1806 this week. Central Western NSW continues to exert an influence on purchasing, accounting for 3241 head this week.
Commercial cattle numbers were back this week with 20,489 head listed across the weekly sales, down 3365 head on the previous week. The reduction in numbers saw demand increase as most sales experienced strong clearance rates, averaging 83pc.
There were two feature sales in addition to the regular weekly sales this week, which boosted numbers. The Ray White Livestock Tenterfield & Warwick Weaner & Breeder Sale was held on AuctionsPlus for the first time. There were 2053 head offered across 68 lots which attracted 737 logins to the sale, and achieved 91pc clearance. In WA, there was the interfaced Nutrien Boyanup Store Cattle Sale with 1000 head offered across 125 lots. Onsite bidding was strong with 100pc clearance reached.
Demand for breeding stock has continued to strengthen as many farmers are taking advantage of feed from recent rain and trying to rebuild herd numbers.
Cow & calf units saw the highest demand of all stock categories this week, achieving 96pc clearance.
Prices soared, selling between $1560 and $3080 to average $2425, up $166 from last week. Top price was achieved by a line of 30 station mated Angus cows, 5-6 years averaging 504kg with 6-7 month old, CAF. The Te Mania Blood cows and calves were offered by S Chalker from Cowra, NSW and will travel to Wagga Wagga.
From Mansfield, VIC a line of 22 NSM Poll Hereford cows & calves sold for $3020. The Allendale/Days blood, three year old cows averaged 579kg and have 3-10 week old, CAF.
PTIC cows were also hot property this week, with 82pc of the 2278 offering sold. Prices ranged from $1200 to $2900 to average $1974, up $81 from last week. Top price featured in the Ray White Tenterfield & Warwick Feature Weaner & Breeder Sale, for a line of 44 Speriby North blood PTIC three year old Angus cows averaging 541kg offered by BJ Berridge from Tenterfield.
Another highlight was a line of four year old Angus cows, 427kg and PTIC to Angus bulls, from Wellington NSW that made $2590. From Forbes, NSW 70 PTIC Angus cows, four years averaging 459kg sold for $2450.
There was an increased offering of PTIC heifers this week with 1579 presented, up 603 head. In line with the dearer market trend, prices increased by $237, selling between $1140 and $3000, and averaging $1807.
Top price went to a line of PTIC heifers from the Woonoka Angus Stud Reduction Sale, which featured in the Eastern States Sale. There were 11 registered and 3 commercial heifers in the line, aged 16-20 months averaging 426kg and PTIC to registered Angus bulls.
From Bega, NSW a line of 21 PTIC Angus heifers 36 months averaging 578kg, returned $2510.
Young cattle
Weaners & yearlings followed the dearer market trend this week, as there were prices firm to dearer across all categories for both steers and heifers. There were 9740 steers offered with strong demand from restocker and feeder orders.
Light steers less than 200kg sold from 463c to 662c this week, averaging 550c, up 19c. Top price was offered by NB Boshammer (NB Genetics) Chinchilla, QLD, for a line of 32 Angus steers 6-7 months averaging 122kg. From Yass, NSW a line of 22 Angus steers, 7-8 months averaging 190kg, returned 588c and will travel to Narromine in Central NSW.
Steers 200-280kg averaged 470c this week, with prices firm on last week, selling from 312c and 551c. JB & EJ Boydell from Attunga, NSW offered the top priced line of 65 Angus steers, 5-8 months averaging 220kg. From nearby Wandsworth, NSW, 23 unweaned Angus steers of Millamurra blood, 7-8 months averaging 222kg, sold for 548c.
Steers 280-330kg sold from 320c to 471c this week, averaging 410c, up 4c from last week. Top price went to a line of 56 Angus and Angus X steers offered by H M Hine D T Menzies from Uralla NSW. The steers were 8-9 months averaging 300kg and will travel to Cassilis, NSW.
From Braidwood, NSW a line of 45 Angus steers with Dunoon bloodlines, averaging 289kg at 8-9 months, also sold for 471c.
Feeder steers averaging 330-400kg saw an increase in prices, selling from 328c to 438c and averaging 400c, up 34c from last week.  Ireland Farming from Condobolin, NSW achieved the highest price of the category with a line of 53 Angus and Angus x Hereford steers. The backgrounders averaging 358kg, were 11-13 months and will travel to a feedlot buyer at Jondaryan in Southern QLD.
Another highlight from Alexandra, VIC was a line of Angus steers, 8-10 months averaging 352kg, which made 436c.
Steers more than 400kg were up 9c from last week, averaged 375c. Prices ranged from 332c to 393c. Top price went to a line of 48 Hereford steers 17-20 months averaging 420kg from Bombala, NSW, which will cross the border to Barnawartha North in VIC. A line of 20 Angus and Angus X steers, 410kg at 18-19 months from Armidale, NSW sold for 386c.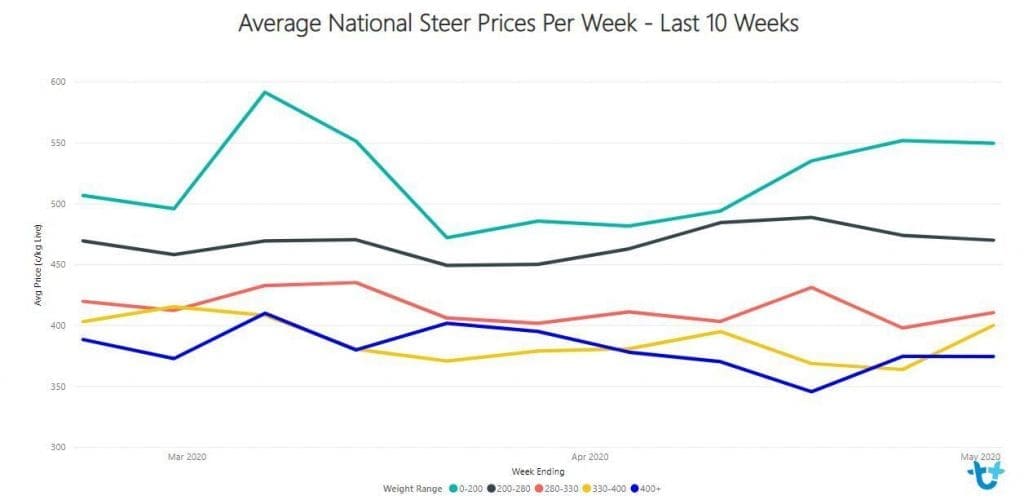 There were 4956 heifers on offer this week with 4117 head sold, achieving a strong clearance of 83pc. Light heifers less than 200kg sold from 379c and 610c to average 509c, up 33c on last week. Top price was a line of 24 Angus and Angus x heifers, 5-8 months averaging 124kg. The heifers were offered by RL, NI & J Fisher from Barraba, NSW and will travel to Dubbo, NSW.
Konongwootong Partnership from Konongwootong, VIC sold a line of 75 Angus heifers for 594c. The Hazeldean & Bongongo blood heifers were 6-7 months averaging 158kg.
Heifers in the 200-280kg range also sold to a dearer market trend. Prices ranged from 331c to 496c to average 424c, up 14c from last week. Boggy Creek Station near Glenburn, VIC achieved the top price of 496c. They offered a line of 45 Paringa Stabilizer x Angus heifers, 7-8 months averaging 228kg which will remain in VIC, travelling to Pakenham.
A line of Angus & Angus x heifers from Trunkey Creek, NSW sold for 493c. The heifers have Pine Creek and Millah Murrah Angus genetics, were 6-7 months old and averaged 240kg.
Heifers 280-300kg averaged 383c, 12c higher than last week, selling from 291c to 456c. Top price went to 39 Angus heifers 8-9 months averaging 296kg from Glenburn, VIC, which will travel north to Gloucester, NSW. A line of EU accredited Angus heifers 14-17 months averaging 285kg from Armidale, NSW sold for 427c.
Heifers suitable for the feedlot market, averaging 330-400kg, sold from 304c to 412c this week. They were the only category to experience a decrease in prices, back 4c, to average 368c. S & S Palmer from Wagga Wagga, NSW achieved the top price of 412c with a line of 36 Angus heifers. The Witherswood and Waitara blood heifers were 12-13 months averaging 342kg. From Armidale, NSW 19 NSM Charolais heifers, 17-24 months averaging 393kg, sold for 394c.
Heifers heavier than 400kg averaged 348c this week, up 9c from last week, as prices ranged tightly between 404c and 408c. Top price was returned by a line of 44 Angus heifers 18-20 months averaging 409kg from Toobeah, QLD, which will cross the border into NSW.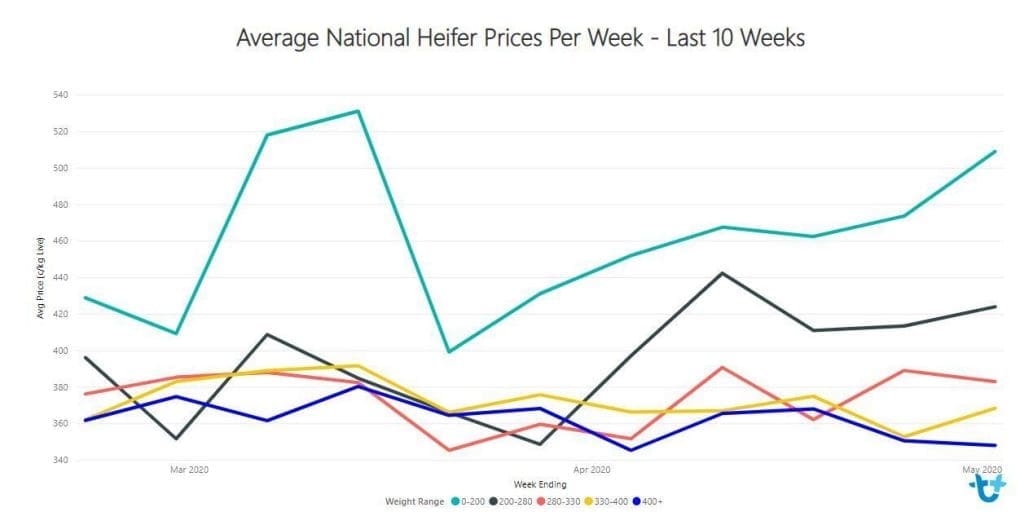 In Tasmania, numbers lifted again this week, with 526 head listed. Demand remained strong as the sale achieved 92pc clearance with 484 head sold. Of those sold, some lots will cross the Bass Strait onto the mainland, heading to regions in the Riverina & Central NSW and Northern VIC.
Some notable highlights from the sale included two lots of Angus cows with CAF offered by Bison Management of Erriba, which sold for $2250 and will travel to Yeoval, NSW. The top-priced weaners at $1570 were a run of composite weaned steers, offered by D T Cox from Nowhere Else. The 12-13 month old steers averaged 473kg.
In a breakdown of young cattle sold this week, by weight range:
Less than 200kg: Steers sold from 463-662c/kg to average 550c/kg, while heifers sold from 379-610c to average 509c
200-280kg: Steers sold from 312-551c to average 470c, while heifers sold from 331-496c to average 424c
280-330kg: Steers sold from 320-471c to average 410c, while heifers sold from 291-456c to average 383c
330-400kg: Steers sold from 328-438c to average 400c, while heifers sold from 304-412c to average 368c
400+ kg: Steers sold from 332-393c to average 375c, while heifers sold from 404-408c to average 348c
Source: AuctionsPlus