WET weather, or the lingering effects of it, again impacted on AuctionsPlus cattle numbers last week, where listings almost halved to 6318 head, including around 1300 head in a targeted feeder sale on Tuesday.
The reduction in numbers saw prices increased in some descriptions offered, while clearance rate sat at 85pc, with further post-auction sales expected to be negotiated on Friday afternoon.
Price rises were most evident among young cattle, including all weight categories, but especially so in lighter lines.
A line of 90 lightweight certified organic Droughtmaster cross steers from Nulla Agriculture in the Cunnamulla district in southwestern QLD weighing 144kg sold for 554c or $800 a head, while their 86 142kg heifer sisters made 521c or $740. Being sold due to the dry season, both went to the Blackall region, but to different homes.
In central NSW, Limousin/Angus steers from Mudgee weighing 299kg sold for 391c or $1170, and from Orange, 316kg Hereford steers made 402c or $1270.
Further south 341kg Angus steers from Hawkesdale, Victoria sold for 425c or $1450 and a heavier draft averaging 375kg made 402c or $1510, with both lines on their way to a southern feedlot.
In heifer sales, 277kg Senepol/Angus heifers from Cooma, NSW sold for 383c or $1060; Brahman heifers from Charters Towers weighing 311kg met competition from both feedlot and live export buyers, finally making 310c or $966; and 328kg Angus heifers form Young, NSW sold for 399c or $1310.
The Wagyu sector maintained recent strength last week, with a single offering each of F1 steers and heifers. The 342kg steers from central NSW sold to strong feedlot and backgrounder competition for 661c or $2260, while heifers from Glen Innes weighing 269kg sold for 619c or $1662 to a backgrounding operation.
In a breakdown of young cattle sold last week by weight:
Steers averaging less than 250kg sold from 398c to 554c to average 435c/kg, leaping 28c from last week; while heifers in the same weightrange  sold from 339c to 521c to average 407c, jumping 35c
Steers 250-300kg sold from 376c to 406c averaging 389c, up 14c; while heifers sold from 328c to 384c to average 367c, up 12c
Steers 300-350kg made 335c to 425c to average 372c, again up 14c; while heifers sold from 300c to 399c to average 346c, up 12c
Steers above 350kg sold from 360c to 402c to average 382c up 18c
Valuable forward pricing indicators for feeders
Tuesday's Targeted Feeder Steer and Heifer Sale provided some valuable forward pricing indicators, with almost 1000 Angus steers offered on a forward contract basis with a delivery specification of 380kg-500kg between late August and late October, with prices up to 365c/kg.
Top price, representing a unit cost of $1586, was paid for 75 straightbred Angus steers from Old Milong, Young NSW, 435kg at 10-15 months, currently on oats, for delivery from late August. The steers (pictured below) have been nicely set up for lotfeeders, having received pre-vaccination (single shot) of Bovilis MH + IBR.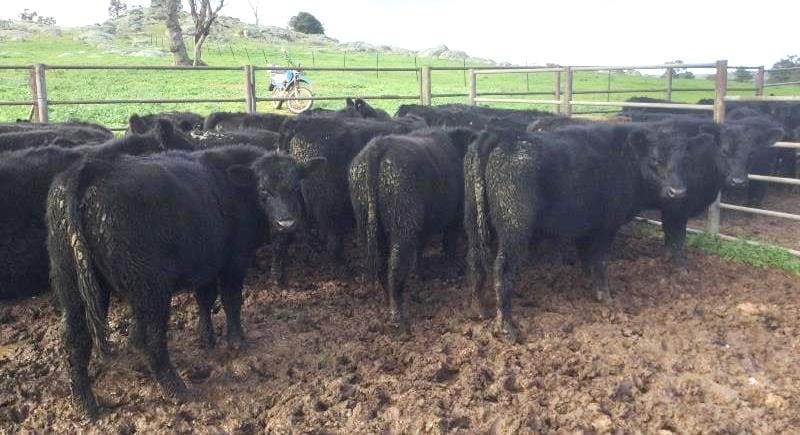 A second line of 75 similar steers from the same vendor, for late September delivery, made 361.4c, to return $1579.
A total of 47 bidders registered for the sale, including 17 feedlots, 23 agents and seven producers.
See the graph published here for a summary of the spot and forward prices paid. Keep a look-out, also, for Beef Central's upcoming regular feedlot breakeven article.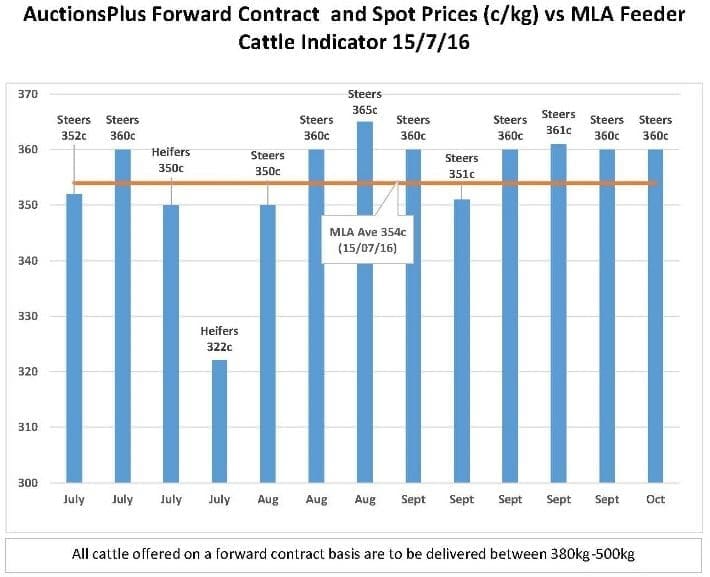 Breeder prices ease
Breeder prices in Friday's weekly sales were a little back on the previous week, though clearance rates remained high. Rising two-year-old PTIC heifers made from $1320 to $1530 to average $1385, with the top price being paid for Angus heifers from Uralla, NSW, pictured below.
Young cows up to five years of age made from $1590 to a top of $1720 for two and three-year-old cows from southern NSW. These second-calvers were Kennys Creek and Bongongo blood, and in calf back to Angus. Mixed age lines sold from $1000 to a top of $1480, with both Angus and Shorthorn cows featuring at the upper threshhold.
Cows with calves at foot were fewer in number, selling from $1435 to $2500, to average $2103. The top price was paid for Angus heifers with their first calf at foot from Holbrook NSW, featuring Kennys Creek, Hazeldean and Landfall bloodlines, with calves averaging 182kg at foot and back in calf to Angus.
Click here to access Friday's full sale results.