THERE was another big surge in AuctionsPlus listings this week, with cattle listings across all sales reaching 10,675 head – up 45 percent from numbers seen just a fortnight ago.
The surge was driven out of NSW, where vendors accounted for 78pc of this week's catalogue. NSW listing alone were up 2403 head on last week.
Continuing on the back of recent rainfall across some areas of the eastern states, buyer confidence was stronger with the average clearance across all commercial sales finishing the week at 73pc.
There was particularly strong demand for young restocker cattle, with weaner steers and heifers seeing strong returns, following trends at local markets as the ECYI has trended upwards in the last fortnight, up 7c.
Cows and calves sold from $750 to a top of $2050 this week, and averaged $1293, down $157. Top price was returned by a line of 52 station mated Angus x Hereford cows from Jugiong, NSW. These Kaludah blood cows by Bongongo Angus bulls were 3-4 years old,  and rejoined back to Bongongo bulls, with 3-5 month old CAF.
A dispersal of 185 Angus & Poll Hereford females out of Deepwater, NSW achieved a 100pc clearance in the Eastern States Sale. Highlights include the top price PTIC line of heifers of the week, returning $1400 for a line of EU accredited, Speriby blood Angus heifers which were 5-6 months in calf to Angus bulls. PTIC heifers otherwise returned $860, averaging $1033.
Steers less than 200kg sold from 232c to 463c this week to average 349c, up 10c on last week. Top price was returned by a larger line of 128 Angus steer calves 3-5 months averaging 134kg from Bundarra, NSW, secured by a buyer from Hamilton, VIC. Other highlights include a mob of 199kg weaned Angus steers from Tenterfield, NSW returning 370c.
Steers weighing 200-280kg sold from 235c to 399c this week, averaging 345c, up 27c on last week. Top price was paid for a line 115 weaned Angus steers sold earlier than usual by a vendor from Coonamble, NSW. The steers were 5-6 months  averaging 223kg.
Steers 280-330kg sold from 277c to 373c this week and averaged 325c, down 5c. Top price was returned by 39 Angus steers from Eldorado, VIC, 8-9 months averaging 295kg, which will travel north over the border to Lavington, NSW.
There were only three lines of trade steers weighing 330-400kg to sell this week, with the Tasmanian Cattle Sale returning the top price for the category of 351c or $1250 buyers terms. This was achieved by a line of Poll Hereford yearling steers 355kg and outstandingly, these steers were secured by a buyer from Ilfracombe, QLD and have a 2500km journey from Merseylea ahead of them.
Heavier steers over 400kg sold from 208c to 327c this week and averaged 291c. Top price was returned by a line of 78 Angus feeder steers Crookwell, NSW.
Western Australia offered 180 head of heavier trade stock this week in a variety of stock categories. Highlights included 36 Angus Heifers from Manjimup, aged 15-17 months, 452kg which returned $1308 or 524c dressed. Also returning 524c dressed or $1378 was a line of 19 Angus mixed sex yearlings, 472kg from Boyup Brook.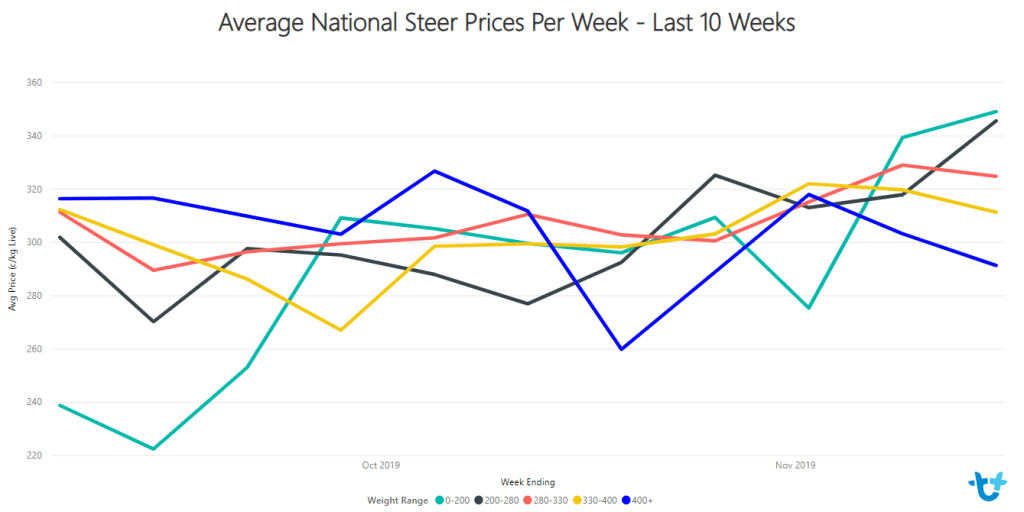 Weaner heifers were the most popular stock category in this week's market, finding 95pc clearance and an average price increase of 23c. Heifers less than 200kg sold from 253c to 328c, averaging 297c. Top price was returned by a line of 102 weaned Angus heifers from Bendemeer, NSW, 11-12 months averaging 180kg, finding a southern buyer across the border in Korumburra, VIC.
Heifers 200-280kg sold from 223c to 316c this week, averaging 272c, up 5c on last week. Top price was achieved by 5-6 month old Angus Heifers from Coonamble, NSW averaging 212kg.
Heifers 280-330kg sold from 249c to 350c to average 277c. Top price was returned by a line of NSM future breeder Angus heifers, 12-14 months averaging 317kg, sold from Coolah, NSW.
Heifers 330-400kg sold from 247c to 328c and averaged 277c. Top price went to a line of Angus NSM heifers 13-14 months averaging 354kg from Pipers River, Tasmania, remaining locally on the island state.
Heavier heifers over 400kg sold from 260c to 292c to average 287c. Top price went to a mob of 113 Angus yearling heifers 13-16 months old averaging 435kg from Gunnedah, NSW, going to a buyer from Oakley, QLD.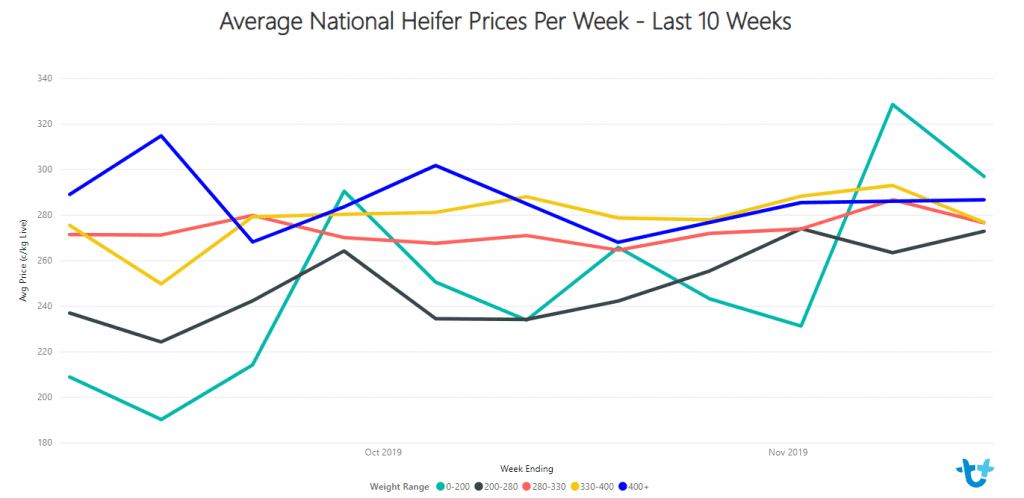 Source: AuctionsPlus