PRICES and clearance fell across all categories this week for the 10,000 head offered on AuctionsPlus last week, in what was a generally weaker market.
The EYCI has fallen 51c from this time last month, with the trend appearing to be reflected online. A total of 392 bidders logged in to the Weaner & Yearling sale, with only 102 of those going on to place a bid. The Tasmanian and WA cattle sales continue to stand in contrast to this, with a 73pc & 85pc clearance respectively.
Cows with calves at foot sold to a 50pc clearance for the 1500 head offered this week. Prices averaged $1110 and ranged from $660 to $1560, with all 26 lots that sold from NSW. Top price went to 40 Angus cows and 36 calves from Young, NSW. The cows were 4-6 years old, have 3-6 month old calves at foot and found a buyer in Bathurst, NSW. Another highlight saw a line of Angus heifers and calves from Woolbrook, NSW sell for $1310 to a buyer in Bairnsdale, VIC. The heifers were bred from Lawsons blood bulls, are 22-24 months old with 2-8 week old calves at foot. All calves were sired by Angus bulls.
Light steers less than 200kg averaged 222c, down 8c on last week. Top price of 263c went to a line of 90 weaned steers from Tenterfield, NSW. The steers are 10-11 months old, weigh 182kg and are making the long journey south to Dreeite, VIC. Steers weighing 200-280kg averaged 279c, down 32c on last week, with prices ranging from 238c to 323c. Top price went to a line of 11-12 month old weaned steers from Bahgallah, VIC. The steers were bred from Boonaroo bloodlines, weigh 240kg and are heading to Hamilton, VIC. A line of yearling steers from Cecil Plains was the top priced QLD lot. These Hereford Angus cross steers weighed in at 260kg, are aged 13-14 months and sold to a buyer in Stanthorpe, QLD for 260c.
Heavier steers 330-400kg averaged 304c, ranging from 272c to 322c. Top price went to a line of 12-13 month old Angus yearling steers from Bowna, NSW. The steers weighed 331kg, are bred from Rennylea and Table Top Angus blood, and found a buyer across the border in Newtown, VIC. Another highlight saw a line of Angus backgrounder steers from Rylstone, NSW sell for 299c. The steers weighed 340kg, are bred from Pattawalla & Coffin Creek Angus blood and are heading to Irrewarra, VIC.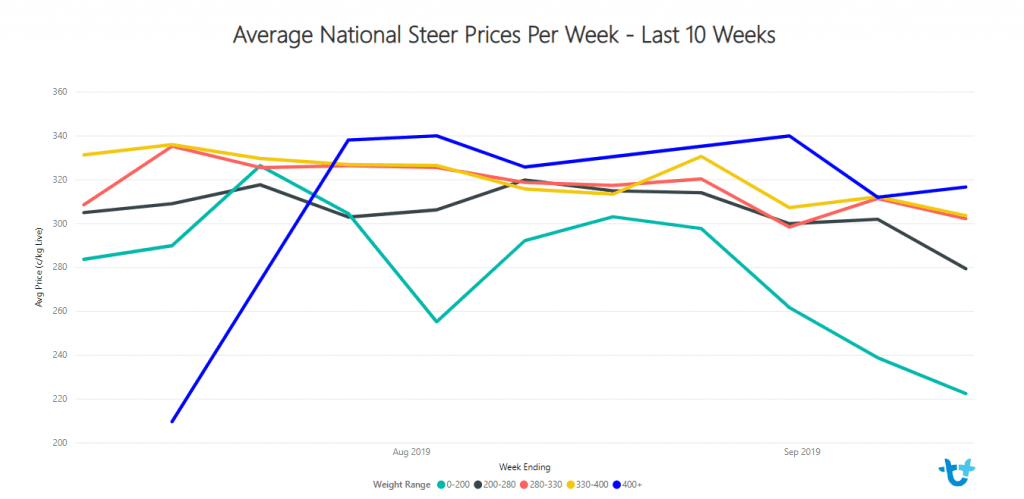 Light heifers less than 200kg sold from 149 to 226c to average 190c, down 49c on last week. Top price went to a line of Angus heifers from Dubbo, NSW. The heifers are 12-18 months old, bred from Te Mania & Millah Murrah bulls, averaged 177kg and found a buyer in Book Book, NSW.
Heifers 200-280kg sold from 165c to 265c to average 226c, down 54c on last week. Top two prices for the category were purchased by Tasmanian buyers. The top price came out of Woomargama, NSW for a line of 10-12 month old Poll Herefords, averaging 251kg and heading down to Togari, TAS.
Heifers weighing 280-330kg sold from 224c to 307c to average 259c, down 30c on last week. Tasmanian buyers were once again out in force, buying 36pc of the 365 head sold. Running with the Tasmanian theme, the top price came out of Bothwell, TAS for 31 weaned heifers. The heifers were 13-14 months old, averaged 329kg, have Rosedale sires and will remain in Tasmania. Another highlight saw a line of Angus NSM future breeders from Yass, NSW selling for 273c. The heifers are 11-13 months old, weigh 300kg, are bred from Millah Murrah blood and are heading south to Korumburra, VIC.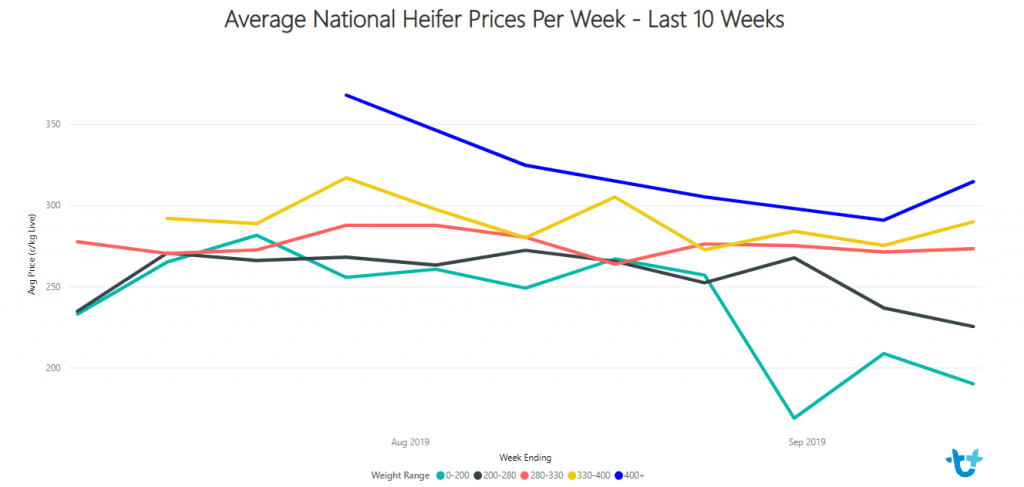 Looking west, the WA cattle sale saw great success, with an 85pc clearance for the 259 head offered. Highlights include 9-10 month old Angus weaned steers from Balingup sell for 328c & Friesian export bullocks from Manjimup selling for $1563.