THE disconnect between cattle prices and export meat prices came sharply back into focus this week.
At the same time that cow prices have hit record highs in saleyards and over the hooks, grinding beef prices in key export markets have sink to 20-month lows.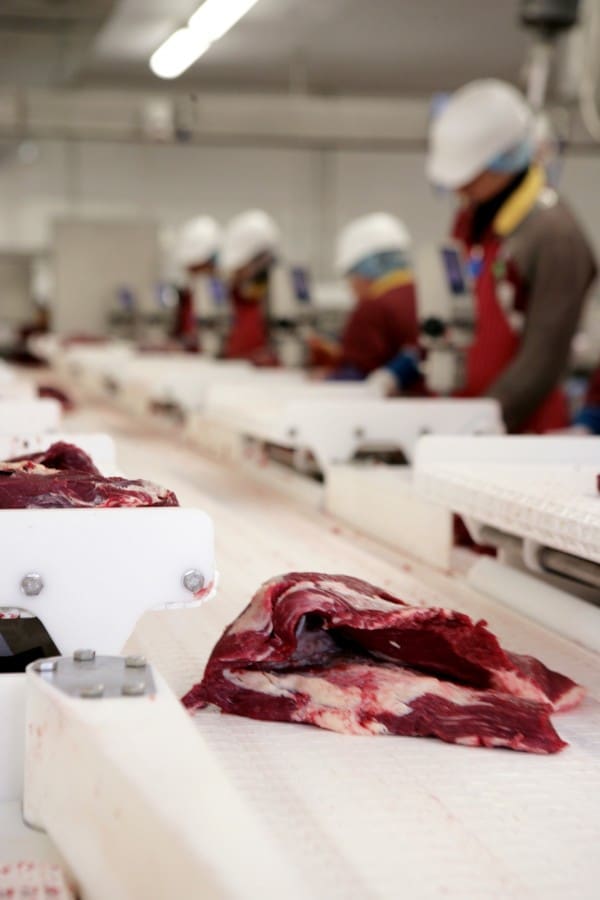 As of Wednesday, some Queensland processor slaughter grids listed an unprecedented 590c/kg for heavy cows, suggesting a typical 330kg carcase weight animal would fetch just a little less than $2000. A month ago, identical cows were making 550-555c, and this time a year ago, around 500c. More updates on this week's grid price movements in Tuesday's weekly kill report.
Meat & Livestock Australia has this week reported similar price trends, including record highs, for saleyards cows.
The domestic cow market has found support in recent weeks as favourable conditions in the southern states have promoted the retention of breeding stock and tightened supplies. Prices have responded, with noticeable increases and some records set across saleyard and over-the-hooks indicators.
It reflects the lack of synch that Australian cattle prices, driven by low herd numbers and rebuilding after drought, currently have with world competitors.
At the same time as slaughter cows are hitting new record highs, export grinding meat values are sagging sharply.
The current weekly US imported 90CL grinding meat quote into the US, in A$ terms, is 621.9c/kg. That's the lowest value seen since January 2019 – 21 months ago – and represents a 134c/kg or 18pc decline on prices seen this time last year.
The result of all this is eye-watering losses for processors currently slaughtering cows. And worth remembering, about 25pc of each grassfed export steer carcase also ends up in the same grassfed trim bin.
Large processors are always somewhat evasive about margins, but two large operators spoken to this morning suggested losses on slaughter cows this week are at least $250 a head. Some might be higher.
"We've never paid this sort of money previously for cows," one large Queensland processor said this morning.
"The current losses we are writing would blow your hair back," he said. "It's as bad as I have seen in 25 years in the processing game, and it's very difficult to see how everybody (processors) keeps going under these circumstances."
He suggested that one of the key motivating factors among processors to 'press on' under such financial burden was in preserving their workforce, including skilled staff.
"Close now, and those staff drift away to other work, and it makes it virtually impossible to start up again with anything like a normal kill next year. It's just a matter of who can survive at the moment. But nobody, regardless of size, can sustain losses at this level indefinitely."
While there are big losses are being recorded on every beast killed at present, there are also the losses caused by dropping days, when no cattle are killed at all, the processor said.
"It doesn't matter what is put across the hooks at the moment – the losses are horrific."
Scarce numbers available
MLA saleyards commentary yesterday pointed to the fact that just 6500 head of cows were recorded by NLRS across NSW, Queensland and Victoria saleyards for the week ending 9 October. Compared to the same week last year, this equated to a 30c decline, largely reflecting heightened levels of stock retention, with fewer cows entering the store market.
For the week ending 16 October, the Queensland OTH Medium Cow Indicator averaged 545c/kg carcase weight, 23pc higher on year-ago levels and a record high for the state (the indicator carries a lag period), while the Queensland OTH heavy cow indicator also reported a record high, increasing 22pc year-on-year to average 570c/kg cwt.
Last week, the store market reflected price increases seen in OTH indicators, with the Queensland Medium Cow Saleyard Indicator averaging 588¢/kg cwt, 33% higher year-on-year. While trading slightly below their northern counterpart, for the week ending 16 October, the NSW OTH Medium Cow Indicator was reported at a record 532¢/kg cwt, 24% above year-ago levels, while heavy cows increased 21% year-on-year to average 558¢/kg cwt.
Heightened competition between restockers and processors has also supported saleyard prices across the eastern states.
On Wednesday, the Eastern States Medium Cow Indicator was reported at 296c/kg liveweight, an increase of 71c on the same week last year. Victoria reported the largest year-on-year increase in medium cow prices, lifting 83c to average 301c/kg liveweight, while NSW medium cows increased 77c to 299c/kg. Queensland medium cows were reported slightly below the southern states, however, increased 74c year-on-year to average 291c/kg.
US meat prices retract
Steiner's weekly US imported beef market report this week notes that imported beef prices had continued to lose ground following the sharp decline in domestic lean beef values. Offerings from overseas suppliers are more limited, with Australia continuing to see sharply lower slaughter levels and Argentina having now filled its US quota for 2020.
"Lower prices for imported beef in the US market and the weak US$ will tend to limit imports in the last two months of the year, a big shift from this summer when imported increased rapidly," Steiner said.
"There are real concerns about demand during the (northern hemisphere) fall and winter months and some of this uncertainty is currently playing out in the market for lean and fat trim. The price domestic fresh 90CL boneless beef dropped US10c/lb last week and it is now as much as 25c lower than where it was at the end of August," Steiner said.
"With the grilling season behind us and more limited demand for the school lunch program, lean beef values have had to rely on foodservice demand. Foodservice demand recovered over the summer months, but the pace of recovery was uneven, with big restaurant chains far outpacing the recovery at small independent restaurants."
It remained to be seen how well grinding beef prices hold up during the remainder of October and November when the North American cull cow run gets underway. Drought conditions in parts of the US and deteriorating pasture conditions in July, August and September had reportedly limited hay cutting and producers may go into winter with a less than optimal hay supply. But even as beef cow slaughter may increase in the next few weeks, we expect the dairy culling rate to remain below year ago levels," Steiner said.
The ratio of lean beef values versus US wholesale beef prices is currently on the low end of the range, Steiner said, but seasonal demand weakness remained a limiting factor in the near term.