AuctionsPlus sold 280,000 cattle and two million sheep in the 2014-15 financial year, a year-on-year increase of 34 percent and 11 percent respectively.
The online livestock selling platform is now effectively Australia's biggest individual 'saleyard' for sheep, and, is likely to have also grown to become Australia's second largest saleyard for cattle, behind only Roma. (This is subject to yet-to-be-released saleyard throughput data for 2014-15).
The majority of AuctionsPlus cattle are store stock (the breakdown is roughly 90pc store, 10pc prime cattle), which means that its sales still represent a fraction of all livestock sales in Australia, most of which are sold direct-to-works. The NLRS says AuctionsPlus sales account for 2pc of all cattle transactions, 9pc of all lambs and 0.1pc of all actual sheep transactions.
But with an increasingly large share of Australia's store livestock transactions occurring through AuctionsPlus, it raises the question as to whether the sales and prices achieved through the online selling system should be included in National Livestock Reporting Service (NLRS) reports and indicators.
The Meat & Livestock Australia owned and levy-funded NLRS employs a team of market reporters across Australia to report on saleyard and direct to works prices throughout Australia.
Currently NLRS reports do not capture the online segment of the market.
Representatives from NLRS and AuctionsPlus have told Beef Central they are in discussions to work through the possible incorporation of AuctionsPlus sales into future NLRS reports.
Issues include whether AuctionsPlus sales can or should be integrated into existing saleyard market indicators such as the Eastern Young Cattle Indicator or the Western Young Cattle Indicator, or whether a separate online indicator should be established to report online livestock sales separately.
AuctionsPlus and saleyards have different selling costs which produce different price outcomes, and could make direct comparisons between prices achieved for equivalent livestock in either system difficult.
For example AuctionsPlus sellers don't carry the cost of freight and pay approximately half the yard dues of most saleyards when combined with weighing and scanning charges, so total dollars received by the seller are generally higher for similar cattle to those sold via saleyards.
AuctionsPlus chief executive officer Anna Speer told Beef Central that analysis shows that prices on AuctionsPlus for EYCI eligible cattle (basically vealers and yearlings) consistently track above the EYCI level itself.
The below chart for example demonstrates a 50-100c/kg higher price level for EYCI equivalent cattle on AuctionsPlus than the EYCI over the past month: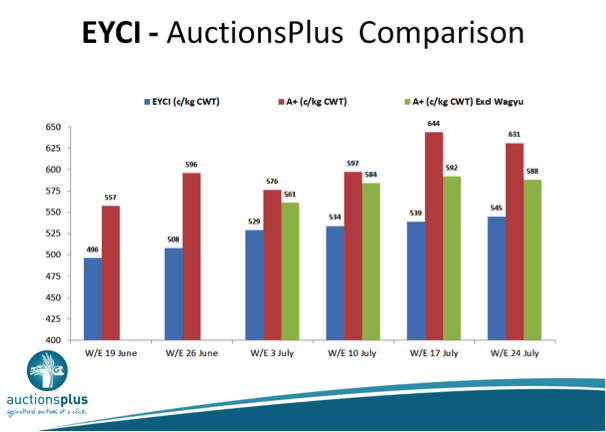 Balanced against this is the question of whether the EYCI should include all EYCI-eligible cattle sold in Australia, or whether it should be an indicator for saleyard cattle only.
Both store and prime stock are included in the EYCI, so would it make a big difference to include the predominantly store stock from AuctionsPlus in the eligible categories in the indicator?
It appears that at this stage the NLRS is leaning towards not including AuctionsPlus cattle in the EYCI because it is concerned that including AuctionsPlus prices may distort the EYCI, which has collected saleyard only prices for 21 years.
The development of an online indicator to report AuctionsPlus sales as a separate market appears to be the most likely outcome.
"At this stage we will probably keep it separate because of the history behind the EYCI data and all the other data, and because the assessment has been consistent for so long," NLRS operations manager Damon Holmes told Beef Central.
"At some point in the future we may have to make a decision like that, but at this stage we are going to keep it separate.
"It will let us have a physical market report and a national online cattle report."
Details such as which online indicators would be developed to report on the various categories of cattle sold via AuctionsPlus are yet to be worked through.
Ms Speer said the national reach of AuctionsPlus sales, combined with its ability to monitor pricing down to State and more particularly regional level, offered some unique market reporting perspectives.
"I think it is important to be able to have regionalised prices because Angus steers in Toowoomba may be different to what Angus steers in Ballarat are selling for," she said.
"We're seeing so much movement in stock – we had stock go from Cooma to WA last week and stock go from Queensland down to South Australia – so even if that is the price they are getting in Toowoomba, you actually do have access to the national market place these days.
"We're throwing around with (the NLRS) the best way to report on this and if we should be reporting on stock movements as well."
While existing saleyards reports show prices in each location, AuctionsPlus reports effectively showed prices in each buyer's location.
An area AuctionsPlus is looking into at the moment includes providing intel to the market on localities that are chasing particular lines so vendors and agents can target certain demographics.
"For example, if a vendor in Ballarat sells 100 Angus Steers to a feedlot in Toowoomba, which location should we be saying gets the price?
"There is still a bit of work to be done and I think stock flow patterns will help – these will be coming back due to popular demand for our store lamb sales in September and hopefully we can expand them to our regular sales as we automate them."
2014-15 AuctionsPlus throughput figures
The table below documents the number of cattle sold on AuctionsPlus in 2013-14 and 2014-15, minus stud stock sales.
| | | | |
| --- | --- | --- | --- |
| | 2014 | 2015 | % Increase |
| National Cattle | 209,663 | 280,903 | 34% |
| Queensland | 52,845 | 96,260 | 82% |
| New South Wales | 121,603 | 133,936 | 10% |
| Victoria | 15,736 | 26,509 | 68% |
| South Australia | 8,488 | 10,002 | 18% |
| Tasmania | 2,944 | 4,640 | 57% |
| Western Australia | 8,047 | 9,556 | 19% |