YEARLING and grown steer categories rose sharply in price on AuctionsPlus this week, where the overall offering declined by 25 percent in size to 7951 head.
Clearance improved to sit at 70pc across all catalogues. Joined females were in demand, seeing a considerable price increase from last week. Yearling and grown steers were up by 32c to average 290c, whilst yearling and grown heifers fell by 22c to average 215c.
The Riverina was the most active region, purchasing a total of 1219 head, which is a result of some consistent rain throughout 2019 giving producers in the area some much-needed confidence.
Feeder steers again attracted feedlot competition and recorded strong prices. From Swanpool, VIC a line of 29 Angus feeders weighing 400kg aged 13-14 months returned 350c; while from Muswellbrook, NSW a line of 85 Angus feeders 15-17 months averaging 388kg returned 331c.
Young PTIC females jumped by $315 to average $1367 selling from $1150 to $1620. Top price was achieved by 44 Angus heifers from Yea, VIC, 21-22 months of age averaging 498kg, and joined to Barwidgee bulls.
Grown and mixed age PTIC females sold from $760 to $1270, averaging $1028, firm on last week. Top price was returned by a line of 21 PTIC cows from Binalong, NSW. These Milwillah and Hazeldean blood Angus cows were 5-7 years averaging 542kg, joined to Angus bulls and will travel to Wagga Wagga, NSW.
Cows and calves sold from $900 to $1880 this week, to average $1376, a decrease of $20 from last week. Top price was returned by a line of 16 station-mated Angus cows and calves from Cowra, NSW, with cows 4-6-years averaging 582kg.
Light steers less than 200kg sold from 229c to 331c and averaged 280c. Highlights included 26 Angus weaned steers averaging 196kg at 8-9 months from Cooma, NSW which returning the top price; and Droughtmaster steers aged 5-7-months averaging 199kg from Texas, QLD which returned 229c.
Steers in the 200-280kg category sold from 233c to 348c and averaged 298c, up 10c from last week. Highlights included 118 Angus weaned steers 8-10 months from Tatong, VIC which sold for the top price; Angus steers 8-10 months and 208kg from Toobeah, QLD selling for 315c; Angus steers 9-10 months and 250kg from Crookwell, NSW selling for 341c; Angus weaned steers 9-10 months and 272kg from Willalooka, SA selling for 321c.
Steers above 280kg sold from 239c to 351c this week to average 322c. Highlights included Angus steers 8-10 months from Walwa, VIC which sold for the top price; and Angus steers 9 – 11 months from Walcha, NSW which sold for 345c.
Light heifers less than 280kg sold from 154c to 281c to average 233c this week, up 2c on last week. Highlights included Charolais x Brahman heifers 196kg, 9-10 months from Tooma, NSW returning the top price; 46 Angus weaned heifers from Springton, SA, averaging 235kg at 6-11 months selling for 277c; 16 Angus unweaned heifers 247kg at 7-9 months from Moriac, VIC returning 253c.
Heifers above 280kg sold from 191-267c and averaged 237c this week. Highlights included Kenny's Creek blood heifers 295kg at 9-11 months returning the top price; 29 Charolais x Hereford feeder heifers 353kg at 12-21 months from Biloela, QLD returning 242c.
In a breakdown of young cattle sold this week, by weight range:
Steers less than 200kg sold from 229-331c to average 280c; while heifers sold from 154c to 281c to average 215c
Steers 200-280kg sold from 233c to 347c to average 297c; while heifers sold from 208c to 277c to average 243c
Steers 280-330kg sold from 313c to 352c to average 328c; while heifers sold from 190c to 267c to average 243c
Steers 330-400kg sold from 239c to 345c to average 301c; while heifers sold from 226c to 242c to average 235c
Steer Highlights
8 to 10 month old, 207kg, Angus steers from TOOBEAH, QLD sold for 316c/$655
8 to 10 month old, 212kg, Angus steers from TOOBEAH, QLD sold for 308c/$655
6 to 9 month old, 223kg, Simmental/Droughtmaster/Hereford steers from DIRRANBANDI, QLD sold for 280c/$625
15 to 17 month old, 388kg, Angus steers from MUSWELLBROOK, NSW sold for 331c/$1,283
9 to 11 month old, 353kg, Angus steers from WALCHA, NSW sold for 345c/$1,220
9 to 10 month old, 249kg, Angus steers from CROOKWELL, NSW sold for 341c/$850
13 to 14 month old, 400kg, Angus steers from SWANPOOL, VIC sold for 350c/$1,400
8 to 10 month old, 283kg, Angus steers from WALWA, VIC sold for 352c/$995
9 to 10 month old, 272kg, Angus steers from WILLALOOKA, SA sold for 322c/$875
6 to 11 month old, 231kg, Angus steers from SPRINGTON, SA sold for 301c/$696
6 to 7 month old, 221kg, Angus steers from NABOWLA, TAS sold for 313c/$690
7 to 8 month old, 214kg, Angus steers from NORTH SCOTTSDALE, TAS sold for 303c/$650
7 to 9 month old, 269kg, Angus steers from NABOWLA, TAS sold for 297c/$800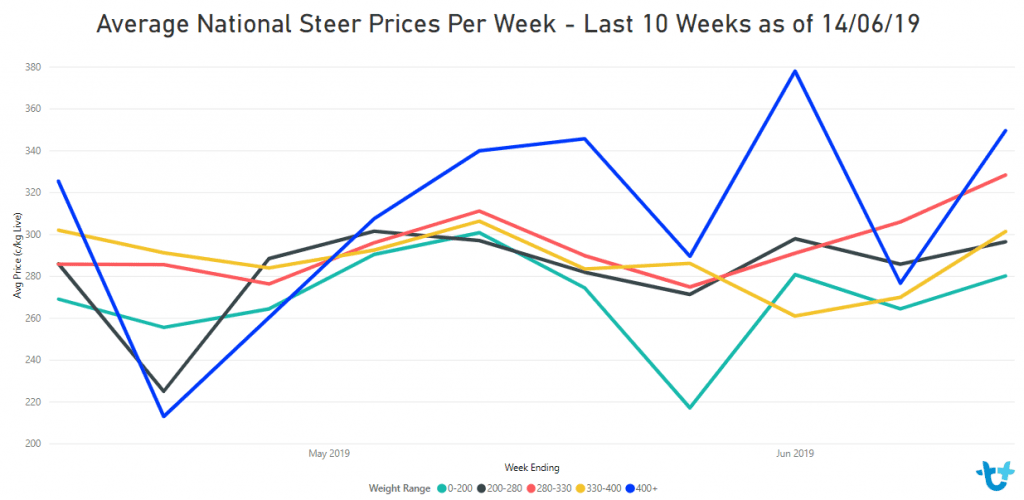 Heifer Highlights
12 to 21 month old, 352kg, Charolais/Hereford heifers from BILOELA, QLD sold for 243c/$550
12 to 21 month old, 341kg, Droughtmaster/Hereford heifers from BILOELA, QLD sold for 238c/$810
9 to 10 month old, 195kg, Charolais/Brahman heifers from TOOMA, NSW sold for 281c/$550
9 to 11 month old, 253kg, Angus heifers from COOTAMUNDRA, NSW sold for 269c/$680
7 to 9 month old, 247kg, Angus heifers from MORIAC, VIC sold for 253c/$625
6 to 11 month old, 234kg, Angus heifers from SPRINGTON, SA sold for 277c/$650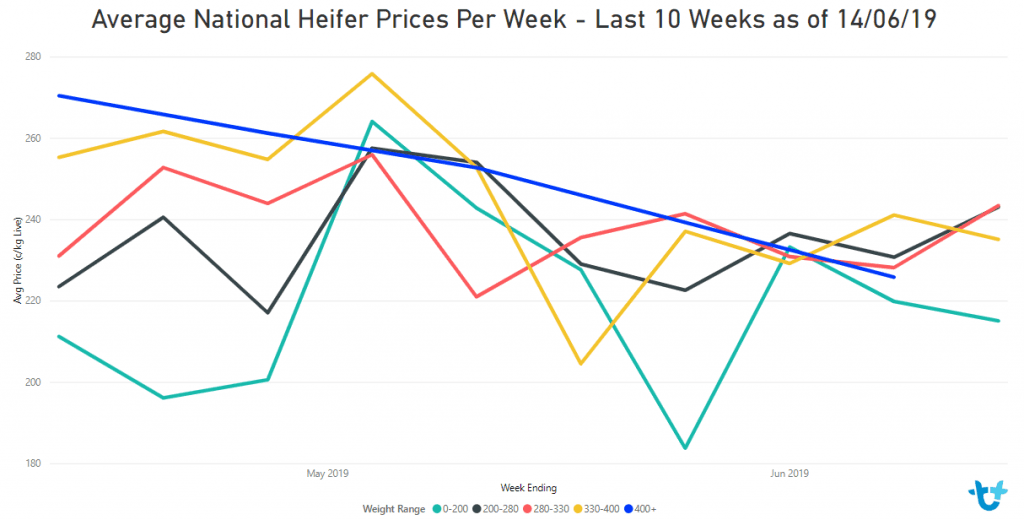 Source: AuctionsPlus