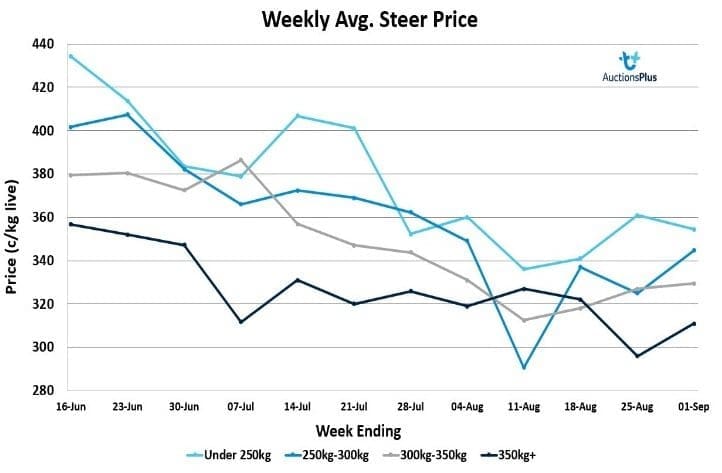 WITH winter now behind us, cattle numbers rose this week to 6192 head, an increase of 739 on last week's listings.
The increase in numbers brought with it an increase in buyer confidence, with the clearance rate of 72 percent at auction up 14pc from the previous week.
Predicted above average rainfall and temperatures for parts of the eastern seaboard heading into spring could lead to stability in the weeks ahead, AuctionsPlus suggested.
With the exception of heifers and steers less than 250kg, all other weight ranges among young cattle rose in price this week.
The pregnant female market this week peaked at $2320 for a line of Charnock blood Poll Hereford cows 30 months to six years, with 240kg calves at foot, from Condah, Victoria. These girls, AI'd to Poll Hereford bulls sold well over reserve.
Cow and calf units were dominated by NSW listings and strong competition saw the majority of lots selling well above reserve. Units averaged $1647, selling to a top of $2030 for a line of Angus x Poll Hereford breeders from Coolamon, NSW, with calves sired by Ireland Angus and Limflex bulls.
In a breakdown of young cattle sold by weight range:
Steers less than 250kg sold from 299c to 401c/kg to average 354c, down 7c; while heifers sold from 294-352c to average 324c, down 23c
Steers 250-300kg sold from 320-363c to average 345c, up 20c; while heifers sold from 287-365c to average 334c, up 47c
Steers 300-350kg sold from 293-377c to average 329c, down 4c; while heifers sold from 280-388c to average 320c, up 27c
Steers 350-399kg sold from 262-335c to average 309c, up 4c; while heifers sold from 290-311c to average 296c, up 6c
Steers 400-449kg sold from 297-338c to average 313c, up 22c; while heifers sold from 285-298c, to average 291c
Steer highlights
Charolais/Santa Gertrudis steers 4-8 mths, 239kg, MOREE, NSW – 365c or $870
Shorthorn/Angus steers 11-12 mths, 402kg, BUNGOWANNAH, NSW – 312c or $1255
Angus steers 10-12 mths, 195kg, GOONDIWINDI, QLD – 401c or $780
Angus steers 11-13 mths, 335kg, GOONDIWINDI, QLD – 313c or $1050
Angus steers, 10-11 mths, 288kg, BARNAWARTHA NORTH, VIC – 343c or $985
Charolais/Angus/Hereford steers 11-12 mths, 417kg, HAMILTON, VIC – 339c or $1410
Angus steers 9-10 mths, 303kg, CASTRA, TAS – 378c or $1140
Angus steers, 9-11 months, 310kg, ROSEVALE, TAS – 369c or $1140
Heifer highlights
Angus heifers 9-12 mths, 303kg, BINNAWAY, NSW – 368c or $1110
Angus heifers, 11-13 mths, 380kg, MUDGEE, NSW – 290c/ or $1105
Shorthorn/Shorthorn cross heifers 4-8 months, 183kg, WINTON, QLD – 296c or $540
Angus heifers 11-13 months, 301kg, GOONDIWINDI, QLD – 280c or $840
Angus/Friesian heifers 15-16 mths, 333kg, WANGARATTA, VIC – 388c or $1290
Charolais/Angus/Hereford heifers 11-12 mths, 386kg, HAMILTON, VIC – 311c or $1200
Angus heifers 8-10 mths, 277kg, CASTRA, TAS – 351c or $970
Angus heifers 9-11 mths, 299kg, ROSEVALE, TAS – 349c or $1040
Source: AuctionsPlus