HEATWAVE conditions and the shortened public holiday weekly cycle contributed to a reduction in numbers on AuctionsPlus last week, with catalogues across two commercial sales totalling of 4640 head – a dramatic 50 percent decline on the week before.
Short supply was met with significantly weaker market demand, predominantly due to mounting pressures from widespread dry conditions across eastern Australia. Heifer prices trended down across most weight ranges, while the reduced offering of steers improved – in some categories by 10-20c/kg.
Steer offerings were dominated by Angus and Angus influenced listings, however top price of 362c/kg or $740 going to two lines of Shorthorn and Shorthorn x Angus weaned steers totalling 76 head, averaging 205kg at 5-6 months, carrying Yamburgan Shorthorn bloodlines from Wee Waa, NSW. The offering was influenced by local very dry conditions, in order to look after the breeding herd.
Judging by the video attached to the listing, it was a similar seasonal story for one of this week's heifer highlight sales – a line of 48 EU-eligible Angus feeder heifers from Wokolena Pastoral Co near Wagga Wagga, NSW. These 17-18 month olds, averaging 418kg sold for $1130 and will be making a short commute southwest to Rennie NSW.
A strong line of 60 medium to large-framed Brangus feeder heifers, 13-15 months averaging 380kg from Biloela in Central QLD made $946 or 251c.
Larger lines continued to flow this week out of parched areas of Queensland including Winton, Tambo, Morven, Mitchell, Eulo and Cunnamulla.
Joined females saw a line of 144 mixed-age station mated Angus cows and calves averaging 502kg from Goondiwindi on the QLD/NSW border, being sold as part of a herd dispersal after property sale, sell for the top price of $1820 or 363c. Once again, this photo of the offering says a lot about the local seasonal conditions.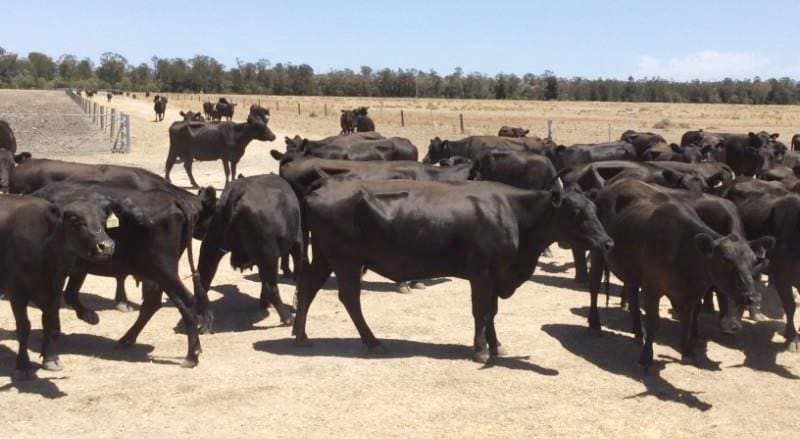 The top line of PTIC cows this week sold for $1250 and went to a tidy line of vendor-bred Herefords from Riversdale, near Cooma, NSW.
Last week's WA cattle sale consisted of young weaned heifers and steers and saw a clearance of 90pc. A line of 8- 9-month old Angus weaned steers averaging 362kg from Manjimup, South West WA sold for 597c dressed, or $1150.
The Lawsons Angus Hopetoun bull Sale which was interfaced on AuctionsPlus on Wednesday saw 105 bulls on offer, achieving a clearance rate of 89pc and saw buyers paying significant premiums for elite Angus genetics. Top priced bull sold to an online buyer for $31,500.
Source: AuctionsPlus