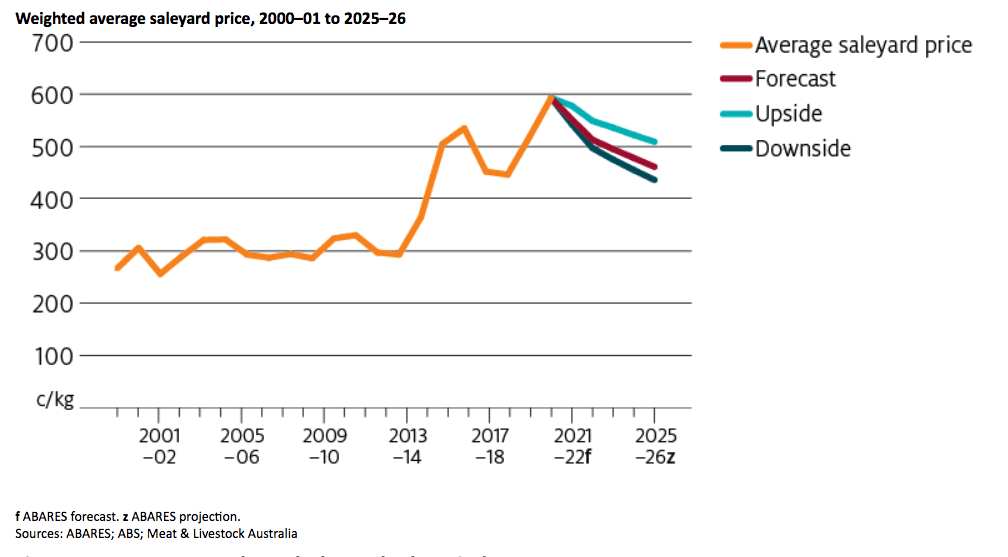 ABARES is forecasting saleyard cattle prices to average 552c/kg next financial year (2021-22), down from an expected average of 593c/kg this full financial year.
Longer term, the Government forecaster believes further price falls will continue towards an average of 461c/kg in 2025-26.
One reason for the expected downward trend is the expectation of increasing herd numbers and cattle availability in coming years.
However only a modest increase in herd size is expected according to data contained in the report.
It suggests the national herd will increase from a current size of 24 million head (including 2.4 million dairy cattle) to just 24.6 million head in total by 2025-26.
Depending on how seasonal conditions play out, ABARES' estimates suggest a possible herd size range by 2025 of less than 21 million beef cattle (around 23 million cattle in total) to upwards of24 million beef cattle (26 million in total), as outlined in chart below: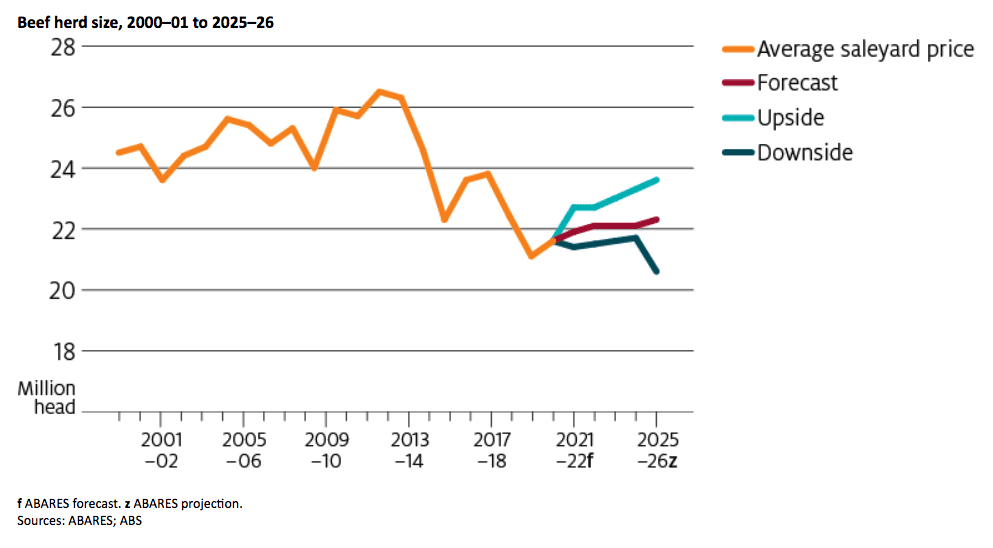 Over the next two years ABARES forecasts slaughter volumes to increase from 6.5 million head to 7.6m head and production to increase from 1.9 million tonnes to 2.4mt.
Decreasing global beef prices over the next five years are further expected to contribute to decreasing saleyard cattle prices in Australia.
Drivers include higher US and Brazilian exports and a lower, and more export-competitive, Brazilian real in the short term.
In the medium term the ongoing recovery of the Chinese pig herd is expected to ease global demand for protein, putting downward pressure on meat prices.
Included in ABARES' data tables are projections suggesting that despite the falling prices, beef consumption per person in Australia will fall from 19.8 kg this financial year to 17.9kg by 2025-26 – but commentary to explain the predicted 9.5pc decrease in the next five years is not included.
To read the full beef outlook report on the ABARES website click here