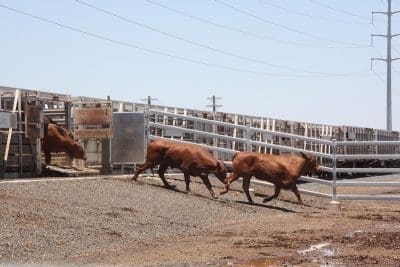 A $4 million Federal grant to build a cattle spelling, store weighing and rail loading facility at Morven could trigger big changes in how cattle from central and south western Queensland move to finishing systems and abattoirs in the State's south east corner.
Minister for Regional Development Fiona Nash this week approved an application from South West Queensland Regional Economic Development for funds to build a new multi-service livestock hub in the western Queensland town.
The Morven rail hub application was one of more than 500 projects seeking funding under Minister Nash's Building Better Regions Fund, and one of the fortunate 100 or so that succeeded in gaining funding (more funded projects are to be announced on Friday).
The $4.1m development will comprise train loading and unloading facilities, cattle yards for spelling and drafting, live weight livestock scales and associated storage and amenities facility.
The development has significant potential to give cattle producers across a large area of western Queensland more marketing options than they have previously had.
Morven (highlighted in red below) is a pivotal location for a road and rail hub and spelling and weighing centre.
It is on the nexus of the Landsborough and Warrego Highways, where thousands of cattle from Queensland's central west and south west converge on their way to restockers, lot feeders and abattoirs in south east Queensland each year.
Opportunities for western store and feeder cattle
The development will increase marketing options for lighter cattle in particular. It will give western Queensland cattle producers the ability to weigh and sell store cattle at Morven to transport to grass or feedlot buyers further east either by road or rail.
Rail movements of cattle in the past have typically been limited to the transport of slaughter-ready cattle to eastern meatworks, a service that is highly vulnerable to seasonality.
This multi-service hub should help to create more reliable, consistent train options for the movement of store and feeder cattle from western Queensland.
Consider for example that meatworks on the same rail line further east are constantly receiving trucks filled with prime cattle from feedlots, which then return to the feedlots empty to pick up more finished cattle.
The ability to buy and load feeder steers at Morven which can then be back loaded at the abattoir onto trucks returning to feedlots is a big potential efficiency win.
"If you have a smaller producer with only 26 feeder steers, it gives him a viable option to market a deck of steers. We can put them on the train and backload them back to the feedlot from here," Oakey Beef Exports livestock manager Kurt Wockner explained.'
Facility important for both road and rail
But importantly the facility is not just about moving cattle by rail.
It will also provide a critical spelling point for cattle and drivers continuing east by road.
It will also give transporters the opportunity to break down bigger six-deck units into smaller, more manageable configurations for the trip further east along the Warrego Highway.
More viable to market smaller consignments
The facility is also expected to increase the frequency of cattle trains running from Morven to south east Queensland in future, which should also make it more viable for producers in the region to sell just one or two decks to buyers further east.
Oakey Beef Exports general manager Pat Gleeson said analysis of cattle flows showed that large numbers of cattle came from Queensland's Central West down the Landsborough Highway to Morven and along the Warrego Highway to the east.
"We did our sums on that and it was clear Morven would be the pivotal point to put a siding in where the rubber could meet the rail essentially, or go back onto other trucks as well," Mr Gleeson said.
Filling a missing weighing link
Oakey Beef Exports livestock manager Kurt Wockner said a huge amount of feeder cattle were sold in Queensland's central and south west, and the new facility would give producers in the region an important new weigh point for marketing.
"There is currently no weigh point from Blackall through to Roma," Mr Wockner said.
"Feeder cattle will be able to change there, even store cattle and background cattle can change there.
"Cattle that come from the west in six deck units might be going to a property around Roma or to Augathella, they will weigh there and go back to the grass."
Mr Gleeson said Oakey Beef Exports was committed to now working to get train services running as frequently as possible, and is envisaging a small regular service possibly running once a week.
"With that flexibility we can put feeders on there as well, which is a win for the producer. A lot of those smaller producers will be able sell their cattle direct there, and save on the cost of having to cart them right into South East Queensland."
Mr Wockner offered the example of a producer in South West Queensland preg-testing cattle and finishing with one or two decks of fat cows to sell. At present it is hard to get two decks of cows to markets in the east efficiently because of the distances involved. However, with a regular train service in future, that producer would have the option to book the decks in with a processor and then run those few decks into Morven.
"We envisage a more regular and a smaller service so it works for graziers, so they don't have a fill one big long train," he said.
'If they know the cattle are going in a regular, efficient service, there will be people come on board who never even thought about it before'
"If they know the cattle are going in a regular, efficient service, there will be people come on board who never even thought about it before."
Mr Gleeson acknowledged the support of Murweh Shire Council and South West Regional Economic Development for actively pursuing the project.
He said Queensland Liberal National Party senator James McGrath had been a powerful advocate for the development, and Prime Minister Malcolm Turnbull also showed strong interest and support for the project during a visit to Canberra last year.