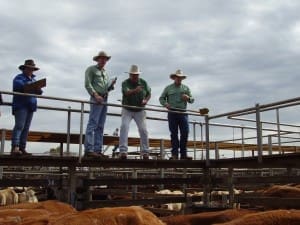 Roma agents are set to yard their biggest offering of the year, with 11,574 cattle drawn for tomorrow's weekly Tuesday store sale.
The previous biggest yarding at Roma this year was 9173 head yarded on March 17.
Early April is normally the time of year when supply ramps up at Roma as producers turn off stock in advance of the colder months.
As Landmark's Rod Turner points out, it is also a time many producers take advantage of having kids at home on holidays to help with mustering.
That usually results in big numbers hitting the market during the week of Easter, but that didn't happen this year, with only 2000 cattle yarded at Roma last week.
"For some reason they just didn't want to go that week before Easter and the week after, and I reckon the whole lot has just turned up in one hit," Mr Turner told Beef Central this morning.
"They were holding out for that bit of rain but it didn't come."
The big numbers booked for tomorrow are also indicative of the worsening seasonal situation for many western Queensland producers.
Around 3000 head have been drawn from Blackall, Longreach, Winton and Boulia, an area where many producers are now down to their very last cattle.
The details of tomorrow's yarding as supplied by Landmark can be viewed by clicking here.
Available records show that Roma's largest yarding to date was assembled in 1982 when 14,000 store weaners were auctioned, followed by a 13,206 head yarding in early May last year.