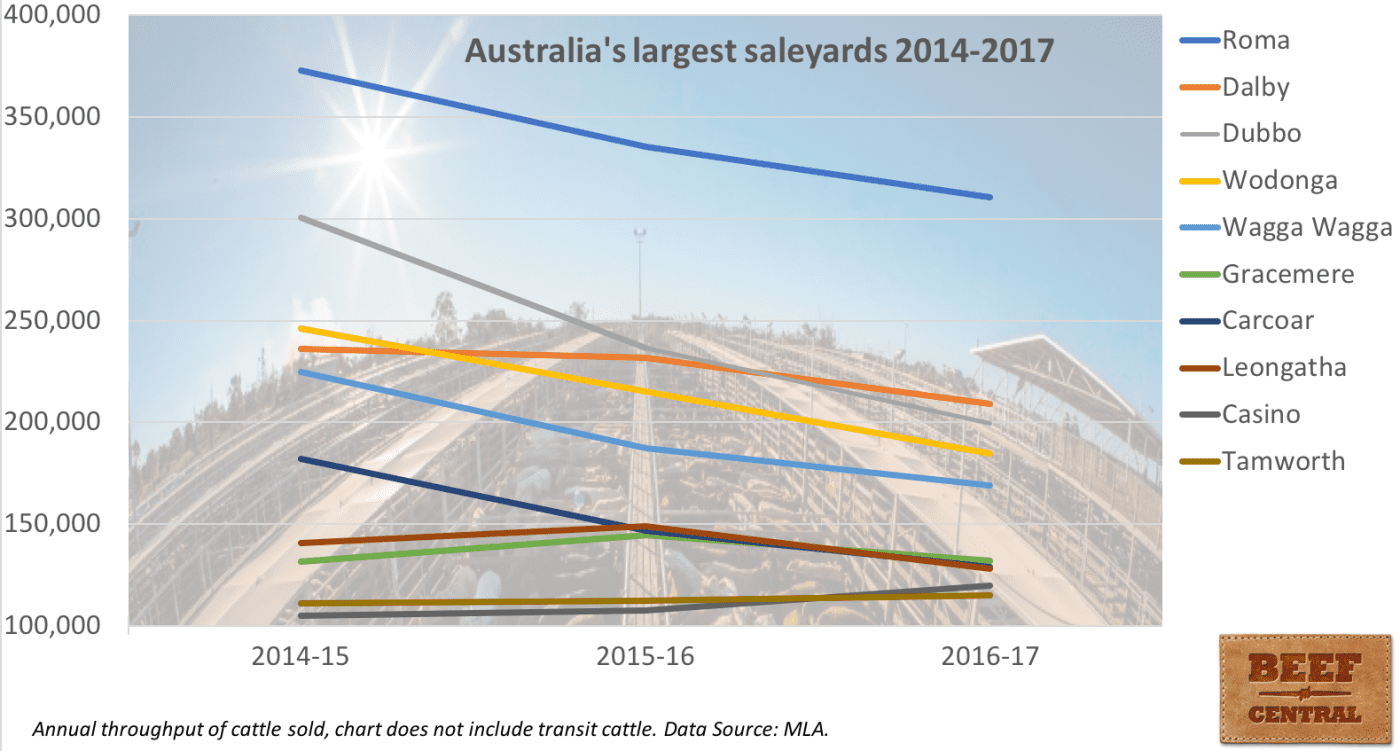 Australia's largest physical cattle selling centres during the three years 2014-15 to 2016-17. Source: MLA's anual cattle saleyard survey. 
FOUR cattle selling centres in Queensland, New South Wales and Victoria have received funding injections for infrastructure projects under the second round of the Federal Government's Building Better Regions Fund.
The biggest winner was Roma which received a $3.96 million grant to go towards the construction of a new $7.9 million multi-purpose centre.
The development will include a state-of-the-art stud stock selling arena, new agent's offices, conference facility and canteen/dining area, and also an interpretive centre for the 4000 tourists who now visit the Roma Saleyard each year.
It will also create better viewing opportunities for visitors to the yards, which celebrates its 50th anniversary in 2019.
The Federal funding also means producers selling at the centre are unlikely to face higher selling fees to pay for the new development.
The project received Queensland Government funding of $3.6 million last year, and the Federal funding means the Maranoa Regional Council which owns the facility will only have to come up with the remaining $262,500.
When the project was first mooted some concerns had been voiced by agents and producers that if the Maranoa Regional Council was required to fund a large slice of project, selling fees would have to rise to cover the development costs.
However the significant State and Federal funding now secured has allayed many of those concerns, Roma stock agent Rod Turner said, adding that the project would be "a great thing for the Roma region and economy".
Roma is the largest 'physical' cattle saleyard in Australia, selling 310,525 store and prime cattle in 2016-17 (see chart above).
The national online selling platform AuctionsPlus owned by Elders, Landmark and Ruralco sold over 400,000 in 2016-17, making it the largest individual 'saleyard' by throughput numbers.
The new centre is expected to open in 2019.
A further three livestock selling centres successfully received funding in the latest round of the Federal Government's Building Better Regions Fund:
The Inverell Shire Council received $2.5m toward a $7.5 million project to upgrade and redevelop the Inverell Livestock Exchange to include a new amenities building for transport drivers, new undercover selling pens with soft flooring, upgraded weighing and animal handling facilities, new feed yards with feed bunks to improve animal welfare outcomes, expanded truck parking and decoupling area to improve heavy vehicle safety and driver fatigue and new truck wash down facilities;
The Singleton Council received $305,955 for a $611,910 refurbishment of the Singleton Regional Livestock Market office and kiosk building;
The Macedon Ranges Shire Council received $878,500 towards the $1.75 million cost of upgrading the Macedon Ranges Livestock Exchange and Truck Park at Kyneton.