QUEENSLAND'S Roma Saleyards has retained its mantle as the nation's largest cattle selling centre by throughput, for the 2021-22 financial year, an annual analysis by MLA shows.
Roma accounted for 220,567 head of store and slaughter cattle last financial year, down 7.8 percent from the year before.
Overall there were 3.784 million cattle transacted through Australian saleyards in 2021-22, a rise of 239,000 head or 6.7pc on the previous financial year.
The 2022 results show the national herd rebuild has matured and moved towards retention. Producers continue to take advantage of the higher prices, particularly for young cattle.
As the tables set out below show, increases in cattle saleyards turnover were recorded in Queensland (+11.2pc), NSW (+15pc), Victoria (+7.8pc) and Tasmania (+21pc). South Australia was back just 1.6pc, and Western Australia -4.1pc.
There were some dramatic changes evident in individual saleyards results. Charters Towers' Dalrymple Saleyards was reported to be up 202pc last year from 56,000 head to 170,492 head, making it the second largest cattle saleyard in the nation last financial year.
We've asked MLA to provide some guidance for the reasons behind the unusual change, which will be added here when it arrives.
Dalby saleyards ranked third in national rankings, accounting for 161,792 head last year, down 3.1pc. Here's the Queensland saleyards stats below (click on images for a larger view):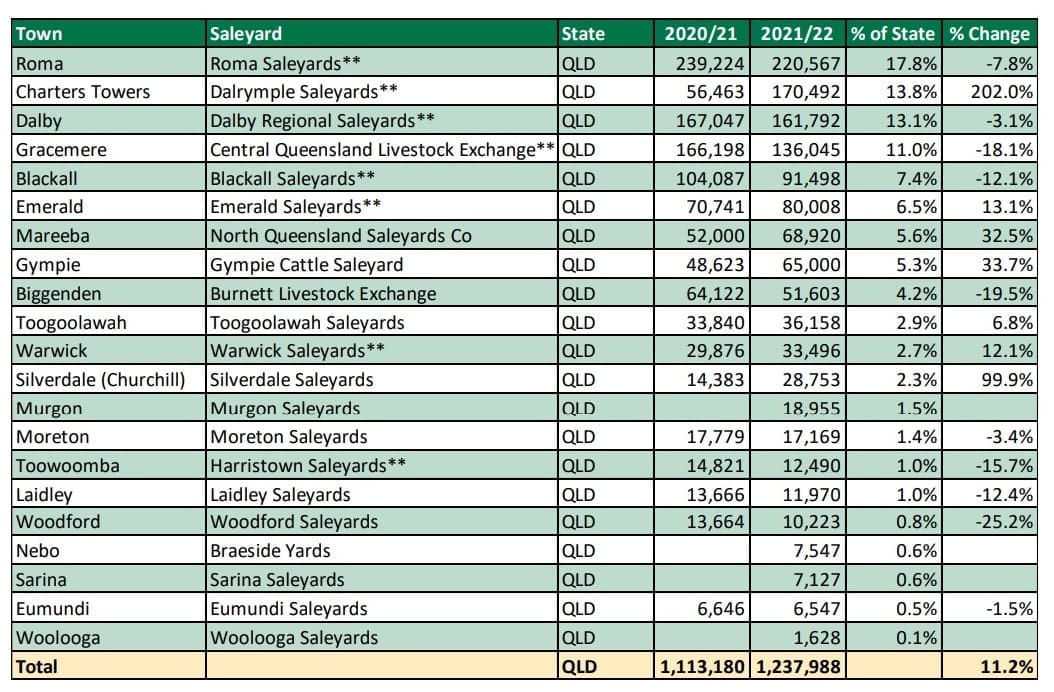 In New South Wales, Tamworth has tipped-out Dubbo and Wagga Wagga as the state's largest cattle selling centre last year, recording turnover of 124,863 head, a 23.4pc rise on the previous year. Casino finished second in NSW with turnover of 123,712 head, up 19.3pc, and Dubbo third, 122,289 head (+5.6pc) .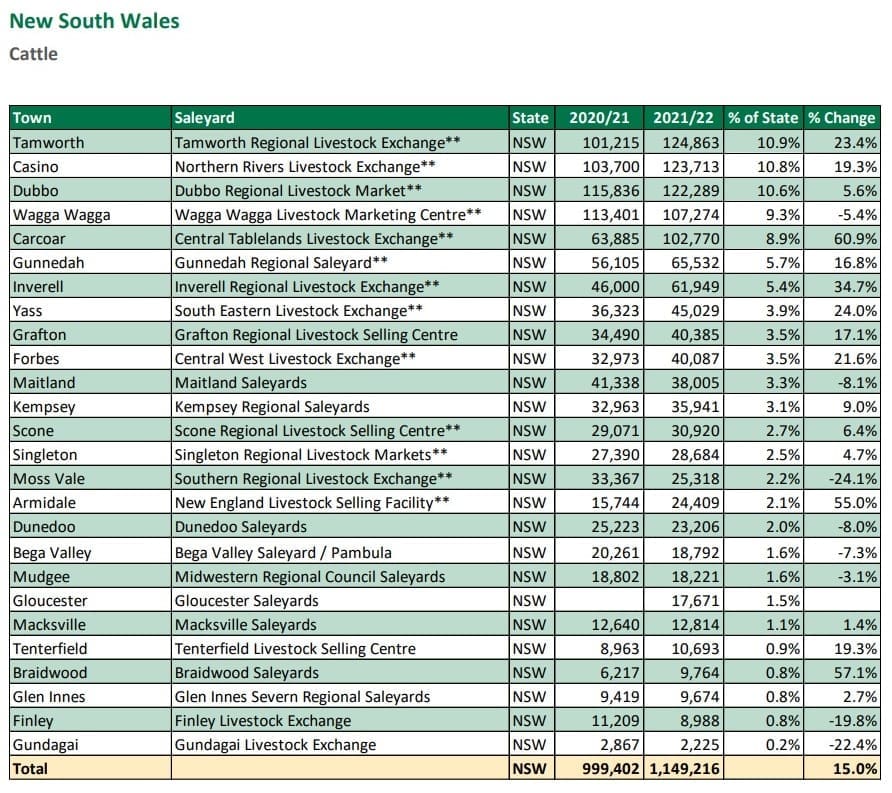 Victorian rankings were more stable, with Leongatha again topping the state, recording turnover last financial year of 160,202 head, up 12.3pc. Next was Barnawatha (Wodonga) 111,688 head (down 8.3pc) and Mortlake, 111,490 head.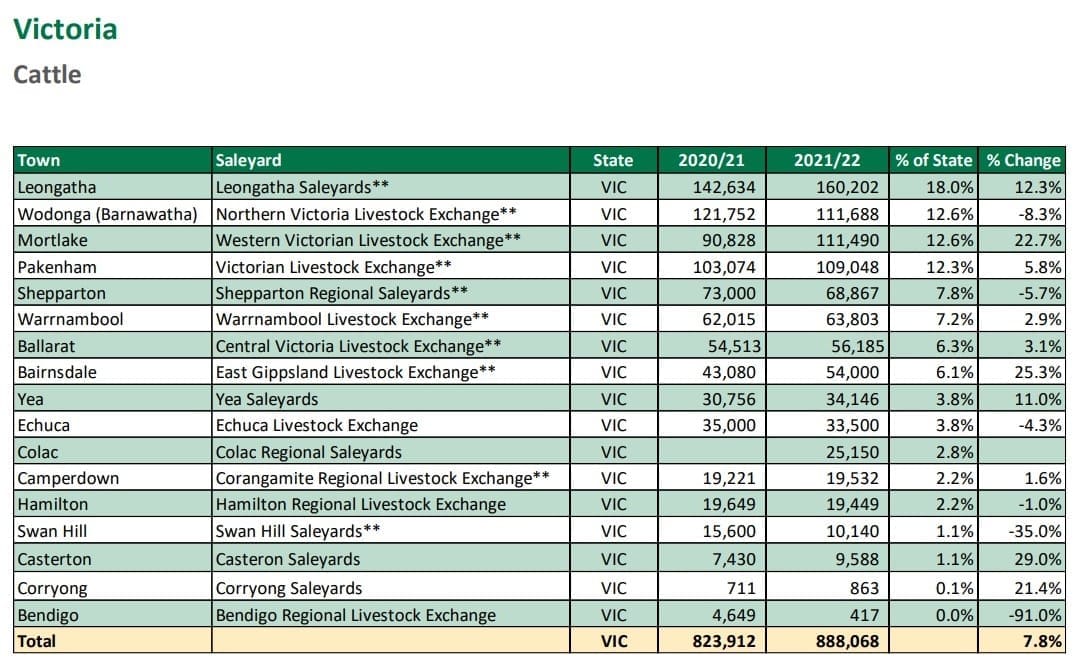 Saleyards statistics in Tasmania, South Australia and Western Australia are captured in the tables below.
The statistics need to be kept in some context, however, as paddock sales in Queensland account for a far higher proportion of cattle turnover – both store and prime – than saleyards.
In 2021-22, there were close to 16.8 million saleyard transactions made across both cattle and sheep, down 1pc from the 17 million transactions recorded in the previous financial year.
If sheep and cattle turnover are combined, Wagga remains Australia's largest saleyard by head-count, ranking fourth for cattle (107,000 head), and first for sheep (+2 million head – 25pc larger than the next largest sheep selling centre, Ballarat).