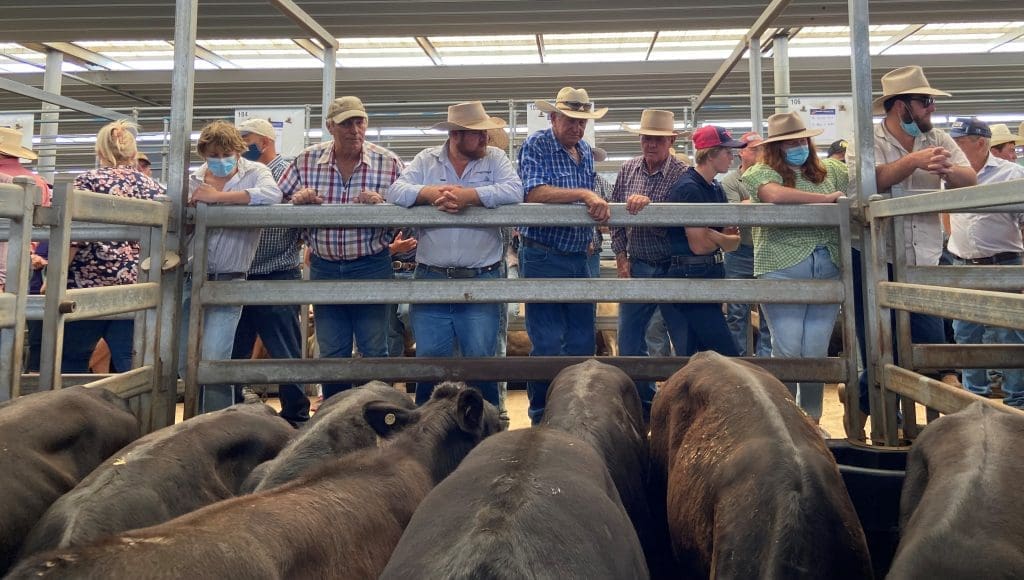 THE southern Queensland selling centre of Roma maintained its mantle as the busiest cattle saleyards in Australia last financial year, but there were some significant shifts among the minor placegetters.
Data released by the National Livestock Reporting Service this morning, covering the 2020-21 financial year, shows that national saleyard throughput (both sheep and cattle) was down 10.3pc year on year, as a consequence of herd rebuilding.
A total of 3.545 million cattle and 13.43 million sheep were transacted via saleyards throughout the financial year.
Wagga in NSW can lay claim to being Australia's largest saleyard when measured across both cattle and sheep, accounting for 1.818 million sheep in addition to 113,000 cattle.
The 2020-21 results reflect that both the sheep flock and beef herd are in herd rebuild stage, with less transactions taking place as producers retain livestock. Across the year there were 17 million saleyard transactions made across both livestock species, down 10.2pc from the 18.9 million transactions the previous financial year.
On a head sold basis, sheep make up 79pc of all saleyard transactions at 13.4 million head.
Always worth remembering when comparing state-to-state statistics in the saleyards results published below is the fact that Queensland is far less reliant on the saleyards selling channel that southern states, for both store and slaughter cattle. The overwhelming majority of restocker, feeder and slaughter cattle in Queensland are sourced direct out of the paddock.
Throughput
The five largest yards in terms of cattle turnover across Australia last year (% change on previous years in brackets) were:
Roma (QLD) – 239,224 (-13.1pc)
Dalby (QLD) – 167,047 (-29.3pc)
CQLX Gracemere (QLD) – 166,198 (+18.1pc)
Leongatha (VIC) – 142,634 (-0.6pc)
Wodonga (Barnawatha) (VIC) – 121,752 (-33.7pc)
NSW yards like Dubbo, Wagga and Casino, which traditionally figure prominently among statistics on national saleyards turnover, where noticeably absent from the list of biggest national yards this year, due to the impact of drought.
In a breakdown by state, Queensland accounted for the biggest portion of cattle saleyards turnover for the year, totalling 1.13 million head. NSW throughput was 1.037 million, followed by Victoria 861,000; Western Australia 249,000; South Australia 230,000 and Tasmania 35,870.
Notable movers
Big movers last financial year in terms of turnover were CQLX Gracemere (Rockhampton), which went within a thousand head of knocking off Dalby as the second biggest cattle selling centre in Australia. Gracemere went strongly against the overall throughput trend, lifting cattle turnover by 18pc on the previous year.
Also significant was Leongatha's move past Victorian rival, Wodonga, to top the throughput statistics in Victoria, and finishing fourth on the national list for the first time.
Gracemere agent Brad Mulvihill from TopX, who has sold at the Central Queensland selling centre for the past 18 years, said the decline in live export trade out of northern Australia over the past 18 months had been a considerable factor in Gracemere's dramatic rise in volume.
"We are seeing a lot more of those Brahman-type feeder steers from vendors further north through the yards," he told Beef Central this morning. "They see Gracemere as a good destination with plenty of buyer competition, partly because it regularly attracts restocker buyers from further south, even into NSW."
While most saleyards experienced a decline in throughput last financial year, Guyra and Deniliquin (NSW), Gracemere and Mareeba (QLD), Mortlake, Casterton, Ballarat and Warracknabeal (VIC) and Naracoorte (SA) experienced increases of more than 10pc (see tables below).
The lower yardings in FY21 translated into higher prices as supply was constrained. However, as 2022 and 2023 approaches, yardings are expected to increase as the rebuild matures and more animals hit the market.
Tables for largest saleyards in each state will be added here this afternoon. Click on tables for a larger view.