CATTLE numbers were up 10 percent on AuctionsPlus this week with a total of offering of 21,083 head, while clearance rates eased from the highs experienced last week to sit at 84pc.
The Eastern States sale recorded 1214 registered buyers entering the sale with a total of 269 users placing a bid, of which 104 were successful.
The majority of stock categories rose in value with the biggest increase being PTIC cows which averaged $2157, up $293.
Weaner heifers and steers both reported price increases with heifers rising 19c, to average 465c and steers rising 10c, to average 487c. Yearling and grown heifer categories saw a 16c increase, to average 393c.
Yearling and grown steers was the only young cattle stock category to decrease in value, falling 14c, to average 397c. Cows with calves at foot reported the biggest loss on last week, decreasing by $436, to average $1914.
Southern Queensland was the highest purchasing region securing 3085 head followed closely behind by the Central West and NW Slopes and Plains of NSW. Restockers in these areas are looking to take advantage of an abundance of feed and empty paddocks which has driven prices up to record levels in recent weeks as the opportunity cost of not buying becomes apparent.
Queensland continues to provide the largest portion of listings with 10,043 head offered this week or just shy of 50pc of the catalogue. Producers are seeking to take full advantage of strong demand for young cattle from southern states and inject some handy cashflow back into their businesses.
Cow and calf units were back up this week rising by $67 to average $2412, selling from $1310 to $3500. Top price was returned by a line of 23 NSM heifers and 23 calves from Oberon, NSW. These Rennylea blood Angus were 599kg at 31-32 months of age. The calves at foot averaged 145kg, were 7-11 weeks old and they will travel to Boorowa, NSW.
Other highlights included two lines of 108 Brahman/Droughtmaster cows and calves offered as a run out the gate from Winton, QLD travelling almost 2000kms south to Wodonga, VIC. These mixed age cows were 478kg and the calves at foot 1-24 weeks in age, with the lots selling for $1850 and $1870.
PTIC heifers sold from $1170 to $2950, averaging $1576, decreasing in value by $274 from the previous week.Top price was returned by a line of Limousin PTIC heifers 667kg at 20-30 months from Binda, NSW. These heifers will travel to Moss Vale, NSW.
PTIC cows regained the losses recorded last week, charging higher to average $2158, up $293, selling from $1390 to $3060. Top price was returned by a line of 24 PTIC Angus cows 520kg at 4 48 months and joined to Wattletop and Pathfinder bulls, from Elsmore, NSW. A highlight saw this vendor offer a total of 337 Angus PTIC cows, achieving an 81 clearance and averaging $2461.
Young cattle
Light steers less than 200kg sold from 440c to 685c this week, averaging 533c, up 11c. Top price was returned by a line of 20 Limousin vealers from Rydal, NSW. These steers were 4-6 months averaging 156kg and will travel to Mulgoa, NSW. A line of 41 Ultrablack steers 6-7 months averaging121kg from Old Bonalbo, NSW returned 601c, and will travel to Dubbo, NSW.
Steers 200 to 280kg sold from 400c to 635c, averaging 487c, up 11c. From Come by Chance, NSW a line of 146 weaned steers 200kg at 8-9 months returned the top price and will remain local.
Steers 280 to 330kg remained firm, averaging 442c, selling from 367c to 506c. A line of 28 weaned Angus steers 299kg at 8-9 months from Yass, NSW achieved top price and will travel to Braidwood, NSW.
Feeder steers 300-400kg sold from 336c to 468c this week, and averaged 396c, down 12c. Highlights include a line of F1 Wagyu x Angus steers from Roma, QLD returning 454c. These vendor-bred feeders averaged 373kg and were 9-10 months of age.
Heavy steers averaging more than 400kg averaged 382c, down 13c, selling from 329c to 412c. From Moree, NSW a line of 46 Shorthorn steers returned top price. These steers were 412kg at 12-18 months and will travel to Blayney, NSW.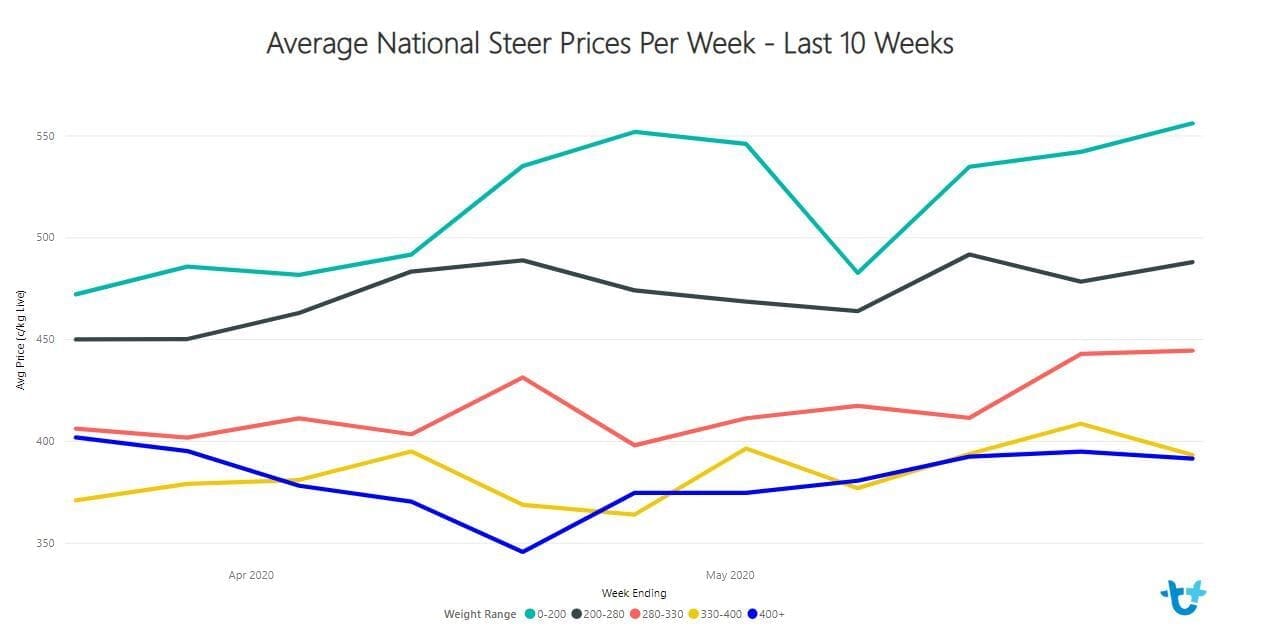 Light heifers less than 200kg sold from 407c to 610c averaging 489c, up 3c. Top price was returned by the same vendor from Rydal, NSW who were mentioned previously for topping the same weight category for their steers. These Limousin vealer heifers were 164kg at 4-6 months and will travel to Ilford, NSW.
Heifers 200 to 280kg averaged 440c, up 6c selling from 341c to 543c. From Inverell, NSW a line of 31 weaned heifers achieved top price. These EU Angus heifers were 234kg at 8-10 months and will travel to Gunnedah, NSW.
Heifers 280-330kg sold from 363c to 471 to average 408c, up 14c. Top price went to 83 Angus heifers from Willow Tree, NSW 293kg at 15-20 months, and will travel to Tenterfield, NSW.
Feeder heifers rose 4c to average 387c this week, selling from 345c to 451c. Highlights include a line of 105 Shorthorn heifers 344kg at 12-13 months from Padthaway, SA returning 421c, which will travel to Burra, SA.
Heavy heifers over 400kg averaged 382c, down 5c selling from 366c to 392c. Top price was returned by a line of 69 Angus x Black Simmental heifers from Minhamite, VIC. These Vermont and Coolana blood heifers were 19-21 months averaging 400kg and will travel to Murray Bridge, SA.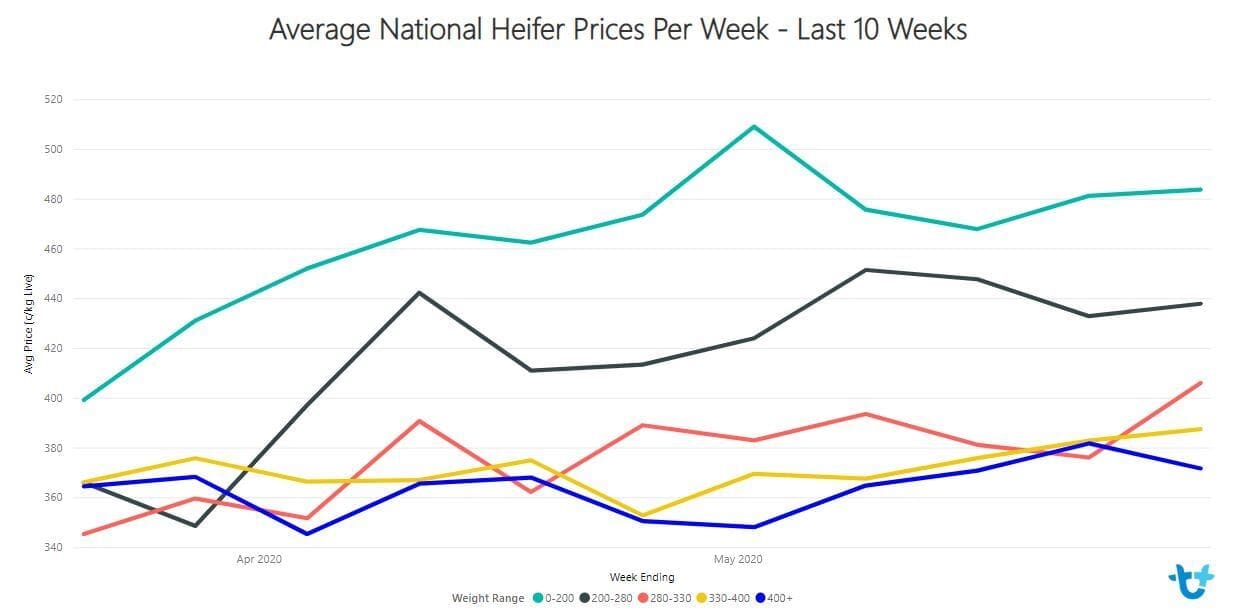 In this week's Tasmanian sale, 452 head were offered, resulting in an 85pc clearance. Highlights include a line of 21 unweaned Red Angus steers from Flowerd, returned 457c. These steers were 278kg, 6-8 months of age and will travel to Smithton. From Marrawah, a line of 16 Hereford steers 8-9 months averaging 326kg returned 418c. The steers will remain locally.
Source: AuctionsPlus