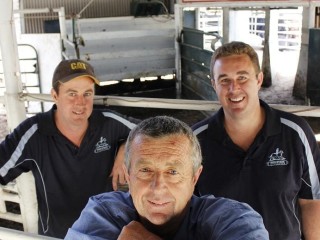 At a time when the future of saleyards is seemingly under pressure from both animal activist and the trend towards direct selling, one South Australian market is proving a winner with clients, buyers and agents.
In some respects, the Mount Compass saleyards is an unlikely success story. Owned and operated by independent agency Prostock and devoid of any presence from the two major pastoral houses Elders and Landmark, the weekly cattle market has continued to grow in stature in recent years.
Earlier this year, two new selling slots were taken at Mt Compass, with Quality Livestock and the Combined Independent Agents Association (CIAA) now offering cattle at the yards each Wednesday morning.
These additions have underpinned an expanding catchment area for sale stock at Mt Compass, which now stretches to many parts of South Australia, as far afield as Eyre Peninsula in the state's west.
However, most cattle are still sourced locally from around the Fleurieu Peninsula, the Adelaide Hills and Kangaroo Island, with weekly yardings now averaging 500 head.
"Our catchment area is certainly increasing. Just today we had five decks of cattle from Port Lincoln (on Eyre Peninsula)," Prostock principal Kym Endersby said following last week's sale.
The trend at Mt Compass stands in contrasts with other weekly sales at the South Australian Livestock Exchange (Dublin) and Strathalbyn, which have both struggled in recent years to consistently yard quality numbers of cattle.
While Mr Endersby freely admits Mt Compass also grapples with some fluctuations in numbers, the trending growth at the sale is encouraging.
"Everyone wants a steadier market and as numbers become more and more consistent, we will start to take the weekly peaks and troughs out," he said.
Jeff Emms, an independent agent who sells under the CIAA banner, previously sold at the weekly Dublin market but switched to Mt Compass at the start of the year.
"Generally the quality of stock presented here at Mt Compass is more acceptable to the trade," Mr Emms said.
"I believe there's better bred yearlings here than at other nearby sales."
Mr Endersby owns the sale facility and the adjoining land which is often used to agist cattle in the days leading up to and following a sale.
"A buyer might leave cattle here for a week after a sale and we even get cattle here on agistment from other saleyards," Mr Endersby said.
"When we say we feed cattle, we mean it. And our clients end up seeing the results when they kill their cattle."
Mt Compass operates on a ring selling system, increasingly rare nowadays, which also provides a point of difference to most prime cattle markets. As drafts of cattle enter the sale ring, weight figures are display on a large screen above the auctioneer.
"This way of selling is not meant to be like a Grand Prix, but it shouldn't go slowly either. It's designed to ensure that good cattle achieve the best possible price for their clients," Mr Endersby said.
The formula is drawing consistent processor/exporter, wholesaler, butcher and feedlot support from throughout SA, as well as strong restocker demand when seasonal conditions are right.
Mr Endersby has seen a lot change since he established the market at Mt Compass in 1990. While the local region boasts some of the best grazing land in SA, its proximity to Adelaide has seen many smaller lifestyle farms take the place of larger properties in recent years.
"It's heavy carrying country, but there are now a lot more small holdings than in the past," Mr Endersby said.
"Our average consignment per vendor on sale day is 2.5 cattle."
Another dramatic change has been the move away from dairy cattle on the Fleurieu.
"We used to have a lot of dairy cows and dairy infused cattle at this sale, but a lot of local dairies have disappeared and there's a lot more beef cattle now," Mr Endersby said,
"As far as our business is concerned, a 100-cow dairy might only sell 10 cull cows a year while a 40-cow beef herd will sell 40 calves a year. So it's clear to see that the switch towards beef has been good for our numbers."
As an independent operation, Mr Endersby is very much aware that the business he has built up is often under threat from a number of angles. Working alongside his sons Scott and Clint, Mr Endersby defends his industry and business with fierce determination.
"We've had our fair share of problems here over the years, with people trying to dictate terms to me. But I always refuse, I will not be dictated to," he said.
"If buyers are here to pay a fair price for cattle, that's great, but if they want to steal them, then I just don't allow it. I'm an independent agent I can do what I want to in that regard."
He says another major threat comes from animal welfare extremists.
"We in the industry just dismiss these people as idiots – which is all they are – but they get a lot of airplay in the media," Mr Endersby said.
"I'm told that it's up to us as an industry to respond to these radicals, but all my clients are too busy trying to run their businesses and satisfy bank requirements."
Mr Endersby said he prides himself on the welfare of the animals which come through his facility.
"The animal welfare here really is second to none, but unless you've worked in the saleyards or had some real involvement in this industry, you really have no idea about animal welfare," he said.
"Groups like the RSPCA have been very confusing of late in what they're saying about saleyards.
"These groups don't understand anything about the way we look after our stock. They should stop making stupid comments and just go away."