SUMMARY
Yarded: 2066
EYCI = 1096c/kg
FEEDER RATING: -35 POINTS
Steers: 360-450kg $22050-$2810 av 586c/kg; 280-360kg $1790-$2360, av 661c/kg
Heifers: 360-450kg: $1850-$2470, av 533c/kg; 280-360kg $1550-$1850, av 569c/kg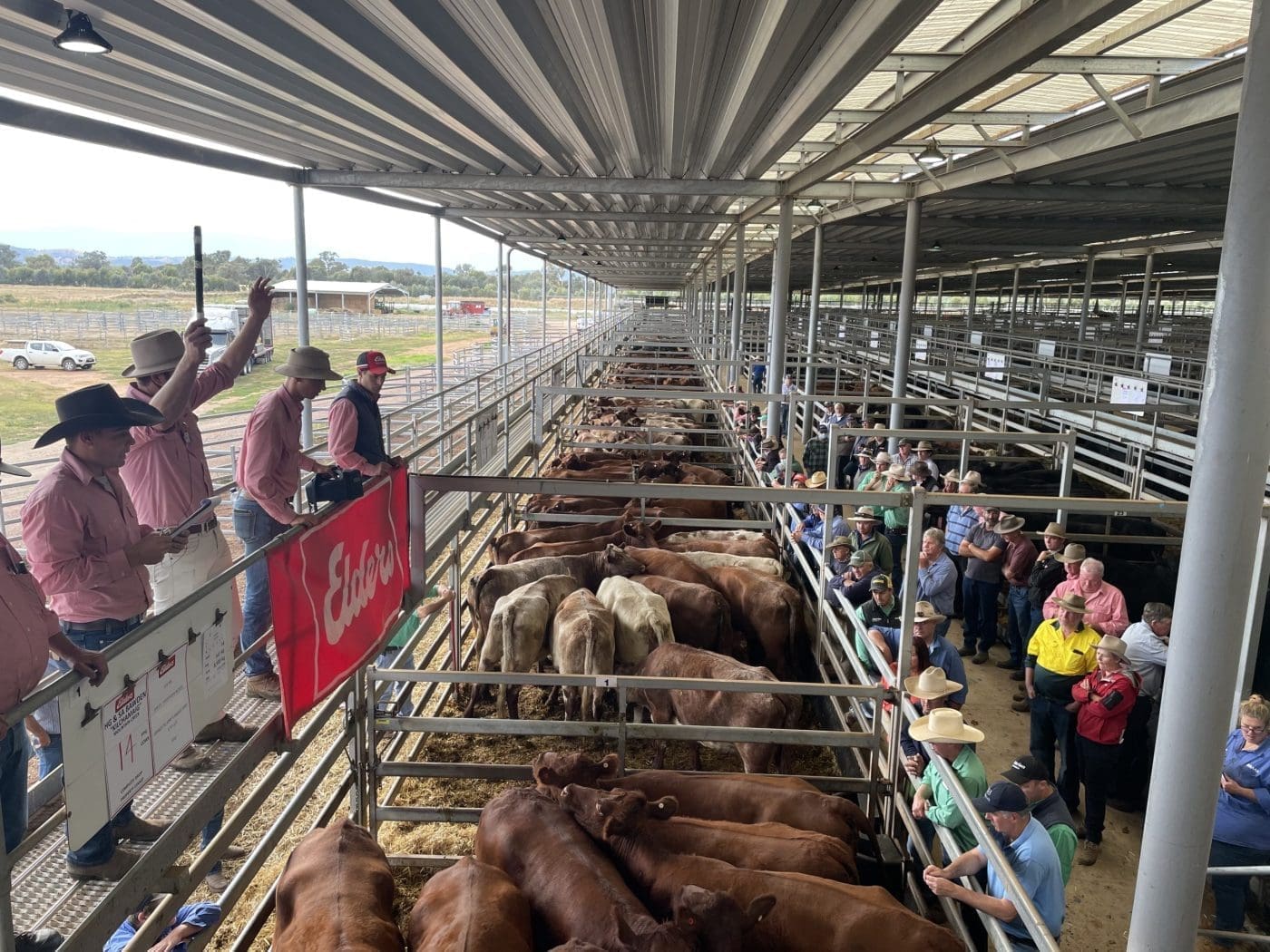 LOCAL restocker buying underpinned a market of 2060 store cattle at NVLX Barnawartha on Thursday.
Selling agents, Elders and Paull & Scollard Nutrien (PSN) report good lines of vendor bred weaners held recent values however western station-bred lines and previously-traded lots including pens of coloured cattle all met a more subdued market.
Oliver Mason, Elders said sales of light heifers were also well off the pace some easing by as much as $100 a head in places.
Teys Charlton Feedlot and commission buyer Andrew Lowe were the main buyers of the heavier cattle Mr Mason said however pickings of these were slim.
Wade Ivone, PSN agreed prices were mostly easier on their month earlier sale.
The result overall he said was reasonable given the mixed quality of the penning.
"The number of large quality vendor-bred lines was limited, Mr Ivone said, as was the number of cattle offering weight".
"The steer penning in particular was mainly a yarding for the local restocker with only odd yards suited to the volume lot feeders".
A feature of the Elders-PSN April sale was the complete dispersal of the HG & SA Bawden, "Kilchamaig" Spry-blood Shorthorn and Shorthorn-Angus breeding herd.
The Bawden dispersal comprised 125 head of classed-in, mixed aged cows, aged three to nine years along with 170 head of four- to eight-month-old Spry Angus blood followers from the family's Mountain Creek, NSW property.
Pregnancy tested in calf to Spry Angus bulls on a 12-week November to February joining, the Bawden cows were sold according to colour (i.e.; Reds, Red Roans, Blue Roans) to $2980, average $2571 or 442c/kg.
72 head of the Bawden Shorthorn-Angus young steers topped at $2155, to average $1878 while 90 heifers made to $1835 and averaged $1504.
Weights of the Bawden steer and heifer weaners ranged from 162 to 284kg.
Meanwhile sales of calved females were limited and mostly made between $2680 and $3880 per outfits.
Included in these sales were yards of Charolais- and Speckle Park-cross heifers, with Speckle Park calves-at-foot and re-joined to Speckle Park bulls that made $2820 to $2960 for NSW vendor, Malvern of Mayrung.
The selling of steers opened on a yard of five Charolais weighed at 588kg.
Offered by Karen Green these made $2750 (467c/kg) while BJ Schultz, Buangor sold yards of 13 Angus, 469kg and 13 Angus, 456kg, both taken at $2820 or 610c/kg.
Other steer sales at the same weight saw Renardlyn Rise sell 17 Angus, 461kg at $2810 (610c/kg) while DR Stevenson, Tallangatta sold 10 Angus, 497kg at $2820 (567c/kg).
A lighter yard of 21 Angus steers, 391kg, from the DR Stevenson consignment made $2510 (642c/kg) while Nellshire P/L, Urana, NSW sold two Angus pens 19, 419kg and 13, 348kg at $2500 (596c/kg) and $2230 (640c/kg).
Some larger pen lots of spring-drop weaners were included in the sale.
WF&PL Ryan, Jugiong, NSW sold 23 Angus, 305kg at $2200 (721c/kg) while Rosemond, Nathalia, Vic cleared 20 Angus, 303kg at $2205 (728c/kg).
A further feature of the April sale was a draft of 270 Angus-Simmental and Angus Composite -cross weaned mixed sex weaners, seven to nine months by Wormbete and Brewer Simmental and Hicks Composite-blood bulls.
Offered by Glencoe Pastoral, Holbrook, NSW the steer portion made to $2265 for a pen of 34, 345kg (656c/kg) while a draft of 80, average 297kg, made $2150 (717c/kg).
Hereford steer sales were best served by RL & AH Rollinson, Jerilderie, NSW, selling two yards: 12 weighed at 467kg, made $2550 (546c/kg) while a pen of seven, 419kg, fetched $2320, (554c/kg).
Euro-cross steer sales ranged mostly from $1800 to $2320, varying from 580 to 733c/kg depending on weight.
The heifer penning was mostly absorbed by local opportunity lot feeder interests.
Purchase rates were mostly set on 470 to 530c/kg for those weighed above 400kg, up to $6/kg for heifers from 300 to 400kg, and to 650c/kg for lighter for an overall sale average of 566c/kg or $1850/head at 325kg.
Restocker-breeder interests was sparked on two yards of DR Stevenson Angus heifers, 12 months, Lawson-blood.
Weighed at 441kg (21 head) and 383kg (20 head) these made $2340 (531c/kg) and $2235 (584c/kg) respectively while WF&PC Ryan, Jugiong gained similar interest on a pen of 20 Rennylea & Kenny Creek-blood Angus, 315kg sold at $1900 (603c/kg).
Three yards of Glencoe Composite heifers, 258- 288kg, made to $1830, average $1781 (652c/kg) while a lighter Glencoe Composite heifers (222kg) made $1510 (683c/kg).