IT was another very tough trading week for the national cattle market, both online and through physical markets, with prices dropping further.
For online activity, the combination of waning sentiment, the winter doldrums and rising production costs continued to keep both buyers and vendors on the sidelines. With a total of 12,387 head offered, AuctionsPlus commercial cattle offerings were back 3pc on the previous week, with significant price declines across the young steer and most heifer lines, and proven breeders.
Beef Central discussed the recent sharp declines seen in feeder cattle prices in this article last Wednesday, and a similar trend in slaughter cattle in this weekly kill article last Tuesday.
Prices across heavier steer and heifer categories eased considerably while clearance rates also reflected a cautious market. Post-sale negotiations over coming days will see overall sales rise however vendor price points will be challenged by buyers seeking out value.
With the regular numbers of registered users logging into the commercial sales again this week, the comparatively low clearance rates display the hesitancy within the market. Buyers are increasingly sitting on their hands hoping for further price declines, while vendors have the feed reserves to hold stock and maintain established reserve levels awaiting spring conditions.
It was tough going through the young steer market this week, with prices back across the board.
Steers 200-280kg averaged 10c/kg or $107/head lower on last week, at 632c or $1550, with a 58pc clearance rate for the 1546 head offered.
From Muttaburra, North Queensland, a line of 136 Santa x Brahman steers 208kg returned $1390/head, sold to a buyer from Ashbourne, SA.
It was harder going for the 280-330kg steer lines, averaging 50c/kg or $170 a head less – averaging $1630 or 546c. The 50pc clearance for the 1117 head offered was up slightly on last week's 47pc from 1971 head.
Declines got larger with the weight categories, with 330-400kg steers back $208 or 88c/kg on last week, averaging $1847 or 506c – with the paltry 20pc clearance for the 1016 head clearly demonstrating the hesitancy within the market at the moment.
From Boondooma, southern Queensland, a line of Angus x Charbray steers 354kg aged 7-9 months, returned $1900/head to a Queensland buyer.
From Holbrook, NSW a run of 134 18-22-month-old Angus feeder steers averaging 481kg split across two lots, returned $2730.
Among heavier feeder weight steers, 62 Angus x Santa steers 403kg at 5-10 months from Hayfield Pastoral, Longreach made 581.6c/kg or $1790/head on Friday, while their 49 heifer sisters averaging 386kg made 562c or $1610.
The young heifer market was mixed, with some price rises through the mid-weights, as 200-280kg lines averaged $49 or 6c/kg lower on last week, at $1352 or 549c. From Wallumbilla North, Southern Queensland, a line of 20 Droughtmaster heifers 8-10-months 279kg  returned $1900.
Heifers 280-330kg showed the strongest result for the week, with a 67pc clearance rate for the 815 head offered. Prices for the week went against the trend, lifting 14c/kg or $140, to average 568c or $1751.
From Corryong, Victoria, a line of Hereford heifers 10-11 months 308kg returned $1410/head and will travel to Cudgewa, Victoria.
Heifers 330-400kg jumped 87c/kg or $351 this week, with some excellent quality lines boosting the average, given the 42pc clearance rate for the limited 594 head offered.
From Grong Grong, NSW Riverina, two lines totalling 110 head of Angus backgrounder heifers 366kg returned $2200/head and will travel to a buyer near Millmerran, southern QLD.
Breeding cattle
For the proven breeding lines it was all red ink this week, with PTIC heifers averaging 128c/kg or $424 lower on last week, at $2080/head. PTIC cow offerings totalled 1417 head, retracting another 42c/kg on last week's average, to 430c or $2124.
Given the influence of breed, weight and bloodlines on buyer demand across the PTIC categories, large price movements can occur, especially with the lower clearance rates.
With 2401 PTIC heifers offered this week, the clearance was 31pc, while the 1417 PTIC cows registered a 24pc clearance.
From Naracoorte, SA, a line of 39-40-month-old Angus PTIC heifers 697kg topped the category, at $2920. These heifers are set to take the short trip north, to Keith, SA.
From Cassilis, NSW, a line of 24 20-month-old Angus heifers with CAF returned $3140/head – $500 above their reserve price and will travel to a buyer in Kanimbla, NSW.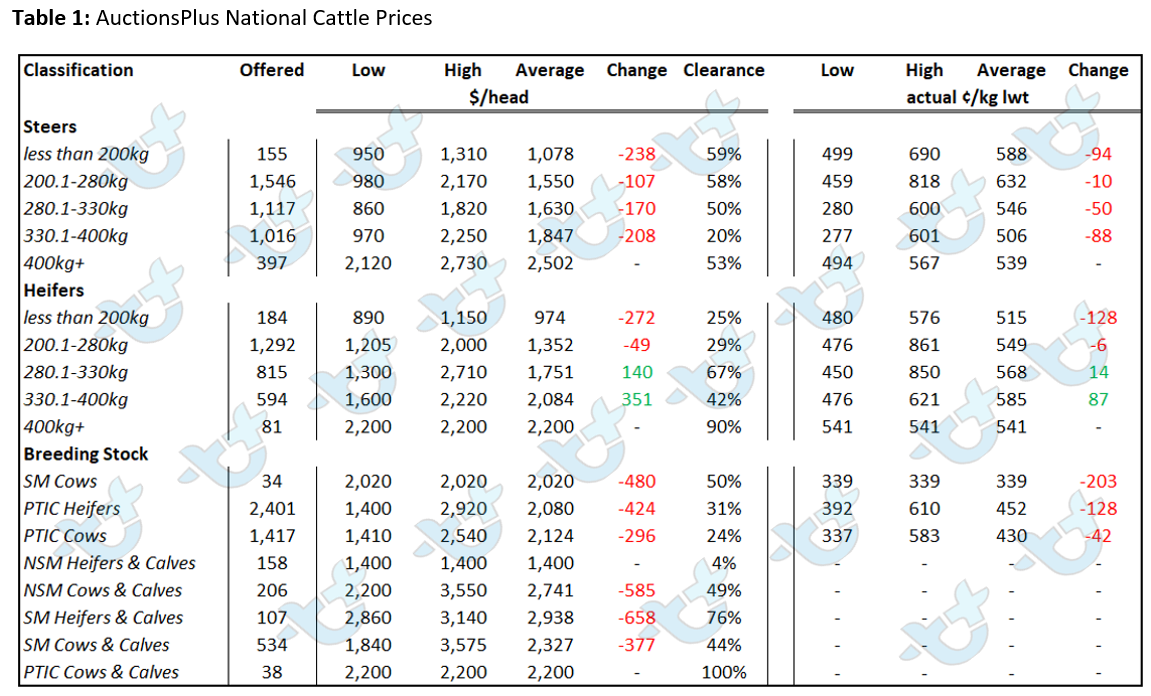 Prices as at 2pm, Friday 22 July.