YOUNG cattle price records continued to fall on AuctionsPlus last week, with a line of Angus and Angus cross steer calves smashed national records when they fell for 718c/kg.
Cattle numbers eased slightly this week with 17,186 head listed, 1700 less than last week. The smaller offering did not dampen prices or demand, with the overall catalogue achieving 90pc clearance.
Breeding articles were hot property this week with all stock categories experiencing significant price lifts, signalling that restocking demand remains strong. Feeder steers and heifers followed the increased price trend, up 25c and 13c respectively.
Queensland dominated the supply side once again, with North and Central Queensland being the two largest listing regions. Together, they accounted for one quarter of last week's catalogue.
Mixing up the purchasing regions, Metropolitan SA was the largest of the week with 2694 head returning to the area. Southern QLD and Central Western NSW followed closely behind with 1595 and 1417 head respectively.
Cows and calf units continue to be in strong demand, achieving 92pc clearance. They sold from $1830 to $3900, to average $2934, up $98. Top price was claimed by 18 NSM Angus heifers with calves. The rising two year old heifers averaging 497kg and the calves, sired by registered Bongongo Angus bulls, were 1-7 weeks of age averaging 84kg.
From Wodonga, NSW a line of 15 NSM Angus cows 5-8 years averaging 772kg, with calves, sold for $3560 and will travel to Walla Walla, NSW.
PTIC cows achieved 100pc clearance this week, for the 816 head offered. Prices ranged from $1670 to $2810 to average $2134, $8 dearer than last week.
Two lines of Angus PTIC cows from Gunnedah, NSW, offered by the same vendor R.P. & J.A. Gates, sold for the highest price of $2810. The first lot of 42 head averaging 545kg, were 2.5-4 years of age and the second mob of 59, 4-6 years averaged 601kg. Both pens were PTIC to Angus bulls and will travel to nearby Barraba, NSW.
PTIC heifers were no exception to strong clearance rates, achieving 93pc for the 1001 head offered this week. Prices ranged from $1460 to $2620 to average $2086, up $149. Top price hailed from Yallambee, Henty, NSW offering 31 PTIC Angus cows. The Rennylea blood cows averaging 543kg were 19-20 months old and will cross the border to Waldara, VIC.
From Penola, SA, Krongart Pastoral offered 31 EU accredited PTIC Angus cows averaging 432kg at 19-20 months, selling for $2350.
Young cattle
There were 8380 weaner and yearling heifers listed this week, almost 500 more than last, with a 90pc clearance achieved. Light heifers averaging less than 200kg sold from 507c to 650c to average 567c, 129c dearer.
Top price was claimed by 15 Angus and Angus cross heifer calves offered by Greg Leven from Gilgandra, NSW. The Debarry Angus blood heifers averaging 165kg at 5-6 months, will head to Canowindra, NSW.
Heifers averaging 200-280kg eased 30c this week, selling from 351c to 613c, averaging 439c. The highest price was a pen of apricot Limousin future breeders 11-13 months averaging 278kg from W Engel, Burrawang, NSW, which will head to Woodlands, NSW.
Heifers 280-330kg averaged 411c this week, selling from 342c to 580c, back 51c. Top price was achieved by the same vendor that topped 200-280kg heifers from Burrawang, NSW. The offering of Black Limousin cross heifers, 11-13 months averaging 297kg, will travel to Woodlands, NSW.
Feeder heifers 330-400kg ranged in price from 355c to 499c this week, increasing 13c to average 438c. From Gunbower, VIC, a line of 30 Speckle Park heifers offered by York Bay topped the category. The heifers averaging 330kg were 9-18 months old.
Heifers heavier than 400kg eased 10c this week, selling from 370c to 444c, averaging 402c. The highest priced lot of the category was claimed by Peaty Pastoral Co from Goulburn, NSW, with a line of 36 Angus yearling heifers 13-14 months averaging 408kg, which will travel to South Australia.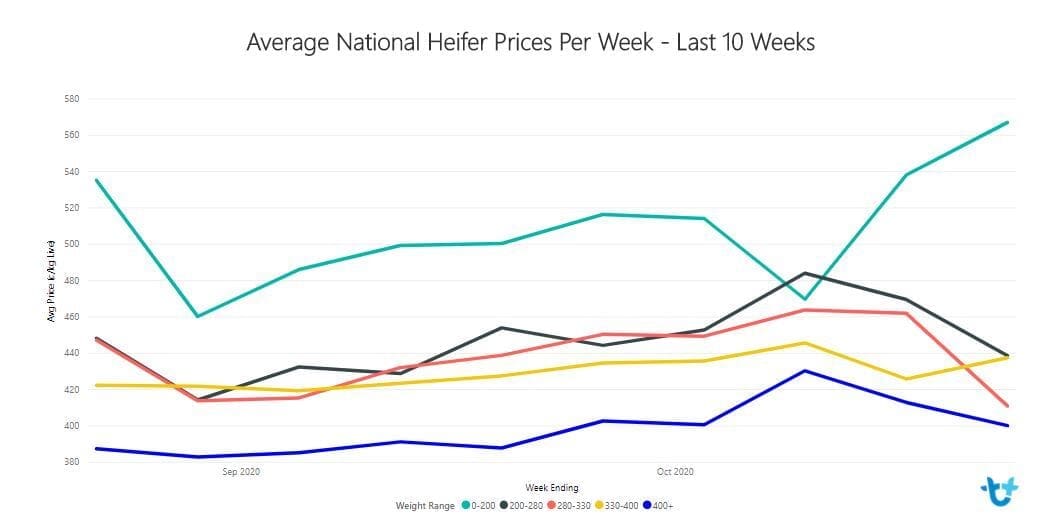 National steer record
There were 5362 weaner and yearling steers offered this week, 247 head fewer than last week, however clearance remained high at 91pc. Light steers averaging less than 200kg were firm on last week, selling between 424c and 718c, averaging 486c.
As mentioned in our intro, a line of 12 Angus and Angus cross steer calves smashed the AuctionsPlus national price record, selling for 718c, liveweight, returning $1270 a head. This price was not that far short of the new Eastern Young Cattle Indicator record of 801c/kg, but the big difference, of course, is that the EYCI is measured in hot standard carcase weight, not liveweight.
The new record-setters, 5-6 months old averaging 177kg, were offered by Greg Leven from Gilgandra, NSW, and will head south to Canowindra, NSW. Their heifer sisters, referenced above, made 649.7c/kg.
Steers averaging 200-280kg eased 25c this week, with prices ranging from 367c to 640c, averaging 499c. Top price was achieved by a line of 31 weaned composite steers from Bombala, NSW, offered by JC Campbell & Sons. Sired by Hicks Beef composite bulls, the steers averaging 244kg were 7-8 months of age.
Steers 280-330kg sold from 386c to 551c to average 444c, back 22c from last week. From Staghorn Flat, VIC, AWS Blair offered 21 unweaned Angus cross steers 7-8 months averaging 287kg which achieved the highest price of the category.
Feeder steers averaging 330-400kg increased 25c this week, selling from 313c to 517c, to average 457c. Top price was achieved by a line of 34 Angus steers on agistment in Wellington, NSW. The Hazeldean and Rosskin blood steers 8-12 months averaged 349kg, and will head to South Australia.
Steers heavier than 400kg also experienced a dearer market trend, selling from 330c to 469c to average 442c, up 45c from last week.
The highest priced line was claimed by CR Wallis from Heywood, VIC with an offering of 67 Banquet blood Angus steers16-17 months averaging 499kg.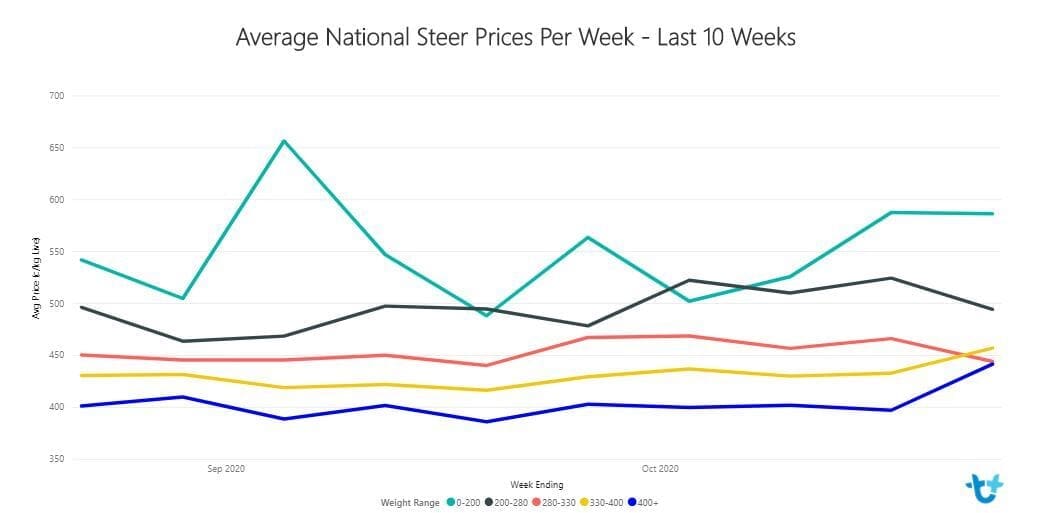 In Tasmania last week, there was a reduced offering of 145 head which achieved 100pc clearance. Weaner and yearling heifers sold from $1110 to $1800 to average $1376, up $297. From Ridgley, a line of Speckle Park x Friesian heifers, 17-18 months averaging 433kg, topped the category. There were two lots of weaner and yearling steers which sold for $1335 and $1700.
Tasmanian cows and calves sold from $1810 to $3210 this week, averaging $2448. The highest price was achieved by two lots of Angus cows and calves offered by Salmon Marketing Trust from Gretna. The cows were 3-8 years averaging 606kg and 615kg and had Rosedale and Kinloch bloodlines.
In Western Australia, there was 241 head offered on Monday and an additional 2050 head in the Friday Weaner & Yearling sale. Heifers achieved 92pc clearance and sold from $830 to $1197 to average $1000. Top price of 355c was attained by a line of 60 Santa and Santa cross heifers offered by S K Roberts from Gingin. The heifers were 16-18 months averaging 337kg and will travel to Bailieston, VIC.
Yearling and grown steers sold from $995 to $1269 to average $1136. The highest price of the category was achieved by 181 Droughtmaster backgrounder steers 15-18 months averaging 319kg, which will remain in WA.
In a breakdown of young cattle sold this week, by weight range:
Less than 200kg: Steers sold from 424-718c to average 486c, while heifers sold from 507-650c to average 567c
200-280kg: Steers sold from 367-640c to average 499c, while heifers sold from 351-613c to average 439c
280-330kg: Steers sold from 386-551c to average 444c, while heifers sold from 342-580c to average 411c
330-400kg: Steers sold from 313-517c to average 457c, while heifers sold from 355-499c to average 438c
+400kg: Steers sold from 330-469c to average 442c, while heifers sold from 370-444c to average 402c.
Source: AuctionsPlus