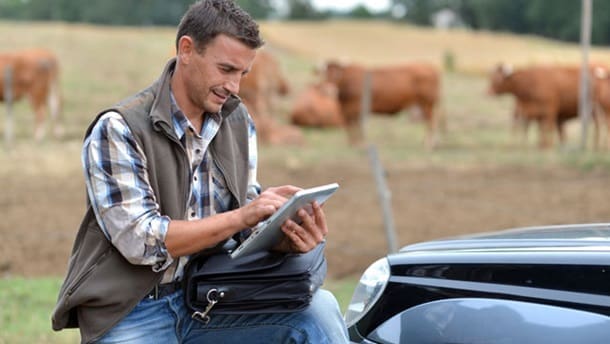 ONLINE livestock marketing platform AuctionsPlus has reported a record annual cattle turnover for its 2015 calendar year just completed.
Underpinned somewhat by the high rate of cattle movement across the beef industry last year caused by drought, AuctionsPlus reported total throughput for 2015 of 339,731 head, up a massive 115,000 head or 51.2 percent on the previous year.
While AuctionsPlus officially trades on a fiscal year basis, that's easily a volume record for a calendar year period.
"Obviously, 2015 was a bumper year for AuctionsPlus, measured by both volume or growth," market operator Anna Adams said.
She agreed that drought-driven turnover had contributed to the result, but said organic growth in buyer and vendor support was also a factor.
"A lot of the huge rise in Queensland was drought related, but there's also evidence of people getting more savvy with their marketing decisions," she said.
"There was more evidence of planned turnoff during the dry period when producers knew they needed to reduce numbers, rather than last resort, panic selling. With that, sale cattle tended to be in better condition, making them more attractive to buyers across a wider area, than what's possible at their local sale."
"There will obviously be peaks and troughs in supply in the years ahead, but we're confident AuctionsPlus will continue to increase in underlying numbers," Ms Adams said.
For example there was a substantial rise in 'first time' buyers on AuctionsPlus during 2015, as listing numbers grew, as well as existing registered buyers who substantially increased their buying activity on the online platform.
The buying audience continues to expand, with an average 80 new buyers registering per month last year.
All states and territories saw substantial, to spectacular growth in numbers sold during 2015.
In outright numbers, as the graph published here shows, New South Wales and Queensland dominated trade.
NSW accounted for almost 47 percent of all cattle sold, representing 158,332 head – a rise of 14.1pc on the previous year. Queensland accounting for 39pc of all cattle listed, with its tally of 132,139 head up a dramatic 115pc year-on-year.
In percentage growth terms, South Australia led the way, with its 2015 calendar year turnover of 9716 head last year up 154pc on the year before. Next best was Queensland, followed by Victoria, up 112pc to 21,444 head, and Tasmania, +64pc to 5017 head.
Solid growth in numbers was also seen in Western Australia (+42pc to 10,905 head).
Of particular note in states like Victoria and South Australia was the spikes in listings in the key weaner selling season over the summer months. Some of those were sold independent of the saleyard system, while others were interfaced sales.
Making its first entry last year, driven by resurgent demand for live export cattle for the southeast Asian boat trade was the Northern Territory, accounting for 2178 head, up from zero the year previous.
Strong interstate sale trend
Interstate transfer of stock was another indicator of AuctionsPlus's ability to unearth buyers from a broad geographic footprint last year.
Among Queensland cattle sold in 2015, 30pc went to interstate buyers – some into live export out of Darwin, but also into every other state except WA during the course of the year.
Victoria's numbers sold interstate were even higher, reaching 60pc, predominantly into NSW and South Australia. That was made up mostly by interstate weaner sales, or Victorian breeders finding homes in other states.
Overall, last year's offering finding buyers on AuctionsPlus included:
38pc steers (calves and weaners all the way through to heavy feeders and a few slaughter cattle)
31pc unjoined heifers (calves and weaners, feeders and future breeders)
2pc backgrounders sold in mixed sex lines or as bull calves
29pc breeders (cows with calves at foot, and joined/PTIC females)
Wagyu 'discovery' of online marketing
Another milestones for AuctionsPlus last year was its 'discovery' by Wagyu feeder cattle producers around mid-year, who employed the platform's ability to spread the competition footprint to great effect.
Although selling in only modest numbers, Wagyu feeders created headlines during the year, with Fullblood calves consistently selling at 600c/kg or better, liveweight, on farm, and well-bred F1s 550c/kg or better. The all-time record of 620c/kg liveweight was set for fullblood backgrounder/feeder steers late last year.
There was a total of 4332 Wagyu or Wagyu cross cattle sold via AuctionsPlus since July, ranging from freshly weaned calves to cows and calves. They achieved an 87pc clearance at auction for a total sale value of $5.75 million, for an average price of $1327.
New features for 2016
Key developments for AuctionsPlus this year include a new bidding platform, to be launched next month.
This new platform will allow buyers and bidders to customise their screen to present only the lots that they are interested in, or intending to bid on.
Another breakthrough is that the new bidding platform will also be available for the first time on mobile phones and tablets, adding a major convenience factor for users.
Also this year will see the implementation of a star-based rating system, giving buyers the tools to rate their purchasing experience, regarding assessment accuracy, delivery as per specification and other factors. The concept is not dissimilar to what happens on eBay.
That process will later be extended so that vendors and agents can also rate buyers on key aspects.