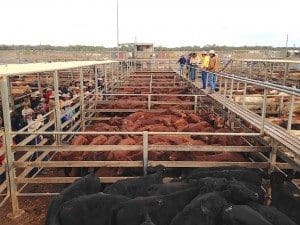 Australia's largest individual cattle selling centre had its largest ever year in terms of sales volume and value in 2015.
Roma Saleyards operation manager Terry Hyland said a record 409,172 cattle were sold through Roma in 2015, comprising 157,760 steers, 139,926 heifers, and 9356 bullocks.
That added up to almost $327 million worth of cattle, boosted by higher cattle prices throughout the year, making the total the highest total dollar value for annual cattle sales on record at Roma.
Extensive drought conditions resulted in more cattle being sold in 2015, which helped to drive the record yarding.
"Another contributing factor was the large increase in the value of cattle, which has enabled livestock producers to turn-off cattle at a younger age," Mr Hyland said.
In 2014, Roma sold 327,665 head of cattle for a value of $164 million.
Ray White Rural livestock agent Jack Clanchy said limited supply of cattle and solid ongoing demand helped fuel the cattle price rise during 2015.
"Let's wait and see seems to be the general attitude of cattle producers about the current weather and season," Mr Clanchy said.
"I have a lot of positives about the cattle industry and livestock producers appear to have a lot of positives about the cattle markets."