BALLARAT NOVEMBER STORE  SALE
Date: November 20, 2020
Agents: Ballarat Associated Agents
EYCI: 826.00c/kg
Feeder steer average: 454c/kg liveweight (EYCI rating +8.1 POINTS)
Yarding: 4103 head
Steers: 500KG+ $1950-$2340, av 412c/kg; 360-500KG $1750-$2200, av 455c/kg; 280-360KG: $1400-$1800, AV 504c/kg.
Heifers: 360-500kg: $1510-$1990, av 410c/kg; 280-360KG; $1260-$1850, av 467c/kg.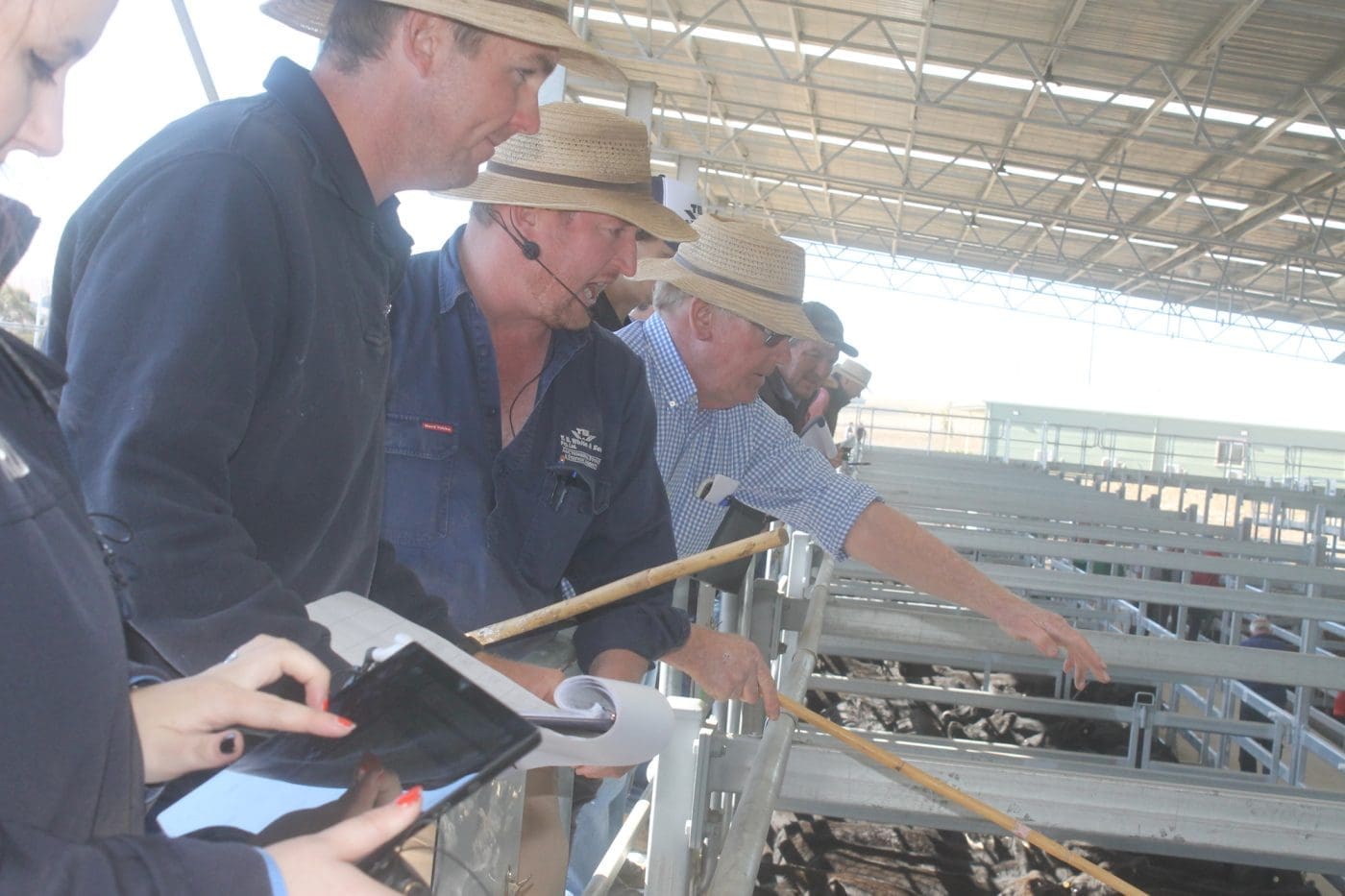 A QUALITY yarding met firm to stronger demand at Ballarat's November store cattle market where feeder lines averaged 18c/kg higher, and lighter, younger steer and heifer pens forged a further ahead average 20 to 30c/kg above the improved rates of the centre's month-earlier October sale.
Ballarat stock agents president Sean Simpson, Elders, said an expanded spread of buying support operated throughout the entire 4100-head penning that also contained a good number of cow and calf outfits.
Mr Simpson said that the penning offered more weight than the previous sale, and more lots that were presented in prime quality condition.
"There was a good competition from the feedlot sector and more processor buyers were present and active this time around", Mr Simpson said.
"And there was certainly more restocker competition with local, southwest and Gippsland areas all represented and attempting to buy along with the regular commission buyer orders buying for interstate and other destinations".
However, Mr Simpson said the participation on the online "Stocklive" bidding platform that has been well utilized previously due to the various COVID restrictions was more limited but nonetheless provided important access for those still unable to attend.
In an interview with Beef Central Mr Simpson the sale was commenced with the sale of a pen of "genuine-weight" bullocks, 623kg, that made $2340 or 375c/kg for Phillip Ford's Turf Grass Ag.
Watch this Beef Central's interview with Sean Simpson as he reviews the sale:
This sale of 15 Angus and others of slightly lesser weight, like T & BM Dodds' pen of 13 Angus, 580kg sold at $2330 and 15 Warrnambool Ag Angus steers, 567kg that made $2260 he said sold at similar rates to the October sale before demand gathered momentum.
Plenty of grown steers – 500kg and heavier- he said made $2100 to $2300 or 400 to 430kg while the feeder weights consistently sold between 420 and 450c/kg.
This was regardless of color and/or breed which was a better result than the month earlier sale, Mr Simpson said.
Among the Elders offering Mr Simpson said a large consignment of "local district but non-vendor-bred Angus steers from ML Stevens' "Eurambeen East, was one of the many highlights of the sale.
This draft of 130 mainly Angus steers, averaged 513kg, $2179 or 425c/kg.
Another feature of the Elders catalogue was the annual draft of Mick and Dawn Ernest's Cherrymount Angus mixed sex weaners, from Streatham, with 30 years of Franc-blood breeding.
This "highly regarded consignment of 287 – 142 steers and 145 heifers – averaged $1746.47 per head with their heaviest steer pen of 58 weighed at 393 fetching $1910/head (486c/kg) while their best "tops-of-the-drop" yard of 66 heifers, 353kg, (none retained) sold at $1850 or 524c/kg.
TB White & Sons, principal, Leo White, agreed the sale result was enormous.
"Every month for the past four or five we've quoted the market as dearer, and last month I said it was the best sale I'd ever seen", Mr White said.
"But this has exceeded that but it was a magnificent yarding, with more weight and better quality".
"Our season here in the Ballarat district has been an exceptional one… better than last year and with another 43mm falling overnight", he told Beef Central on Monday morning.
Among the TB White offering SJ Mullane, Ballan sold 16 Angus, 534kg, at $2250 while PA & JA Morcombe, Carngham, sold 13 Hereford, 464kg, at $1990 to both realize 425 and 428c/kg respectively.
Nerrim Nerrim vendor WA & KM Blackmore was another feature yard in the TBW catalogue, with this pen of 26 Angus, 349kg, sold at $1800 or 515c/kg.
Mr White said the TBW agency offered cattle on behalf of 73 different vendors – many of them keen to move their cattle on while the market was running hot.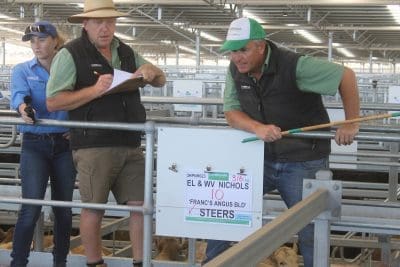 Xavier Shanahan, Nutrien also said Monday the weekend rain would be of enormous benefit for the district's summer crops.
"Yes, we do have some vendors keen to move cattle on account of the current demand but they are mainly those with heavier cattle rather than our breeder operators".
"It will now become a matter of grass management. The regrowth on the hay and silage-cut ground has been phenomenal and the summer crops will just leap out of the ground following this latest fall.
While agreeing the demand for feeder cattle was stronger Mr Shanahan said the market had previously seen rates of 400 and 410c/kg back in February, which when placed in context is not a whole lot better than eight to nine months ago.
"What I think is exceptional is the dollars-for-age ratio not the cents-per-kilogram rates when you consider a 9-10-month-old steer makes $1700 to $1900 and its sister-heifer only $100-$150 less.
Providing an example Mr Shanahan said Nutrien sold for Carisbrook clients, Phillip and Jacinta Leech, a pen of 33 February/March-drop Angus steers, 323kg, that made $1790 or 554c/kg.
Also, among the Nutrien listing was the sale of 26 Harrowgem Angus steers, aged 13-14 months, 363kg that made $1910 or 526c/kg.
"Now dollars for age both of these sales are serious money" Mr Shanahan said.
The demand for heifers, according to Sean Simpson was equally as impressive with the yarding averaging just shy of 450c/kg and $1550 a head.
Heavier heifers weighing 400kg and better he said were mainly sold between 390 and 430c/kg while the 300 to 400kg heifers found rates vary between 440-480c/kg with standout sales exceeding $5/kg.
It was rare in the heifer sale to find many pens sold for less than $1200 Mr Simpson said.
"That was steer money not that long ago".
Cow and calf outfits also met with more spirited inquiry selling chiefly between $2600 and $3300 per unit.
If any cattle were buyable then cows and calves provided perhaps the best opportunity agents all agreed.
A dispersal of the Smith family herd from Avoca selling 27 Angus, with young Limousin calves at foot made $3000 per outfit while Jamie Allen, Newlyn sold 24 x 24 Angus third-calvers – calves 2-12 weeks-old – made $2880.