IN what's been a year of records, the cattle industry's primary barometer of its state of health, the Eastern Young Cattle Indicator, crashed through another significant milestone overnight, hitting 1102c/kg carcase weight equivalent for the first time in history.
Anybody connected with the beef industry who has not been aware of the unbelievable advances seen in the EYCI this year must have been living in a cave, and it's showing no signs of tapping-out any time soon.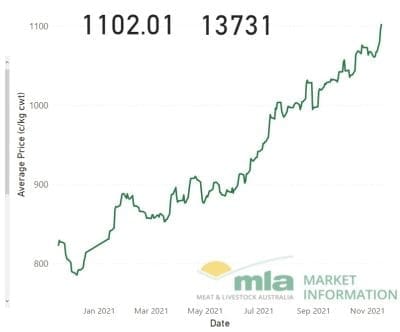 The EYCI is a seven-day rolling average of vealer and yearling steers and heifers +200kg sold in 23 saleyards across Queensland, NSW and Victoria. It is expressed in c/kg carcase weight. Results are weighted by turnover in each selling centre.
The new record high achieved yesterday is up more than 40c/kg on this time last week; 36c higher than this time last month; in what has been a near-vertical graph climb; and a whopping 274c/kg above where it sat this time last year.
Once again, the major selling centres of Roma, Dalby and Dubbo have had a dominant impact on the indicator's performance, this week contributing 14.2pc, 22.4pc and 11pc of the overall result.
Recent rain has limited numbers offered in some centres, only adding to the competitive bidding tension among restockers and lotfeeders.
Tuesday's much smaller Roma store sale offering 1953 EYCI-eligible cattle recorded an average price for EYCI stock of almost 1230c/kg. Wednesday's Dalby offering of a little over 3000 head of eligible cattle averaged 1117c/kg, and Dubbo, 1111c.
MLA's market intelligence manager Stephen Bignell said recent rain had definitely played a part, both in terms of reducing supply of young cattle in some centres, and re-incentivising restockers for the cattle that are being presented.
"Restockers this week moved from buying 31pc of the EYCI eligible cattle a week ago, to 40pc this week," he said.
"Given that restockers are paying such a strong premium over lotfeeders at present – currently 175c/kg – it just flows through in the EYCI's performance," he said.
"The rain effect on supply will ease, but the underlying driver of the market is just that continued restocker demand."
While some centres like Roma were substantially lighter for EYCI-eligible offerings this week and last week due to rain impact, the overall offering of EYCI cattle across eastern Australia this week was actually higher, at 13,731 head.
"But its definitely in those Queensland and NSW yards that are driving the trend."
Mr Bignell said there was a clear trend in restocker demand starting to shift north, into Queensland and northern NSW, where previously it was deeper into NSW.
"That's anecdotal evidence, but it is clear that demand is growing among restockers out of Queensland," he said.
Processors currently are down to purchasing only 6pc of eligible EYCI cattle, down from 12pc back on November 9, as restockers and feeders continue to apply pressure.
But at the same time, heavier slaughter cattle through saleyards continue to climb dramatically. The medium cow indicator hit a new record high of 378c/kg liveweight this week.
All the chat about the EYCI……. The Medium Cow must be feeling left out!

New record at 378c/kg! @afeltontaylor @AgForceQLD @beefcentral @MichaelS_Guerin @MattBrannRURAL @kate_dowler pic.twitter.com/KxOiOVuOTX

— Stephen (@BignellStephen) November 18, 2021
ABS quarterly data released this week showed female slaughter across Australia in the July-September quarter at 44.4pc, suggesting herd rebuilding is still well and truly in place, and slaughter numbers stable at a little above 1.5 million – much as it has all year – as the industry heads towards a total adult beef kill for 2021 of six million head.