WIDESPREAD rainfall across regions on the southeastern seaboard this week brought numbers back with just shy of 10,500 head, 1500 less than the week before.
Buyer demand eased with the clearance declining to 79 percent for all cattle offered. Females were in hot demand this week as most heifer and breeder categories experienced dearer price trends.
Queensland dominated the listings with Southern, Western and Central QLD collectively offering 3646 head, 35pc of the catalogue. Central West NSW continued its dominance as the largest purchasing region with 1516 head returning to the area, 18pc of all cattle sold. Southern QLD and the Northwest Slopes & Plains of NSW followed, purchasing 1467 and 842 head respectively.
Bidding activity and clearance remained strong amongst the breeders this week. There were 743 cow and calf units offered online which were met with strong demand.
Cow with calves at foot experienced the most significant price jump, selling between $2100 and $3710 to average $2639, up $385. Top price was achieved by a line of PTIC Speckle Park cows with calves sired by Speckle Park bulls, offered by B & S Retschag from Barrraba, NSW. The 3-5 year old Wattle Grove blood cows were 5-7 months PTIC to Speckle Park and Clunie Range Angus bulls. From Condah, VIC, L.J. & C.J. Tonissen offered 36 station-mated Angus cows, 2.5 years old with 37 CAF. The Te Mania and Summicrest Focus blood cows were joined to Angus bulls.
PTIC heifers also sold to a dearer market trend with prices between $1440 and $2270 to average $1767, up $9 on last week. A line of PTIC Angus heifers from Adelong, NSW, offered by A & K Waldren achieved the highest price. The 56 Hazeldean blood heifers were offered run out of the gate, selling at $2270 and $2230, they are rising two-year-olds, averaging 444kg and PTIC to Sprys Shorthorn bulls.
PTIC cows took a backwards step this week, down $121, selling between $1500 and $2380 to average $1849. Top price was achieved by 20 EU accredited Angus cows offered by Frisby Park from Cudal, NSW. The Rennylea and Lawson blood cows were 3-4 years averaging 649kg and were 2-3 months PTIC to registered Lawson bulls. From Warwick, QLD, a line of Angus and Angus cross cows, 4-8 years averaging 608kg, PTIC to Red Wagyu bulls, sold for $2250 and will travel to nearby Allora in southern QLD.
Young cattle
Among the young cattle offering this week, the 3074 heifers offered were met by strong demand, achieving an 82pc clearance. Light heifers less than 200kg sold between 402c and 563c to average 482c, firm on last week. Top price went to a line of 54 Angus heifers offered by Bridgewater Group Holdings from Black Mountain, NSW. The EU accredited heifers were 8-9 months averaging 184kg and will travel to Scone, NSW.
Heifers 200-280kg sold to a dearer trend, prices ranged from 359c to 545c, averaging 477c, up 40c. Bridgewater Group Holdings also topped this category with a line of 50 heavier Angus heifers averaging 215kg. Another highlight was a line of Angus heifers, 8-11 months averaging 209kg from Merriwa, NSW selling for 534c.
Heifers averaging 280-330kg increased by 25c this week, selling between 355c and 578c, averaging 425c. Top price was achieved by 68 Angus heifers offered by Werai Station from Deniliquin, NSW. The Te Mania blood heifers were 10-11 months averaging 287kg and will travel south to Willow Grove, in Gippsland VIC.
Feeder heifers 330-400kg sold from 346c to 527c, averaging 389c, easing 12c. From Gerogery, NSW, a line of NSM Angus heifers offered by Rossrich Angus achieved the top price. The future breeders which are Angus Performance Registered were 10-11 months averaging 357kg and will head to nearby Albury, NSW. Another highlight was a line of Shorthorn yearling heifers 11-12 months averaging 337kg, from Trangie, NSW, selling for 422c.
Heavy heifers averaging more than 400kg sold between 302c and 374c, averaging 332c. Top price was achieved by 12 NSM Red Angus x Simmental heifers from Currency Creek, SA, offered by RH Hodge & Partners. The EU accredited future breeders were 11-14 months averaging 404kg and will travel to Goulburn, NSW.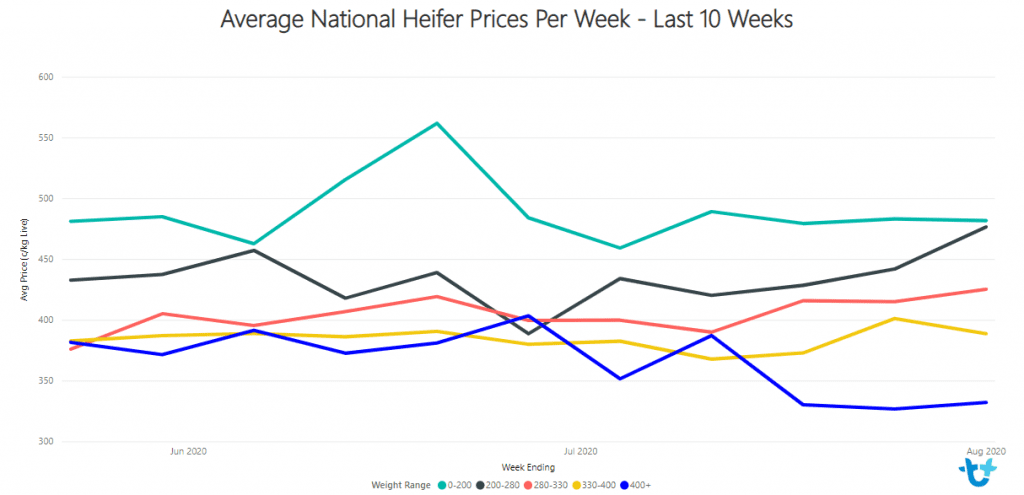 Steers 200-280kg achieved prices ranging from 327c to 585c, to average 470c, firm on last week. From Binda, NSW a line of 22 Hereford and Poll Hereford steers, offered by Forest Lodge Pastoral Co achieved the top price. The EU accredited steers were 8-10 months averaging 205kg and will travel to Borenore, NSW.
Steers 280-330kg increased 7c, selling between 349c and 505c to average 434c. Top price went to a line of crossbred Wagyu F1 backgrounders, offered by FH & MM Blackwell from Rylstone, NSW. The steers were 10-12 months averaging 298kg and were sired by Bald Ridge Wagyu sires.
Feeder steers 330-400kg sold between 342c and 444c, averaging 396c, also firm on last week. From Deniliquin, NSW, Werai Station offered 90 Angus steers which claimed the top price of the category. The Te Mania blood steers were 10-11 months, averaging 365kg and will cross the border travelling to Yea, VIC. Another highlight from the Riverina region was a line of 25 Angus steers, 10-11 months old, averaging 352kg, selling for 443c.
Heavy steers +400kg sold between 397c and 420c, to average 408c, 29c dearer than last week. Top price was achieved by 55 Angus steers offered by Verge Pastoral Co from Euroa, VIC. The Dunoon blood steers were 10-11 months averaging 417kg and will travel to Tarwin Lower, in the Gippsland region, VIC.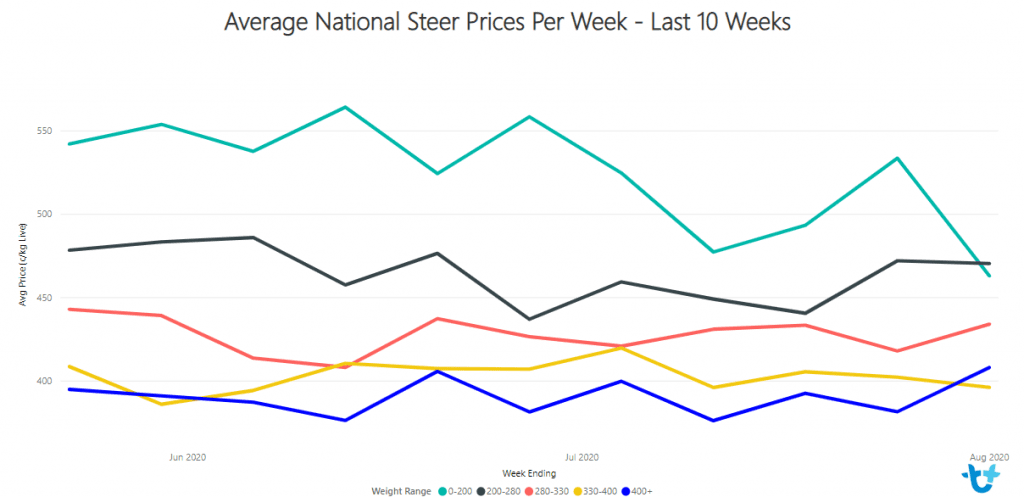 In Tasmania, there was a reduced offering of 91 head, down 288 head from last week, yet clearance remained high at 93pc. Steers sold from $1110 to $2080, averaging $1584. Top price went to a line of 20-24 month old Angus steers, averaging 586kg from Moriarty, NW Tas.
Heifers sold between $1310 and $1650. From Mole Creek, a line of 21-22 month old Murray Grey heifers averaging 530kg achieved the top price. Cows sold from $1930 to $2390, averaging $2120, with the top price going to a line of Charolais x Angus heifers, averaging 528kg with Speckle Park CAF from Huonville.
In a breakdown of young cattle sold this week, by weightrange:
Under 200kg: Steers sold from 394-492c/kg to average 463c, while heifers sold from 402-563c average 482c
200-280kg: Steers sold from 327-585c to average 470c, while heifers sold from 359-545c to average 477c
280-330kg: Steers sold from 349-505c to average 434c, while heifers sold from 355-578c to average 425c
330-400kg: Steers sold from 342-444c to average 396c, while heifers sold from 346-527c to average 389c
+400kg: Steers sold from 397-420c to average 408c, while heifers sold from 302-374c to average 322c.
Source: AuctionsPlus