WITH widespread welcome rain blanketing large parts of Central and southern Queensland and the eastern half of Victoria and NSW last weekend, attention is now starting to focus on responses in the store market, especially for young cattle and breeders.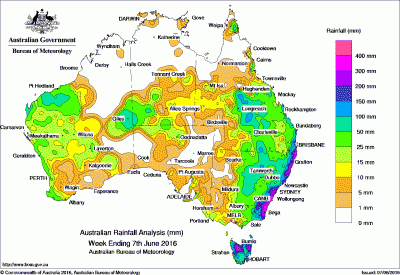 Good falls of 25-50mm and better have fallen over the past week, as illustrated in this BOM weekly rainfall distribution map first published yesterday.
Tuesday's Roma store sale saw numbers offered slump by 55pc, but the cattle that were put up were mostly dearer. A line of Santa cows and calves topped at $1425/unit, while heifer backgrounders were up 6c/kg.
There was a particularly solid market last week on AuctionsPlus for breeders, perhaps in anticipation of the weekend rain, and listing for tomorrow's weekly sales are solid, especially for younger backgrounder type cattle, and breeders proven and potential breeders out of Central and North Qld.
Last Friday saw heifers with their first calf at foot in the southern AuctionsPlus fixture sell from $2000 to a top of $2200 for 24-26 month old Angus. Further north, 429kg Braford heifers with their first calf at St George, Qld, made to $2060, finding a new home in South Australia. Older cows with calves sold from $1300 topping at $2330 for two to four year old Hereford cows with Angus calves out of Adelong NSW.
Some larger lines of PTIC females out of North Queensland have been logged for tomorrow's AuctionsPlus sale – especially out of areas around Charters Towers that have missed out on the recent rain, and are starting to run low on feed.
Typical is a line of 288 PTIC Charbray cows account John and Sally Turley, from Nulla in the basalt country north of Charters Towers.
"They are the sort of cattle that would not normally be sold, but season has dictated that they need to be moved" agent Tim McHugh from Hogan & McHugh said.
"They are beautiful cows – good temperament; mostly Palgrove blood with plenty of bone; mostly 3-7 years and due to calve from September; and averaging 471kg liveweight," he said.
"The cattle are in good order, and have done well, but there's no longevity in the season, as it currently stands."
The Nulla cows will be sold in two lines, each six decks totalling 144 head each.
Queensland Rural earlier sold a line of Brahman cross PTIC cows on AuctionsPlus, 451kg at 5-13 years (estimated 230kg dressed), which went to a southern processing plant for slaughter.
While there is a sense of waste in liquidating pregnant females at a time like this when Australia's national beef herd is at 30-year lows, shortage of slaughter cattle numbers right across eastern Australia – particularly since the rain – has stimulated buying activity in a segment that traditionally does not attract processor competition.
It is unclear whether there was a foetal blood market motive involved.