SUBSTANTIAL rainfall through key supply regions in Queensland and NSW this week contributed to prices surging across all young cattle categories on AuctionsPlus this week, with last week's loses largely erased.
Numbers catalogued dropped 4pc to 18,430 head, which partly contributed to the stronger market. However demand was stronger this week, as overall clearance rates for the largest steer and heifer categories exceeded 80pc.
All five steer and heifer categories jumped in value this week, with the lower clearance rate at 64pc for the lightest steer category less than 200kg steers primarily due to passed-in dairy-influenced lines out of Victoria.
Among larger lines sold this week was a run of almost 300 weaners – mostly Hereford x Santa types from Goodward Pastoral Co, Mudgeacca, near Boulia in western Queensland. All were Certified Organic, and being sold due to below average seasonal conditions in the region.
The steer portion numbering 146 head 5-12 months averaging 183kg (both mobs showed wide variance in weights), sold for 660c/kg or $1210. The heifer portion numbering 148 head, 5-12 months averaging 177kg, made 672.7c/kg or $1190.
Steers 200-280kg averaged $90 higher this week, at $1473, with the number offered only 120 less than last week, at 3124 head.
In comparison, the number of 280-330kg steers offered more than doubled on the previous week, with the 2477 head – up $80, at $1620. Among them were 100 weaned Angus steers out of Tatong, Victoria, 6-7 months averaging 250kg, selling for 649c, while a second similar pen of 117, averaging 306kg from the same vendor made 568c/kg.
A limited supply of heavy steers +400kg contributed to the average price jumping 16c/kg, to average 439c/kg.
Like the steers, all young heifer categories rose in value this week, with the largest jump of 57c/kg registered for heifers less than 200kg, averaging 588c/kg this week. Heifers 200-280kg averaged 30c/kg higher at 544c/kg while 280-330kg lines moved 11c higher, to average 490c/kg.
A selected line of 100 weaned Charolais cross heifers out of Wagga NSW, 11-14 months averaging 295c/kg sold to $1548.
Among breeding cattle, one of the two categories to register a decline in price this week was PTIC heifers, falling 11c/kg to average 493c/kg or $2238 – with a clearance rate of 65pc for the 2773 head offered.
In contrast, PTIC cows, with 1502 head offered, averaged 18c/kg higher, at 404c/kg or $2344.
Very limited numbers for the CAF categories had prices fluctuating across the three indicative prices, with weekly averages in recent months being primarily dependent upon the bloodlines and breeding potential offered each week.
Prices reported as at 2pm Friday, 19 March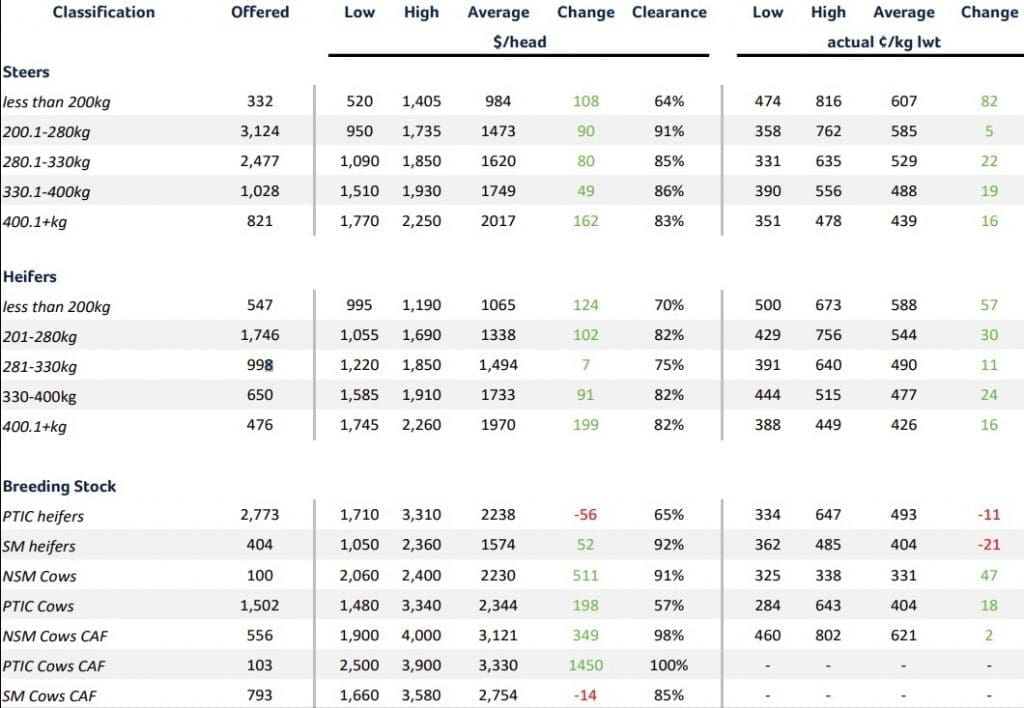 Source: AuctionsPlus