Updated 10am, 15 June
RECENT rain across eastern Australia, and the prospect of more ahead, has pushed the Eastern Young Cattle Indicator into record territory.
Compounding the pressure of already tight cattle supplies across the eastern states, rain during the early stages of June across large parts of Queensland, NSW, Victoria and Tasmania has reinvigorated confidence among restockers in the past ten days.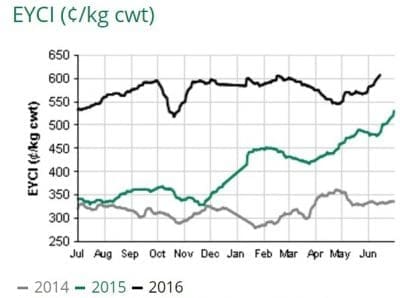 Following the long weekend observed in the southern states, the EYCI finished Tuesday at a record 607.75c/kg, up 20c on this time last week and 2c above the previous record set in February. Today's figure is 121c/kg above where it sat this time last year.
As usual, the nation's largest regular cattle sale at Roma, which saw red-hot prices for young cattle earlier today (see separate report), drove the sharp rise in the EYCI.
Heavy feeders made up to 360c/kg at today's Roma sale. EYCI-eligible cattle averaged 620¢/kg, up 29¢/kg week-on-week, supported by solid restocker competition for light weight steers and heifers, in addition to feeder buyers from NSW and Queensland pushing yearling feeder steers to record high levels. Also evident was strong restocker competition from buyers out of Central NSW.
Other strong markets today included CTLX and Gunnedah, where EYCI eligible cattle averaged 649¢/kg.
As reported earlier today, the rain has also helped push slaughter cattle prices higher, with Queensland's slaughter grids for grassfed ox hitting a record 550c/kg, up 20c on this time last week.
The extent and severity of the rises has taken much of the market by surprise, with most grids in the region being adjusted twice in the past seven days as larger processors increasingly desperate for cattle push the market higher – even if it means sustaining ever-larger losses.
This week's market surge for both slaughter and young store cattle pushed all major NSW and Queensland market indicators to the highest level recorded so far this year, and placed some within 20¢/kg of where they peaked last September. The heavy steer indicator reached 300.6c/kg liveweight (+3c); the medium cow indicator also rose 3c to 236.2c/kg and the Queensland Cattle Market Index reached 314.9c.
Due to delays caused by the Monday public holiday in southern states, there was no Eastern States weekly kill report issued until late this afternoon (Tuesday), missing this morning's weekly kill report.
Slaughter figures now available for last week reflect tight cattle supplies, with just 140,468 adult cattle processed across the eastern states, back 9pc on this time last year.
Queensland processed 71,747 head, back 10pc year-on-year
NSW processed 32,653 head, back 8pc
Victoria processed 24,628 head, back 6pc
SA processed 7457 head, back 16pc
Tasmania processed 3983 head, steady on last year but back 15pc week-on-week following wet weather and flooding across parts of the state.
Strong prospect of more rain ahead
Forecasters at the Bureau of Meteorology are keeping a close eye on the possibility of another East Coast Low forming this weekend.
BOM National Operations Centre director Dr Andrew Tupper this morning said the situation would become clearer in the next few days.
"There is still uncertainty about the timing and extent of the impacts, but we have increasing confidence in a widespread rainfall event developing over southern and eastern Queensland, and inland northern NSW," he said.
"Low pressure systems like this low can produce very heavy rainfall and damaging winds, and residents should keep an eye on local forecasts and warnings as the situation evolves.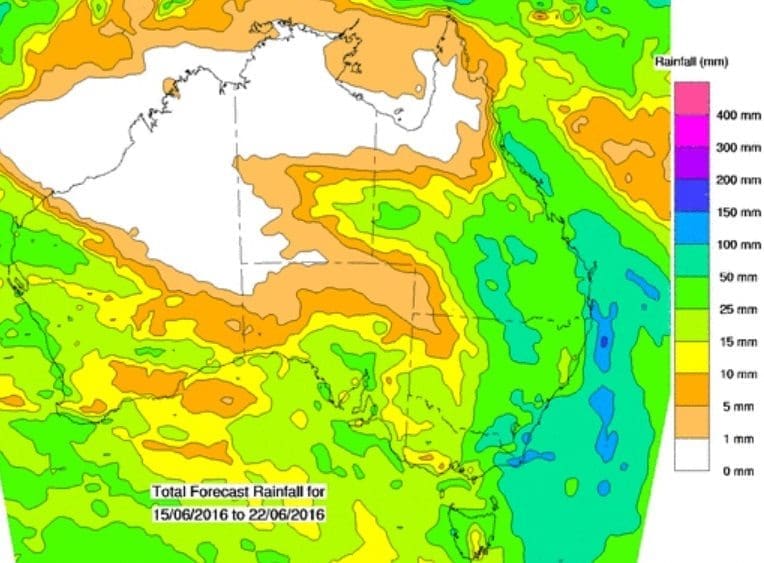 Dr Tupper said it was not unusual to have East Coast Lows develop in fairly quick succession. On average, the eastern seaboard saw seven significant East Coast Lows each year, and most occur between June and August. These systems are major rain producing events for the east coast of Australia, he said.
"The development of East Coast Lows is driven by a range of overlapping factors, and forecasting them many days ahead involves a significant amount of uncertainty," he said.
"All of the major Australian and international computer weather models used by Bureau forecasters are in good agreement about the development of this system although its exact location and intensity will drive the final impact."
"At this stage, people from the Queensland coast to Tasmania should be aware of the potential for more severe weather this weekend and into next week, and stay up to date with Bureau forecasts," Dr Tupper said.
The latest warnings and forecasts can be found here.