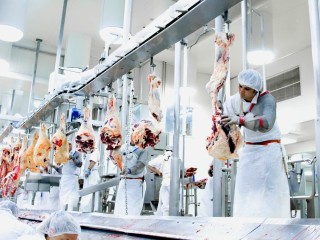 Recent solid direct-to-works price rises have again failed to deliver any significant increase in overall slaughter rates across the Eastern States.
Last week, against all reasonable expectations, Queensland's seven day kill to Friday slumped five percent to 67,774 head, leaving little remaining doubt about the current shortage of killable cattle in the state's processing catchment area.
Beef Central first raised the prospect of fewer than expected slaughter cattle numbers this spring in an article "Where are all the cattle?" published on August 16. It explored the impact of the calf deficit shadow from the drought years of 2008-09 on current turnoff patterns, as a second influence in turnoff patterns, on top of the tendency for producers with a big feed reserve to hold-back stock to add weight.
It now appears unlikely that Queensland will reach 'full kill' status of 75,000-78,000 head per week any time this calendar year, analysts suggested yesterday.
That comes despite some very significant recent jumps in processors' offer prices on stock. JBS Australia yesterday morning lifted direct rates on many grassfed and grainfed lines a further 7c/kg in southern Queensland, quickly matched on younger cattle, particularly, by Teys Australia.
That adjustment comes on top of a 10c/kg rise on many lines last week, particularly evident in North Queensland.
Typical current rates available ex southern Queensland yesterday afternoon included four-tooth grassfed ox at 360c/kg, 365c for milk and two-tooth equivalents; 375c for MSA steer; 390c for MSA Angus. The JBS south Queensland grid for cows has now risen to 342c for best cows.
"I'd hate to be on the meat sales desk at the moment, given current cattle prices," one processor contact said.
Yesterday's prices are a long, long way from where the market was even six weeks ago. Some categories have now risen 35-50c since early to mid-August. Grassfed four-tooth ox were worth 305c back then, a better than 50c rise. Cows worth 300c back then are now 42c better off, a remarkable turnaround, by any standards, yet none of this is reflected in current rates of kill in Queensland.
Nor is any of this price trend demand-side driven, with trading desks at major export companies reporting no significant improvement in inquiry out of North Asia or the US, despite the recent dollar adjustment. It's all to do with supply.
"Every week that goes by at current attractive cattle prices like this adds more weight to the argument that suitable processing cattle numbers are scarce," MLA's senior economist Tim McRae said yesterday.
"I still believe that there are some cattle out there, but just not in the volumes that were anticipated earlier in the year, going into winter," Mr McRae said.
With wet weather forecast later this week in some regions of NSW/Victoria, this could put more supply pressure on processors in the current week's kill, and might further encourage producers to sit on cattle as conditions warm up and pastures respond.
Beef Central wishes Tim McRae a speedy recovery from his recently-sustained broken wrist.
Price pendulum swings north
Another trend worth highlighting this week has also been the big shift in direct consignment price differentials between northern and southern parts of the continent.
Six weeks ago, prices on many categories in southern Australia were a good 10c/kg better than they were in Queensland, due to normal late winter seasonal sourcing difficulties in Vic/NSW.
That price difference has now swung back sharply the other way, with a distinct 10c differential in favour of supply into southern Queensland plants, as the normal flow of 'new season' spring turnoff cattle in southern Australia gains momentum, putting downwards pressure on price.
The big drop in kill rates in Queensland last week was somewhat cancelled out by rises in southern states, again highlighting the new spring flow of cattle and better weather conditions in the south. The combined eastern states plus SA kill for the week ended Friday reached 130,869 head, up 1pc on a week earlier.
Southern processors are reporting the quality and condition in southern cattle this week as 'magnificent', reflecting the memorable season across the region.
Last week's NSW kill rose 8pc to 34,059 head, up 3pc on the same week last year. Victoria's response was even larger, leaping 15pc to 18,463 head, while South Australia was up 7pc to 7641 head. Tasmania showed a soft decline, down 2pc to 2932.
"It reflects the fact that there has been a general lift in momentum in southern processing," a reliable and well informed Beef Central processing source said yesterday. "Those small regional plants that a few weeks ago were killing a couple of days a week are now working three or four days; and those plants working three or four days earlier are now killing five shifts," he said.
Significantly, nobody Beef Central spoke to yesterday about recent kill trends saw the recent drop in the value of the A$ as having any immediate bearing on the market.
"Come back in two or three weeks: if the dollars is still in the 97s then, then perhaps it will start to have some impact on export customer demand. But it is way too early to see that yet, and the dollar, given its recent volatility, could easily jump past parity again as soon as tomorrow," one trader said.
Another opinion suggested the lower dollar could well be offset by the faltering economies in customer countries and the prospect of a double dip recession, putting a cap on demand.
The NLRS Eastern States Young Cattle Indicator closed yesterday at a neat 400c/kg, down 2c/kg on Friday, and the same amount from this time last week. The heavy steer indicator (194.8c) were up 2c for the week, and medium cows were also +2c reaching 150.6c yesterday.