THERE was a dramatic rise in cattle numbers listed on the AuctionsPlus online marketing platform this week, with 11,953 head catalogued.
The 60pc rise in numbers on the previous week was driven heavily by large lines of feeder steers from Western Australia and the Northern Territory, with more than 8000 head listed in the QLD/WA/NT sale alone.
The broad menu of stock available again attracted buyers and bidders from restocker, backgrounder, grass fattener, feedlot, processor and live export buyer ranks. In particular there was fierce competition between feedlots and live exporters in Queensland.
Big northern lines fall to livex buyers
This week saw a large offering of feeder steers from Fossil Downs in the Kimberley region of WA. Included was a line of 540 Droughtmaster yearling steers weighing 338kg, which sold for 325c/kg or $1099 a head, and a line of 192 lighter crossbred steers, 326kg making 320c or $1044.
Also on offer were Hayfield Station 'hat brand' steers from the Northern Territory. The Hayfield cattle helped blaze the trail for northern live export stock on AuctionsPlus last year when sold in large lines in August and October. As this earlier report illustrated, the first real 'competitive tension' seen between live export and processor buyers on AuctionsPlus took place in this line of Hayfield steers, reported last August.
This week, Hayfield again sold a line of 1209 18-40 month old Brahman steers averaging 325kg that attracted the buyer's attention and sold for 347c/kg or $1130 a head. The line was one of the biggest single offerings on AuctionsPlus. A second mob of 269 Brahman and Charbray type steers 18-48 months, 496kg, made 300c or $1488 on-property. All the Hayfield and Fossil Downs cattle went to live export buyers, apparently for Indonesian and Vietnamese orders.
Standout offerings of young cattle this week included Brahman x Droughtmaster steers from Tambo, QLD that sold for 349c/kg or $1476 a head. These 16-24 month old feeders weighed 423kg.
From the same vendor, 139 Angus x Droughtmaster steers 10-16 months weighing 337kg made 348c or $1170, and 52 Droughtmaster cross steers, 408kg at 16-24 months , made 350c or $1425.
Moving south, down to Seymour, VIC, a line of Charolais and Angus steers weighing 379kg made 364c/kg or $1330 a head.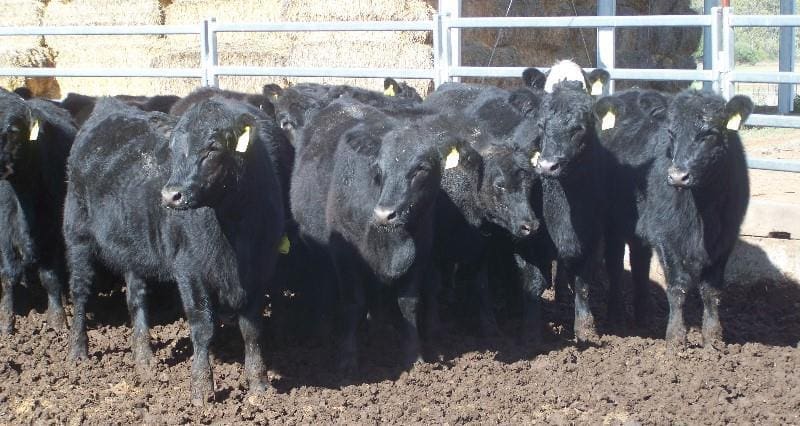 In heifer lines, Santa Gertrudis yearlings from Taroom, QLD, weighing 324kg made 347c/kg or $1129, while Angus and Angus cross heifers weighing 321kg sold for 348c/kg or $1120 a head. These 10-13 month old yearlings (pictured above) out of Pallamallawa, NSW are heading to Tabulam, NSW.
In a breakdown of young cattle sold on Friday by weight:
Steers weighing less than 250kg sold from 325c to 464c to average 407c/kg, up 15c from last week; while heifers in the same weightrange sold from 325c to 463c to average 372c, up 28c
Steers 250-300kg sold from 327c to 419c averaging 375c, up 6c; while heifers sold from 335c to 383c to average 355c, again up 12c
Steers 300-350kg made 320c to 394c to average 358c, down 4c; while heifers sold from 309c to 350c averaging 334c, a decrease of 9c
Steers 350-400kg sold from 294c to 327c to average 364c; while heifers 350kg+ sold from 271c to 401c to average 320c
Steers 400-500kg sold from 300c to 351c to average 337c
PTIC females still in high demand
Among breeding cattle, PTIC females remained in high demand with continued competition from restockers.
Young heifers sold from $1150 to $1820 with Angus cows out of Gelnburn, VIC selling for the top price.  These three-year-old Te Mania, Lawsons and Rennylea blood second-calvers were PTIC to Angus bulls.
Older proven breeders averaged $1594, with a line of Speriby North Angus cows selling for the top price of $2000. These 5-10 year olds from Tenterfield, NSW were PTIC back to Speriby bulls.
Cow and calf numbers remained down this week although this did not affect prices with young mothers selling for $2200. These large 600kg Angus and Angus x cows with Angus calves hailed from Moss Vale, NSW.
Older cows and calves averaged $1613 with Murray Grey cows selling for the top price of $1945. These 5-10 year old Yakaroo and Banksia based breeders from Kapunda, SA had young, sappy Murray Grey calves at foot.
The growth of the Wagyu movement was clearly evident on AuctionsPlus this week with full blood Wagyu cows from Megalong Valley, NSW making an impressive $5050 a head. These young Moyhu, Samaria Valley & Shadai blood cows were PTIC to full blood Wagyu bulls.
Click here to access full results from Friday's AuctionsPlus sale