ONLINE commercial cattle sales results this week reflected the ongoing demand for proven breeding cattle, as seasonal conditions continue to see producers dig deep for quality lines.
A total of 13,827 head were offered for the week, a little higher than the previous week.
For the young cattle market, an increased proportion of weaner steers out of central and western Queensland was met by steady demand, with overall excellent clearance rates for the week. The supply of southern weaners contracted for the second consecutive week.
Given the significant change in the proportional mix of southern and northern young steers, AuctionsPlus national average prices eased back this week. Steers 200-280kg averaged 34c/kg lower on last week, at 659c, with the 1624 head offered selling to a 94pc clearance.
The two heavier categories, both fell significantly, with 280-330kg steers averaging 26c/kg lower, at 591c/kg average, while 330-400kg steers dropped 18c to average 572c.
The demand for the heaviest steer lines +400kg continued to be extremely hot, with the 1235 head selling to a 97pc clearance rate – averaging 2c/kg lower than last week at 533c.
Clearance rates were just as healthy through the lighter heifer lines, ranging from 86pc for the mid-weight 280-330kg lines, while the 1157 head of 330-400kg heifers cleared 99pc – albeit with the weekly average slipping 17c on last week to 555c.
Heifers 400kg+ jumped 47c/kg for the week to average 559c, with an 82pc clearance for the very thin 449 head offered.
Some larger lines of weaned steers and backgrounders were offered out of North Queensland this week. Here is a sample:
121 weaned Brahman steers 4-9 months 177kg out of Charters Towers made 580.4c
150 Brahman and Brahman cross backgrounder steers, 6-15 months averaging 312kg from Hughenden made 500c
120 NSM Charolais x Brahman future breeders 18-26 months averaging 433kg from Hughenden made 462.8c
160 Brahman weaned steers 10-15 months averaging 301kg out of Richmond made 584c
160 weaned Brangus steers 5-12 months averaging 283kg out of Julia Creek made 714c
120 Charolais x Droughtmaster/Brahman weaned steers 6-11 months averaging 347kg made 694.9c.
Breeding cattle
Competition between buyers was again fierce this week for proven and quality breeders.
PTIC heifer prices jumped $352 this week, averaging $2786/head – with the highest demand lines rising well into the mid $3000's range. The overall PTIC heifer clearance was 65pc for the 1243 head offered. However if recent weeks are any indication, this clearance rate will rise towards 80pc over the next few days, as post-auction negotiations continue.
Results for the 804 PTIC cows offered this week mirrored the PTIC heifers, also selling to very strong demand – jumping $261 higher to $2495.
An overall excellent offering of NSM cows with CAF hit the market this week, with a sharp jump in average prices – up $586, to average $4138/head.
One of the largest breeding offerings this week was out of Twynam Pastoral Co's Johnniefields, Marulan on the Southern Tablelands of NSW, with 170 NSM Angus cows with CAF selling to $3400/unit. Ranging from 8-12 years, they averaged 600kg liveweight, with the calves ranging from 42-120kg.
Similarly, 56 NSM Angus cows with CAF out of Kingston, SA, sold to $3640/head, with the cows 6-7years averaging 563kg. The calves averaged 160kg.
Results as at 5pm Friday 15 October.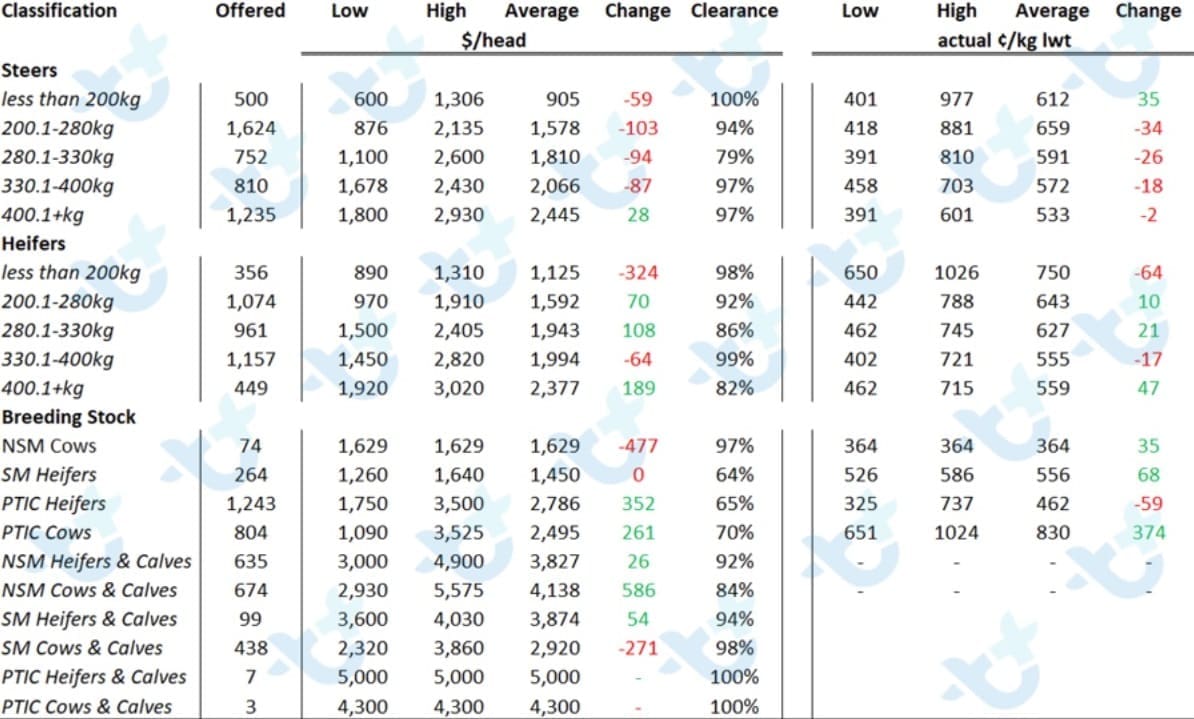 Source: AuctionsPlus