INVESTOR and agri project manager AAM Group will no longer manage the Regional Livestock Exchange saleyards network across Eastern Australia from the end of September, following developments announced earlier today.
After lengthy discussions with the RLX saleyards owner Palisade Investments, AAM plans to relinquish operational control of the yards, discontinuing services to external investment managers such as Palisade.
AAM Investment group managing director Garry Edwards said the decision had been made for a range of reasons – primarily the rapid growth of the AAM business and the need to redirect core executive human resources to service the company's growing portfolio of diverse agriculture industry businesses and assets.
AAM's own investment funds control extensive beef cattle, lamb, wool, cropping, poultry, and sustainably-sourced timber supply chains across 33 sites in five states and territories (see map). Grazing assets include the Certified Organic Australian Livestock Co properties near Blackall, Katherine Aggregation (NT) and Legune Station in the Kimberley.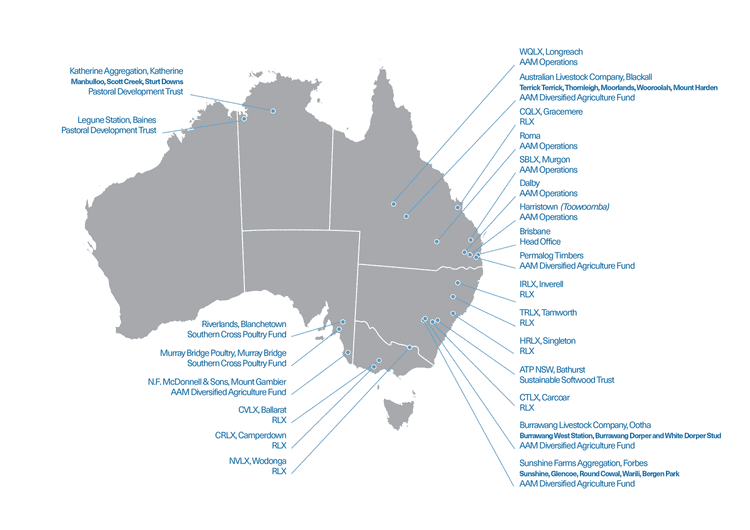 The changes announced today mean that from next month, RLX owner Palisade will manage the saleyards operations itself, through a new operating and management structure.
The RLX network includes some of the largest and best-appointed saleyards in Australia, including Gracemere, Corangamite, Central Tablelands, Central Victoria, Hunter Region, Inverell, Northern Victoria and Tamworth.
The decision by AAM will bringing to an end a 15-year working relationship with RLX and Palisade.
However AAM will remain active in the livestock physical auction sector through its ownership of the smaller WQLX saleyards (Longreach) and SBLX (Murgon) businesses in Queensland. It will also continue operations in the provision of online sale systems through its ownership of the Stocklive and Elite Livestock Auctions platforms.
AAM would now work with Palisade in the transfer of existing AAM employees at RLX sites to the new Palisade controlled management entity. All existing AAM employees at RLX sites will be offered employment under the new structure.
"Palisade assures me that the activities at all RLX sites will continue uninterrupted and that agents, service providers, buyers and vendors should expect business as usual during and after the transition," Mr Edwards said.
"AAM continues to support of the success of the RLX business and the broader livestock auction industry," he said.
"AAM's focus is an ambitious growth strategy in diverse business and asset portfolios in regional Australia. Our overarching vision is to promote investment that contributes to a positive and sustainable legacy that drives lasting outcomes for the agriculture industry," he said.
"As asset manager for Palisade, AAM implemented new infrastructure at many regional locations, invested in technology and created operational methodologies which has markedly improved animal welfare outcomes, operational efficiency and the on-site experience of our stakeholders."
"We believe this work, including swift action and rollout of technology during the COVID pandemic to ensure the continuation of sales, has made lasting change to how livestock are currently, and will continue to be, transacted in Australia," Mr Edwards said.
Since 2007, AAM had worked collaboratively with Palisade to modernise and enhance facilities and management practices within the agricultural infrastructure sector, he said.
"The decision to discontinue providing services to the RLX portfolio has not been made lightly, particularly given the valued relationships we share with our 220 AAM staff at RLX sites, agents, service providers, buyers and vendors, and the contribution these parties have made to the development and operation of the RLX business to date," Mr Edwards said.
The growth of AAM's direct investment portfolio, which now exceeds $750 million and will grow beyond $900 million in coming months, combined with the ever-increasing requirement for scarce human management resources, meant this course of action was necessary to continue to expand the AAM portfolio for the benefit of its investors, Mr Edwards said.
AAM would work closely with Palisade over the coming months to minimise disruption of the services provided to stakeholders and ensure this transition was as smooth as possible.
Source: AAM