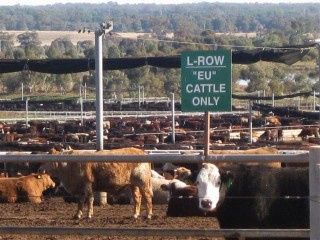 Growing opportunity to supply an expanding EU beef market has been one of the catalysts behind the formation of Australia's first supply chain coordination program dedicated to the EU market segment.
On top of the long-standing 7000 tonne Hilton grassfed quota available to Australia, the import quota for EU high quality grainfed beef established early last year will grow from its current level of 20,000 tonnes to 45,000t from July 1 next year.
Currently there are 28 EU-accredited feedlots in Queensland, six in NSW, and three each in Victoria and South Australia.
That's up from only as handful a few years ago, and given the average size of the feedlots involved, there is now a considerable capacity in Australian feedlots to feed for the EU market, if required.
At the cattle production end, there are currently about 2000 EU-accredited cattle properties across Australia, but to this point there has been little real attempt to coordinate their activities in any meaningful way.
Supply chain management firm Allied Beef, which historically has always handled a few EU cattle – particularly in backgrounding bought cattle for feedlot placement – has seen an opportunity to fill that void. It has recently established a new business dedicated to the trade, called EU Premium Beef.
Allied Beef principal James Maclean said the new venture was looking to overcome some of the most common obstacles to adoption of EU accreditation among beef producers, and helping 'smooth out' supply among existing participants.
"Because the EU market is a closed program accessible only to accredited properties, one of the features in the supply chain has been the lack of opportunity for smooth trading of cattle between breeders, backgrounders, grass finishers, lot feeders and processors," he said.
"Being a closed system, the only stakeholders accredited suppliers can deal with in terms of cattle movements are other EU producers. Currently there is a lack of linkages to bring them together because of the fragmented nature of communicating who is buying and who's selling," Mr Maclean said.
It was not uncommon to see a line of EU-eligible heifers listed privately for a couple of weeks ending up being sold to a non-EU buyer, when a week later a nearby EU-breeder would be looking for replacements.
"The motivation behind EU Premium Beef is to provide a facility to deliver that improved supply management. We think the provision of a system that will allow that to happen more freely will help producers function better within the EU system's boundaries, and potentially provide greater returns," Mr Maclean said.
EU Premium Beef will also provide supply chain management assistance in pulling cattle transactions together, as well as providing guidance to producers in terms of making decisions over whether to make the transition from conventional to EU supply.
Expanding buyer/vendor audience
The program, servicing the requirements of both the grassfed Hilton EU quota and the more recent grainfed high-quality beef program, has potential to greatly expand the audience base in terms of cattle movements to a much broader area, typically from Central Queensland through to Central and northern NSW.
Mr Maclean said EU Premium Beef had been established as a result of requests from existing clients for such a service.
"We think EU Premium Beef can improve accredited producers' businesses by delivering more and better options through the management facility," he said.
"There is certainly a premium for EU cattle in the market today – probably currently 10-15c/kg above similar non-EU cattle. That rewards those producers that, for whatever reason, do not want to use HGPs, and the growing market opportunity gives them justification for that strategy."
In his view, a lot more breeding operations should consider EU accreditation, because they typically did not use HGP pre-weaning, making the transition in EU accreditation relatively simple.
"Prior to the days of mandatory NLIS, the requirement to tag EU cattle was another big barrier to entry. But now that all producers operate under NLIS, the systems and approaches to traceability are not greatly different between conventional and EU herds," he said.
In further developing the EU Premium Beef service, Mr Maclean is seeking input from producers over other ways the program can provide support for EU supply.
One of the earliest producers to engage in the program is Andrew Winks, from Woolerina, near Bollon in southwest Queensland.
"Breeding and backgrounding EU cattle presents an opportunity for us to generate higher returns, particularly if we can efficiently market and buy cattle from other EU certified operators," Mr Winks said.
"We see EU Premium Beef providing an important service for us in that area, and potentially to help optimise our returns from the EU market as a result," he said.
The pre-existing Allied Beef program is a large producer and marketer of cattle across eastern Australia, responsible for more than 70,000 cattle either bought or sold each year.

Producers interested in the EU Premium Beef program can call James Maclean on (0437) 554 658 or email him at jmaclean@alliedbeef.com.au