COMMERCIAL cattle numbers bounced seven percent higher in online AuctionsPlus trading this week, where 17,848 head were offered.
The prices see-saw returned, with no clear trend through the market. Rain through parts of northern NSW and southern Queensland helped bring some restocker focus back into the market, with clearance rates higher than previous weeks through the steer categories.
Steers 330-400kg averaged $57 lower in $/head terms this week, but were unchanged in c/kg terms at 602c/kg, despite an 85pc clearance for the 1839 head offered.
Out of Mitchell, Southern Queensland, 84 Santa and Santa cross backgrounder steers averaging 380kg at 13-15 months, sold to $2300/head.
Heavy feeder steers 400kg+ were up 8c/kg to average 550c/kg.
In lighter categories, steers 280-330kg were back 14c on the previous week, averaging 650c, while the steers less than 200kg fell 120c to average 610c. Sharpest rises were seen for steers 200-280kg, which rose 29c to average 725c, with an improved 79pc clearance for the 1512 head offered.
The two lightest young heifer categories bounced back this week, with 200-280kg lines averaging 57c higher at 713c. With a very thin offering, less than 200kg heifers rose 3c to average 700c.
Most of the heavier heifer lines trended lower this week, with the exception of 330-400kg lines virtually unchanged averaging 586c/kg.
From Drillham, Southern Queensland, 67 Santa and Angus composite weaned heifers 333kg at 10-15 months, sold to $1840.
Heifers 280-330kg dropped 65c/kg in average value this week, averaging 584c, while +400kg heifers fell 34c to average 529c.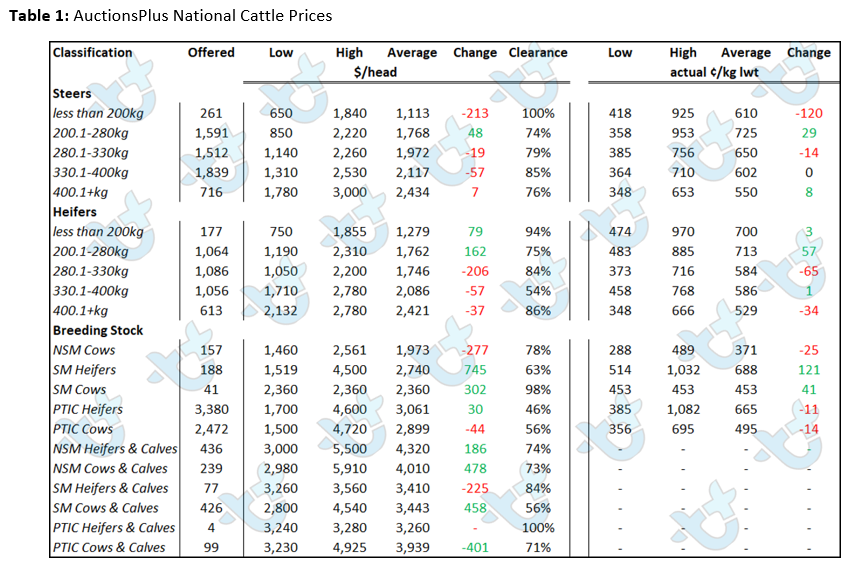 Breeding cattle
PTIC heifers were again the dominant category for the week, with the offering of 3380 head making up 19pc of the market. With restockers and breeders remaining cautious at current price levels, PTIC heifers averaged 11c/kg lower for the week, at 665c – while recording the lowest clearance rate across the major categories at 46pc.
Topping the PTIC heifers for the week was 29 Angus averaging 611kg at 32-36 months, joined to Angus bulls, out of Guyra NSW, which sold for 753c/kg or $4600. A pen of their older sisters 3-4 years averaging 679kg made 695c/kg or $4720.
An 80pc jump in the weekly offering of PTIC cows, at 2472 head, had a minor impact on prices this week, averaging $44 or 14c/kg lower, at $2899/495c.
Bloodlines and cow age continue to be the main determinant of the PTIC cow movements each week, with careful buying seeing the clearance at 56pc this week – up from 48pc last week.
A line of 23 Angus PTIC cows 492kg at 4-9 years, joined to Angus bulls, out of Gatton Southern Queensland, sold to $3200.
Out of Barcaldine, western Queensland, 28 station-mated Droughtmaster and Brahman cows, with CAF sold to $3120/unit. The cows averaging 453kg ranged from 6-10 years, while the calves sired by Droughtmaster bulls, averaged 226kg.
Among larger lines sold this week was an offering of 250 Braford steers, and cows & calves from Winton, western Queensland. The steer portion 10-20 months averaging 340kg made 585c/kg and the NSM cows & calves, with cows 354kg at 2-5 years, made 850c/kg or $3010/pair.
NOTE: Prices as at 2pm, Friday 8 April.
Source: AuctionsPlus