SIGNIFICANT price checks were seen in some young cattle categories on the AuctionsPlus national on-line marketing platform on Friday, in line with recent physical saleyard trends seen in some selling centres.
Lighter steer categories eased 5-15c/kg liveweight in value, as Friday's AuctionsPlus offering dropped by 13 percent to 10,962 head offered across five sales.
The reduction in numbers in response to a softening in the market over the past couple of weeks reflected a degree of flexibility that the current season has afforded vendors – a luxury not available to producers in earlier times due to drought.
Whether this is the much anticipated correction that will see prices continue to decline, or simply a dip-and-recover pattern like that seen this time last year, remains to be seen.
Cows with calves at foot presented in large numbers this week, and demand for breeding units has not abated.
Heifers with their first calves at foot sold from $1750 to $2950 on Friday, averaging $2274. The top price paid was for Angus heifers from Armidale, NSW with Wagyu calves at foot.
Proven breeders with calves averaged $2276, topping at $3000 for a small line of stud-bred mixed age Charolais cows with Charolais calves from Victoria. Aged cows with calves at foot averaged $1895.
Pregnancy tested in-calf yearling heifers sold from $1200 to $1800 averaging $1588. The top price was achieved for two mobs of Angus heifers from Tara, QLD, in calf to Wagyu bulls.
Young PTIC cows averaged $1752 topping at $1980 on Friday, for Poll Hereford cows from southern NSW in calf to Charolais bulls. Mixed age lines of PTIC cows averaged $1705.
Unjoined future breeders were headlined by Speckle Park /Angus yearling heifers from northern NSW weighing 415kg, which sold for $2080.
A breakdown of young cattle sold on Friday, by weight range saw:
Steers weighing less than 250kg sold from 369-450c to average 407c, easing 15c; while heifers in the same weightrange sold from 367-390c, averaging 382c, easing 6c
Steers 250-300kg sold from 357-426c, averaging of 402c, back 6c, while heifers sold from 311-435c averaging 365c, back 27c
Steers 300-350kg sold from 332-429c, averaging 380c, easing 5c; while heifers sold from 346-404c, averaging 365c, easing 15c
Steers 350-400kg sold from 340-402c, averaging 369c, rising by 5c; while heifers in the heaviest weight range sold from 319-380c, averaging 356c, up 1c
Steers 400kg+ sold from 350-390c to average 369c; while heifers sold from 259-370c averaging 332c.
In special categories, 90 F1 Wagyu x Angus unweaned steers and heifers, 11-12 months from Coonamble NSW made excellent money, with the steer portion (pictured below) averaging 333kg making 719.3c/kg liveweight or $2398, and the heifer portion 306kg average, 750.9c/kg liveweight or $2300.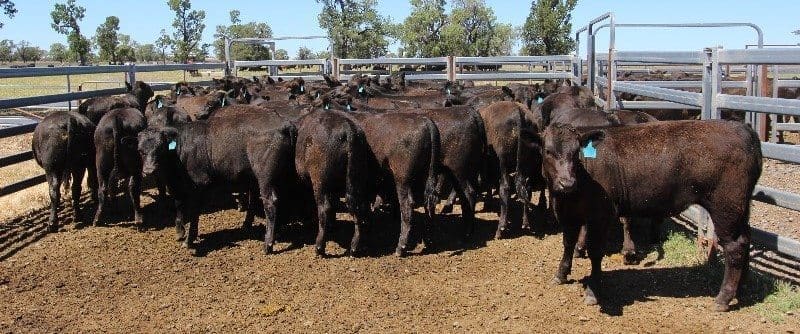 Click here to access  full summary of Friday's AuctionsPLus cattle sales
Source: AuctionsPlus