HEIFERS have gone past equivalent steers in value in young cattle trading during the opening stages 2021 in large parts of eastern Australia, for the first time in recent memory.
In a rocket-fuelled start to the year driven mostly by favourable weather patterns, green grass and short cattle supply, young cattle values have surged across both physical sales and online marketing platforms.
AuctionsPlus set a new record high for commercial heifers on Friday last week when a pen of freshly weaned Angus cross heifers in Tasmania made 815c/kg. At the other end of the continent, the Central Queensland Livestock Exchange (CQLX) Gracemere prime sale on Wednesday set a new saleyards commercial heifer record when a Charolais cross pen of weaners averaging 182kg made 498.2c/kg, returning $902/head.
EYCI deeper into record territory
Driven hard by recent yearling and weaner steer and heifer markets, the industry's benchmark Eastern Young Cattle Indicator has continued to explore new record territory this week.
The indicator reached 841.75c/kg yesterday, up 28c/kg on this time last month, and a breathtaking 326c/kg higher than this time last year.
The EYCI result comes despite the absence of a Roma store sale this week – traditionally the single largest influence in indicator movement each week, by virtue of its size and turnover – due to a rain-forced sale cancellation.
Analysis conducted towards the end of last year by AuctionsPlus pointed to the dramatic rise in price for heifers during the second half of the year, showing the price gap between steers and heifers narrowing considerably, but did not quite see heifers pull ahead.
Fever-pitch southern weaner sales this week and last week have shifted that cycle across in favour of females, however.
StockCo's Chris Howie, a monthly columnist for Beef Central, says January's southern weaner sales were clearly showing the new premium in the marketplace for heifers over steers.
"At last Monday and Tuesday's Victorian weaner sales, you needed 500c/kg to get a start, and 540c/kg was paid for most of the 300kg type heifers – and up to 560s in places," Mr Howie said.
"So long as they have a bit of style and breeding about them, weaner heifers in the south are already in advance of what their steer brothers are worth. A 320kg black steer last week was worth 500-525c/kg," he said.
Mr Howie said it had been a popular conversion topic in the past, when speculating about upcoming southern weaner sale prospects, to suggest that heifers were 'going to fire this year,' but up to 2021, that had not really happened.
"This time, they certainly have. Your select heifers in the past used to come up near steer values, or made the same money – but this is the first time that I can remember where there was a clear premium for the female weaner lines, consistently."
Asked how long the heifer premium was likely to last, he said further rain, plus southern calving cycles would contribute to that. Southern producers trying to buy joinable heifers now, were looking for a March joining, to deliver an autumn calving – so there was perhaps a time factor in play in current pricing and demand.
"When we get out the other side of that (March joining), I think the heifer job will settle down a little. Select heifers will still make good money, but they will miss that joining window for autumn calving."
Mr Howie said similar high demand for heifers was likely to extend into northern NSW and Queensland. Young Brahman heifers out of the Gulf region were quoted recently at 600c/kg.
"Those northern producers impacted by drought are going to retain as many heifers as they can. We (StockCo) are getting a lot of inquiry from northern producers about finance, to retain heifers that they would normally sell. In the New England, everyone is concerned about the numbers of feeder style cattle going into the winter, and we don't think those traditional March/April young cattle sales from Cooma all the way to Inverell, will have the numbers that they normally do," he said.
Mr Howie said he had spoken to some operators who were in the market for up to 10,000 head out of the recent southern weaner sales, but came away with nothing, claiming they just 'couldn't make the numbers work' for their client.
Producers like that were now looking at alternatives. "They could have got into those joined heifers being sold before Christmas, but now they are the flavour of the month again," he said.
AuctionsPlus chief analyst Tim McRae said typically in the young cattle market there was a premium for steers over heifers of the same weight and description of 5-10pc, but that had diminished in the past few months.
"During the big drought period last year the steer premium over heifers was probably as wide as we have seen it, but it has certainly closed right up now," he said.
The prospect of heifer prices pushing higher than steers for a period would probably grow if there was further summer rain, particularly in northern areas, Mr McRae said.
"A wet February-March, which would guarantee a solid 12-18 months of feed for many producers, would help inject further confidence in purchasing future breeder replacements," he said.
Mr McRae said while much attention had focussed on the early January showcase southern weaner sales, it was often not until February when pricing patterns for the year tended to 'get back to normal.'
"I'd rather wait to see what happens in the first couple of weeks of February to provide a better picture of what lies ahead for 2021, price wise," he said. "We've seen many years where results in the first week of January do not provide a good guide to the pattern for the rest of the year."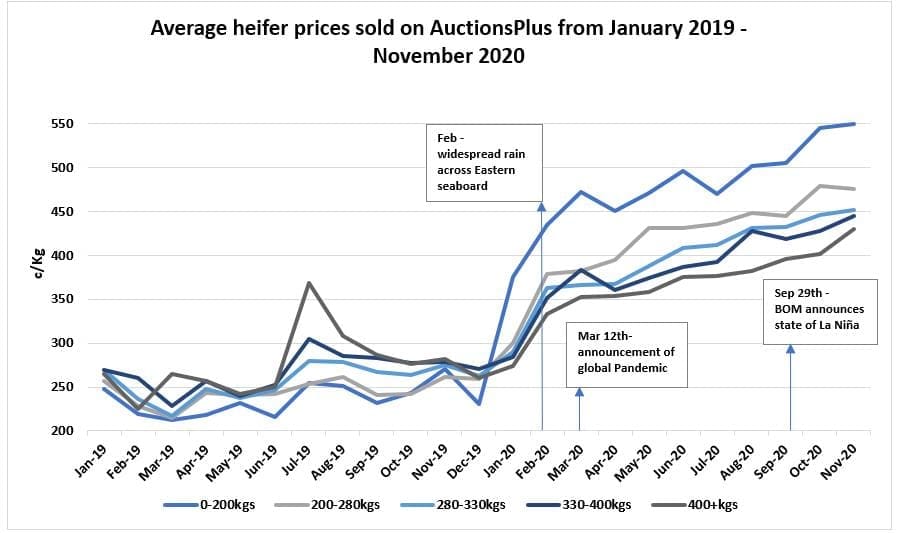 MLA analyst Stuart Bull said demand for replacement breeders had been further enhanced by much-needed summer rain over the past month – particularly in areas further north.
"Stakeholders always suspected that this year's weaner sales would be quite strong – despite a bit of a lull in price towards the back end of 2020," Mr Bull said.
"But the recent rain that's fallen, plus the fact there is still plenty of grass across large parts of NSW, with under-stocked paddocks, has fuelled January's remarkable prices," he said.
'Safety factor' element
Mr Bull said an element of security might be creeping into restockers thinking this month, with regard to the relatively higher prices for heifers.
"Breaking down current numbers in terms of financial gains to be made from young steers, given where the current market sits, they are pretty slim, at best. And depending on what weight they are bought in at, or a small 'blip' in the finished cattle price, it does not take much to upset the result."
"Therefore there appears to be a growing perception that there is a bit more safety factor in buying heifers at present, because of their flexibility."
"It appears that is a key driver in the current market conditions, with more operators withdrawing from the steer market."
Another less obvious factor was demand for live export Bos Taurus heifers for China might be helping underpin heifer demand at present.