BREEDING stock fell in value, while young cattle results were mixed in a smaller 16,425 head offering on AuctionsPlus this week, where numbers were down eight percent on the week before.
Rain through some key supply regions was welcome, with some heavier falls through previously soaked coastal regions recorded.
Overall clearance rates were reasonable to robust, especially for the lighter steer lines.
Steers in the 280-330kg range were in heaviest supply, producing a 74pc clearance for the 2283 head offered – with prices unchanged from the week before, averaging 534c/kg.
Steers 200-280kg lifted 15c/kg to average 596c/kg, while a solid offering of 2050 steers 330-400kg averaged 500c, producing a 73pc clearance.
Among the lighter steer categories, 80 weaned Angus steers 6-7 months averaging 262kg from Braidwood NSW, sold for $1605/head, while 57 weaned Angus steers out of Singleton, NSW, 8-9 months old averaging 239kg sold for $1520.
Maintaining the volatility from recent weeks, there was a significant jump for the 692 head of +400kg steers offered, up 12c to average 460c/kg. A line of 78 Angus and Angus cross heavy feeders 18-19 months averaging 456kg (range 430-541kg), out of Koroit, Victoria, sold for 469c/kg. The vendor, Kerrsville Trading, normally finishes these steers as bullocks on grass themselves, but due to increasing cattle numbers and the strong feeder cattle market were offered for sale to make way for the next crop of steers coming through.
Tougher going for breeding cattle
Breeding stock categories fell between 8c/kg and 36c/kg on average in value this week.
There was another steady line of PTIC heifers offered, producing a 70 clearance for the 2533 head offered. PTIC heifers averaged 19c/kg cheaper, at 495c/kg. PTIC cows were 27c/kg lower to 380c/kg, with a 67pc clearance rate for the 1754 head offered.
Unjoined cows were 36c/kg lower at 281c/kg.
There continued to be selected lines of cows with CAF out of Queensland this week, with 54 joined Droughtmaster cows 8-12 years 481kg, and with calves at foot, out of Aramac, selling to $2400/unit. Another 43 Santa cows 3-6 years averaging 530kg, ranging with CAF from Mundubbera sold to $2920/unit.
In the wake of welcome rainfall in WA, 51 Murray Grey steers from Muchea, sold to $1740/head, or 1016c/kg dressed. The 10–12-month-old steers averaged 319kg liveweight.
Prices as at 2pm, Friday.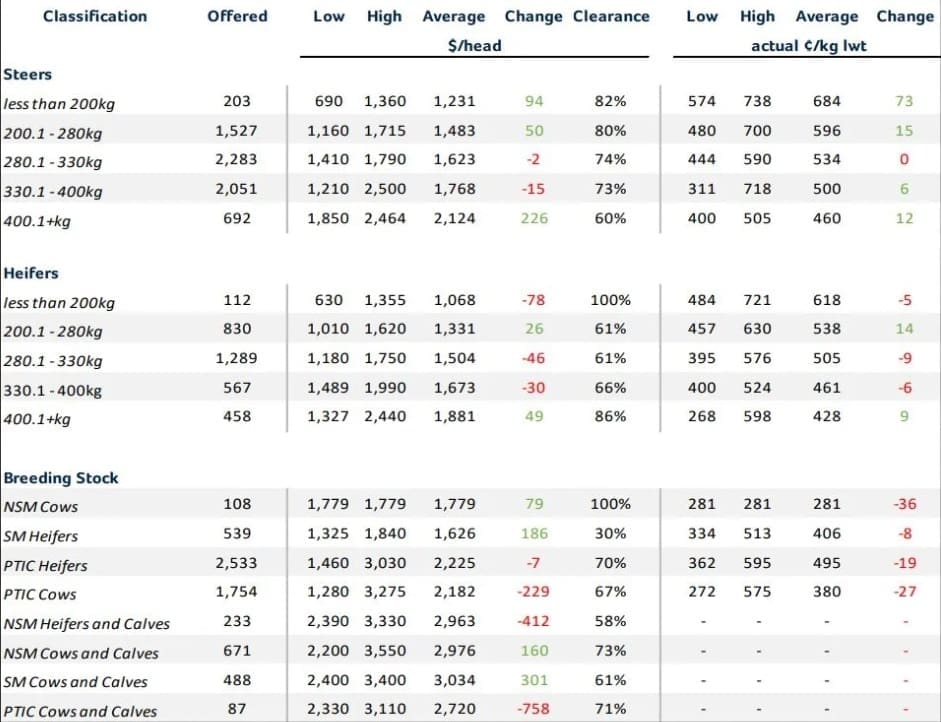 Online buyers bolster competition at HRLX store sale
Meanwhile in other online selling activity, the Singleton Store Sale over the weekend was boosted by remote buyers, with 15 percent of all bids placed remotely via Stocklive.
In total, more than 462 head went under the hammer at the Hunter Regional Livestock Exchange (HRLX) on Saturday where a line of Charolais cross steers peaked at $1660 and Angus replacement heifers reached $1900.
Online buyers from the New England region were most active in the lightweight heifers and steer categories.
Earlier in the week, during Beef Australia 2021 in Rockhampton, fierce demand from restockers featured at the inaugural AAM & RLX Replacement Heifer Sale, where a line of 20 joinable age Shorthorn females from Norland Pastoral Co, Weebollabolla, Moree made $2125.
The special online auction attracted producers from key production areas right throughout Queensland and NSW and as far north as Katherine in the Northern Territory.
StockLive manager Libby Hufton said the sale will be an annual event to support significant charities and was well positioned to promote premium female genetics to cattle producers right around the country.
"This was the first time StockLive has run an online-only commercial cattle sale, which marks a new chapter in the platform's trajectory in supporting the industry," Ms Hufton said.
"As the national herd rebuilds, producers are seeking suitable females for their breeding programs, and the unique advantage of this replacement heifer sale was that buyers and bidders could become involved from across the country whilst supporting worthwhile charities."
Barcaldine producer Ben Chandler picked up 126 8-9 month old Santa and Santa x Droughtmaster heifers from Australian Livestock Co's Terrick Terrick Station, Blackall, for $1500 per head, in a competitive auction which attracted vigorous bidding activity.
The heifers will help build the foundations of a new cattle business that Mr Chandler has established alongside wife, Jayde.
"Given the current climate in the cattle market at the moment we have been focusing on trying to secure mostly trade cattle," Mr Chandler said.
"But when we saw this sale, we thought it was an opportunity to secure the one-brand, one-earmark type cattle we were looking for. Given the prolonged drought, and high commodity prices, it's been difficult to secure the 'perfect item'.
"I had spoken to the agent who assessed them, and we know the vendors and the quality genetics they produce quite well."
On the same day as the heifer sale, outstanding results were recorded at the Beef Australia 2021 Nutrien Livestock Commercial Cattle Awards Sale, held at the Central Queensland Livestock Exchange (CQLX) with hundreds of views online from right around the country.
The 898 grainfed cattle had an average weight of 599kg, sold for a strong average price of $2397/head. The 668 grassfed cattle presented found their average at 589kg, and a historic Beef Australia high average of $2252/head.
Online buyers also made their presence known during special stud sales during Beef Australia 2021.
The Wattle Grove Speckle Park sale conducted by Elite Livestock Auctions had 92pc of bids across all lots placed online and over 100 buyers logged on during the auction. The auction also attracted 166 additional online viewers, as producers from across the country were eager to see the market trends for the stud sector.
The sale had a 100pc clearance rate and the 27 lots sold for a strong average of $13,038.
The sale's bell ringer, Wattle Grove Dust N Smoke P07, was bought by Speckle Park Brazil for $45,000.
The Beef Genetics Focus Sale 2021 with GDL had 89pc of bids lodged online, with an additional 174 people monitoring the sale action remotely.
Top price went to Rondel Barcardi (P) D5, which sold for $28,000 on the auction floor in a bidding frenzy where online bidders went head-to-head with physical buyers demonstrating the strong competition and demand on quality lots.
Further north in Charters Towers, StockLive simulcast live the QLD Rural Special Store Cattle Sale, which yarded 2,744 head on Friday.
Light steers reached 578c/kg during the auction, and a highlight in the heifer category was an offering from Hewitt Pastoral Enterprises, Belyando, which reached 426c/kg for a line of 101 crossbred heifers weighing 260kg making a return of $1108/head.
It was the second time this feature sale had simulcast live the auction with StockLive, and 115 viewers tuned in on the day.
Self-reported by AuctionsPlus, Stocklive