CATTLE offerings via Elders and Nutrien's online platform AuctionsPlus lifted 26 percent last week, reaching 12,014 head. The number was still 43pc below the same week last year.
As rising interest rates continue to bite into household budgets, cash flow is becoming more important than seasonal conditions in influencing buying and selling decisions. Producers are carefully considering their buying options and taking a cautious approach while vendors are willing to hold on to stock rather than sell due to residual feed and unappealing prices.
Steer categories were firm this week while heifer categories slipped further, suggesting stronger feedlot activity and subdued restocker demand. Prices for breeding lines were mostly lower while PTIC heifer listings contributed more than 20pc of the week's online offering.
Value over reserve was back 16pc to $98 this week while clearance  jumped 7pc – indicating that vendors are lowering reserve expectations.
Light steers less than 200kg bucked the firmer trend and fell 74c/kg to average 438c/kg, however only 71 head were offered. The 700 steers 200-280kg averaged 526c, up 30c on last week, reaching an 82pc clearance. From Cooma, NSW, 78 Hereford x Angus steers 6-7 months averaging 248kg returned 543c/kg.
Steers 280-330kg were also met by strong demand, reaching 89pc clearance across the 744 head and averaging 490c – up 15c on last week. From Longreach, Queensland, a line of 126 Brahman cross steers 6-12 months and averaging 297kg returned $1280.
Steers 330-400kg were boosted by a strong top price, averaging $1904/head across 958 head and achieving 57pc clearance.
From Drillham, Queensland, 105 purebred (F4-F7) Wagyu backgrounder steers 16-22 months averaging 364kg returned the top price of 821c/kg or $3000/head. A further 51 of their heavier half-brothers averaging 421kg made 665c/kg or $2800.
Heavy steers +4—kg were firm this week despite double the listings of last week. The offering of 975 head averaged 437c/kg or $1892 – up 10c on last week.
Heifer listings increased by 40pc this week but were met with subdued demand from buyers.
Light heifers less than 200kg averaged 449c across the 110 head offered, down 106c/kg and selling to a 62pc clearance rate. Listings of 200-280kg heifers increased 42pc with 890 head averaging 469c, down 4c on last week. From Bingara, NSW, 86 Angus heifers 6-8 months averaging 262kg returned 519c/kg.
Heifers 280-330kg averaged 426c across the 598 head offering, producing a subdued clearance of 33pc. This result was heavily influenced by a large line of 116 Charolais and Simmental x composite heifers out of Biloela, Queensland aged 12-16 months and averaging 295kg, that returned 406c/kg or $1200/head.
Listings of 330-400kg heifers increased 41pc to 1075 head and averaged 409c – down 5c from last week for a 60pc clearance. From Selbourne, Tasmania, 19 Poll Hereford heifers 16 months averaging 372kg returned $1610. Heavy heifers +400kg found good support despite a 67pc rise in listings. The 703 head offering averaged 392c, up 12c on last week.
Breeding cattle
The breeding female categories were again dominated by PTIC heifers with 2585 head offered. Weak demand saw most categories fall, with PTIC heifers averaging $2249/head – down $111 from last week for a 35pc clearance. From Harden, SW Slopes and Plains, NSW, 36 Angus PTIC heifers 17-18 months averaging 474kg returned $2720 – $320 over the reserve.
PTIC cows reached a reasonably strong clearance of 71pc but fell $290 to average $2118/head across the 913 head offered. From Cunnamulla, Western Queensland, 240 Brahman PTIC cows split into four even lines aged 3-4 years and averaging 479kg returned $1700/head – $200 over reserve.
From Clermont, Central Queensland, 80 Droughtmaster station-mated heifers with calves at foot returned $2520. The heifers were 2-3 years averaging 418kg and were rejoined to Droughtmaster bulls.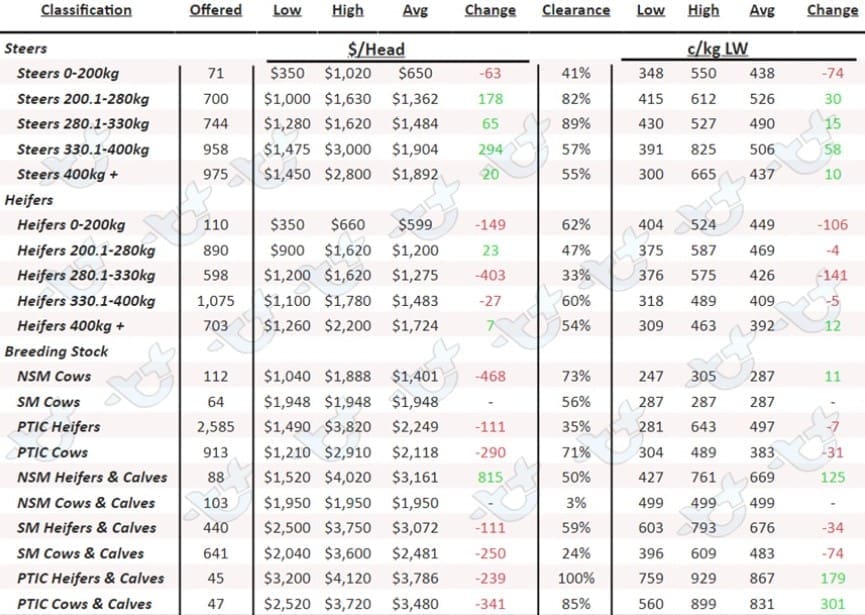 Prices as at 2pm Friday, 10 February.
Source: AuctionsPlus