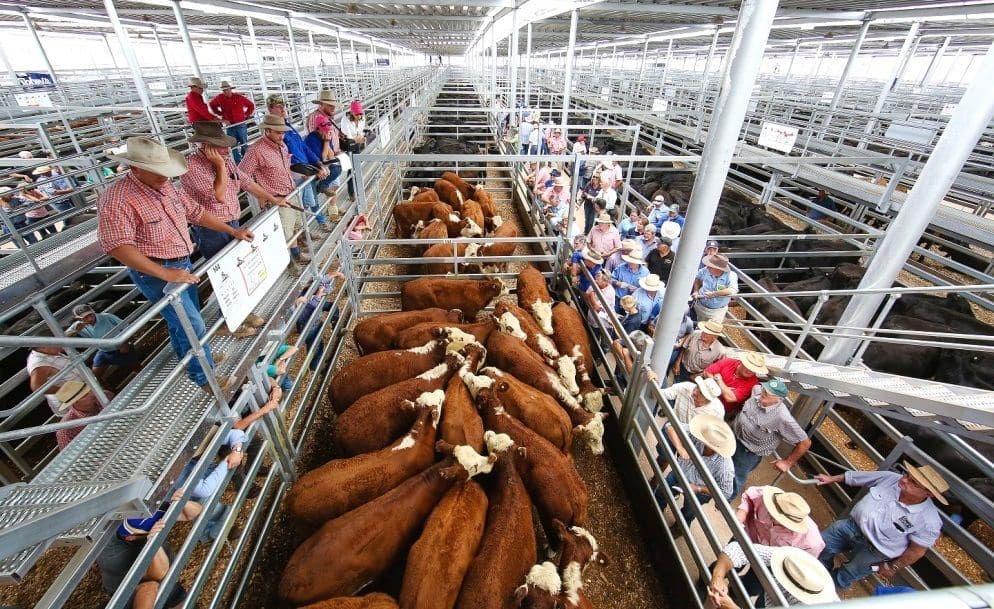 THE Northern Victoria Livestock Exchange (NVLX) at Wodonga will for the first time provide an online streaming and bidding service for its feature weaner sales being staged through January.
NVLX will host around 18,000 head of Victoria's premium weaners for the annual feature sales circuit, attracting buyers from north to Queensland through to South Australia and Tasmania.
The NVLX has contracted the StockLive system to provide potential bidders and other interested stakeholders the opportunity to actively participate in the live auction from anywhere in the world. Online streaming and bidding incorporates the atmosphere and activity of a live physical auction with the added advantage of maximum buyer participation.
Regional Livestock Exchanges, the owners and operators of NVLX and other modern selling facilities across eastern Australia, has been trialling live streaming of sales since July, and as of January will be utilising the bidding platform at feature sale events. Other RLX selling facilities will be added later.
"Offering this service to our clients allows our facilities to maximise their exposure to buyer markets allowing interested parties to watch the sale and participate in the live auction," said RLX Southern Regional Manager, James Thompson.
"I expect though that the strong demand from buyers physically onsite will see potential online buyers needing to be aggressive if they wish to source some of these premium weaners," he said.
He said the RLX business was focused on providing every opportunity to maximise the outcomes of its clients in order to make these sales as successful as possible.
"The New Year sales have a reputation as being the best in Victoria for a very good reason and this is why buyers travel from all over Australia to access the best stock available."
Potential bidders can visit the RLX website to register (24 hours ahead of time) to participate online in the January sales, listed below. All buyers, unless they have a direct account with a local NVLX agent, need to nominate their local agent with whom they hold a trading account to make the registration process as seamless as possible.
18,000 weaners on offer
More than 18,000 head of weaners and females will be on offer at Wodonga Feature Sales through NVLX in January.
The first week of January will kick-start the Southern Weaner and other feature sales with nearly 8000 Black Angus weaners offered over three days. Following in the second week of January, NVLX will play host to 7500 grown and mixed breed weaners, followed by two female sales during the third week of January.
"Kicking off the Southern feature sales sees the market at NVLX act as a benchmark for all sales to follow," NVLX site manager, Tim Keys said.
"We're expecting strong demand for good quality weaners throughout the East Coast. During January, vendors will present their premium drop at NVLX suiting buyers looking for large lines of quality livestock," he said.
Staff at NVLX are spending the weeks leading up to Victoria's feature event preparing the facility for the large numbers of cattle to come through the facility during January.
Attention is currently focussed on the final stages of feed yard extensions, which will ensure increased capacity, giving vendors and buyers the opportunity to let their livestock rehydrate pre-sale and post-sale.
NVLX Weaner and Feature Female sales dates:
Wednesday 3 Jan Angus Weaner Sale
Thursday 4 Jan Angus Weaner Sale
Friday 5 Jan Angus Weaner Sale
Wednesday 10 Jan Mixed breed and grown weaner sale
Thursday 11 Jan Mixed breed and grown weaner sale
Friday 12 Jan Mixed breed and grown weaner sale
Wednesday 18 Jan F1 Female sale
Thursday 19 Jan Beef breed female sale