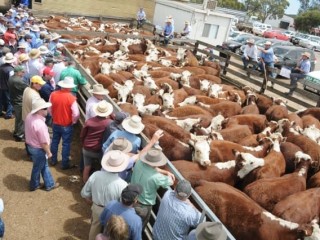 Further falls in the Eastern Young Cattle Indicator this week have taken the benchmark young cattle price to 381.75c/kg, its lowest level in about seven months.
Despite the falls the indicator remains at historically high levels and well above the five-year average of 340c.
Beef Central spoke to some leading analysts and agents this week to look at the factors behind the recent price falls and whether those trends are likely to continue.
10pc drop
The EYCI has fallen by more than 46c or almost 10pc since it peaked at 428c on December 20.
That record came amidst a stellar price run and was achieved on the back of unusual circumstances – a sudden contraction of already tight supplies at end-of-year sales due to widespread wet weather disruptions, and an associated increase in the proportion of higher-priced vealers used to calculate the EYCI, which had a distorting effect on the indicator in the final weeks of 2011.
This week the EYCI has recorded its largest weekly fall since Christmas, dropping 8.25c since last Friday. That drop included a particularly large single day fall of 5.5c last Tuesday.
Additional numbers coming onto the market in recent weeks is one obvious reason for the lower priced trend that has pulled the EYCI back to its lowest point since mid-August last year. .
The Roma effect
The 5.5c drop on Tuesday coincided with the first Roma store sale in three weeks, after supply to the centre was cut off by floods and wet weather for most of February.
Roma's return resulted in a sudden 19pc increase in EYCI-eligible cattle this week compared to last.
"That Roma store market alone accounts for about 22pc of the numbers in the EYCI," Rob Milner of the NLRS told Beef Central yesterday.
"So it is going to have a pretty strong bearing on where the prices go, especially when most cattle coming out of that market in the EYCI are yearlings."
Heavier cattle weigh EYCI down
A key factor also at play is the effect of better seasons and heavier weights on EYCI calculations.
Heavier cattle receive a lower cents-per-kilogram price than lighter cattle, and a greater proportion of heavier cattle in yardings has the effect of pulling down the overall EYCI price average.
Figures produced by Mr Milner yesterday show that yearling steers accounted for 52pc of all EYCI categories in NLRS-reported sales this week, 9pc more than the same week last year.
The number of vealers contributing to this week's EYCI calculations compared to last year has not changed.
The category that has dropped has been yearling heifers, representing 26pc of overall EYCI numbers this week, down from 32pc last year.
This mirrors the ongoing incentives for producers to keep herd expansion going, particularly in northern and western areas where seasonal outlooks point to a wetter than average autumn.
Direct to works flow impacts on saleyards
Another interesting number that MLA chief economist Tim McRae drew attention to yesterday relates to who is buying EYCI category cattle.
This analysis supports the view that more heavier cattle are starting to move direct to works.
Lot feeders and restockers have increased their proportion of EYCI-category purchases this week, to 43pc and 30pc respectively, which represents a 3pc lift for both compared to this time last year.
The decrease has come from processor purchases, which made up only 27pc of EYCI purchases in NLRS yards this week, compared to 34pc last year.
"I would think that is a result of more heavier cattle that fall outside the EYCI coming in, which we know have been out there for a while," Mr McRae said.
"They are going direct to works most likely, and so processors have reduced what they are buying in the EYCI portion, which affects competition a bit."
Subdued sentiment
Elders southern region manager Scott Altschwager said the marketing environment was quite subdued, particularly due to the impact of the dollar on export orders, and the increasing view that some export product may soon start finding its way back onto the domestic market.
People who were currently marketing weaners bought last year were finding that current rates were not where they would like them to be.
"If you buy and sell in the same market, you are probably only getting $2 to $2.05 for your Angus steers or up to $2.10 perhaps for the right type, so therefore you have got to buy accordingly, and then you can't go into the market place and $2.40/kg," Mr Altschwager said.
Seasonal factor
The southern season, while not bad, was still patchy, and many people who had bought younger cattle were now facing the prospect of having to feed them to get them through to the southern winter break.
A similar story is unfolding across the northern parts of Australia from central and northern Queensland and across the Northern Territory, where seasonal conditions have been slipping quite rapidly.
Northern NSW demand for southern cattle
The combination of softening rates for younger cattle and the good seasonal conditions in northern NSW and Southern Queensland had triggered a noticeable increase in orders from those regions in young cattle from the south.
Until now the combination of high young cattle prices and the significant cost of transporting cattle from southern areas to northern NSW or Southern Queensland had restricted demand from those regions, however the easing in young cattle values meant the prospect of buying southern cattle and transporting them north was becoming far more attractive.
"There is definitely interest from northern NSW to buy cattle, and with the rate on the weaners having come off a bit, it has probably allowed some opportunities to get into the market place – if the numbers are available," Mr Altschwager said.
"I'm not sure the numbers are available, I don't think they're there, most of the weaners are gone, so there is certainly interest subject to being able to secure numbers."
Dollar impact
Mr McRae said his main concern lies in the heavier end of the market, where the dollar was "hurting badly".
"I think we have seen the last couple of years when we get a dollar doing what it's been doing recently, combined with the market going through a flat spot, it really does have a feeling of accentuated impact on the market."

What is the EYCI? The National Livestock Reporting Services uses the Eastern Young Cattle Indicator (EYCI) as the general benchmark of Australian cattle prices. It is a seven-day rolling average produced daily by the NLRS.
It includes vealer and yearling heifers and steers, grade score C2 or C3, 200kg+ liveweight from saleyards in NSW, QLD and VIC. The results include cattle purchased for slaughter, restocking or lotfeeding and are expressed in cents per kilogram carcase (dressed) weight (c/kg cwt).