LISTING numbers on AuctionsPlus have surged to near record high levels this week, lifting by 30 percent to more than 15,000 head in catalogues across the four cattle sales.
For the statistically-minded, this week was the third highest offering in history for AuctionsPlus commercial cattle listings, excluding cattle re-offered from the previous week, at 14,287 head. The all time record was set in April this year (14,563 head), followed by a week in March 2018 (14,322 head).
The sharp, drought-driven jump in offerings saw the overall clearance fall slightly this week.
The majority of stock again came out of the NSW Northern Tablelands, which accounted for 5200 head. Weaner heifers were a popular item, achieving 89pc clearance and averaging 289c, up 2c.
Cow and calf units this week saw 2384 head offered, with clearance dropping on last week to 65pc. Prices ranged from $760 to $1875 and averaged $1336, up $45 on last week.
Top price was achieved by a line of 16 Angus cross cows 4-8 years, with calves at foot, from Long Flat, SA. Other highlights include a line of two-year-old EU accredited Angus heifers with calves at foot, from Walcha, NSW, which sold for $1840.
Rising five year old Simmental x Hereford cows and calves from Bagdad, TAS sold for $1570, heading to a buyer in Victoria.
PTIC females saw a total of 541 head listed this week, with cows achieving 95pc clearance. Prices ranged from $1070 to $1640 and averaged $1344. Top price was achieved by a line of 11 Murray Grey cross heifers, from Ringarooma, TAS. The heifers were 18-26 months old and PTIC to SimAngus bulls. The same vendor sold another six lines of PTIC heifers.
Other highlights include a line of 17 Angus cows 3-6 years old, PTIC to Angus bulls, from Bombala, NSW which sold for $1490.
In the WA cattle sale, a line of 14 weaned Angus steers 5-6 months averaging 245kg from Mount Barker sold for $860. Also in Mount Barker, 16 Angus steers 282kg at 7-8 months of age, from the same vendor, sold for $960.
Light steers less than 200kg averaged 340c, down 9c on last week. A line of 4-5 month old Angus steers, 136kg, from Quambone, NSW returned the top price of 474c. Another highlight includes 78 Angus weaned steers from Bundarra, NSW. These steers weighed 180kg and sold for 350c to a buyer in Victoria.
Prices for steers 200-280kg were also down on last week, averaging 357c, a drop of 12c. Top price of 405c was achieved by four lines of 120 Angus backgrounder steers (480 in total), account Glen Collin Pastoral, from Walcha, NSW averaging 247kg.
The image below shows the paddock conditions for a heavier line of similar aged steers also from Glen Collin Pastoral near Walcha offered this week. These feeder-weight steers 419kg, had been on a full grain ration including 40pc rolled wheat, 30pc palm kernel meal and 30pc soy hull pellets. They were passed in for 335.2c/kg.
Heavier steers 280-330kg averaged 313c this week, and ranged from 235c to 356c. Top price went to a line of 10-11 month old Angus steers 280kg, from Caramut, VIC, heading to a buyer across the border in South Australia. Looking to Tasmania, nine Speckle Park x Angus steers sold for 347c. The steers were 13-14 months averaging 290kg.
Steers 330-400kg averaged 320c this week and ranged from 303c to 339c. Top price went to a line of 13-14 month old Speckle Park x Angus steers from Melrose, TAS averaging 344kg. Another highlight included 60 feeder steers 13-14 months averaging 388kg from Oberon, NSW, which made 338c.
Steers weighing more than 400kg averaged 319c this week, ranging from 277c to 338c.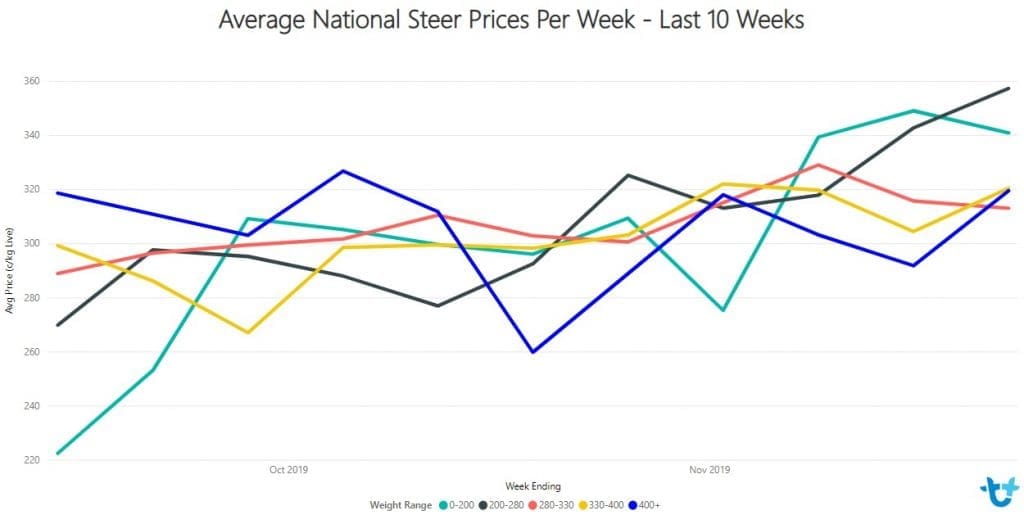 Light heifers less than 200kg averaged 285c and ranged from 169c to 393c. Top price went to a line of 3-5 month old Angus heifers from Bundara, NSW averaging 127kg. Heifers 200-280kg averaged 273c and ranged from 159c to 519c. Top price went to yearling heifers from Melrose, TAS.
Another highlight includes 107 backgrounder heifers from Hillston, NSW account Yammatree Family Trust, which sold for 289c. These heifers were 10-12 months old, 238kg and are predominantly Kenny's Creek Angus blood.
Heavier heifers 280-330kg averaged 293c this week and ranged from 254c to 514c, up 16c on last week. From Lithgow, NSW 18 weaned EU-eligible Charolais heifers 13-14 months old averaging 314kg sold for 295c.
Heifers 330-400kg also saw a rise in prices this week, averaging 290c, an increase of 13c. From Coolah, NSW 45 Angus cross feeder heifers sold for 280c. The heifers were 14-22 months averaging 347kg.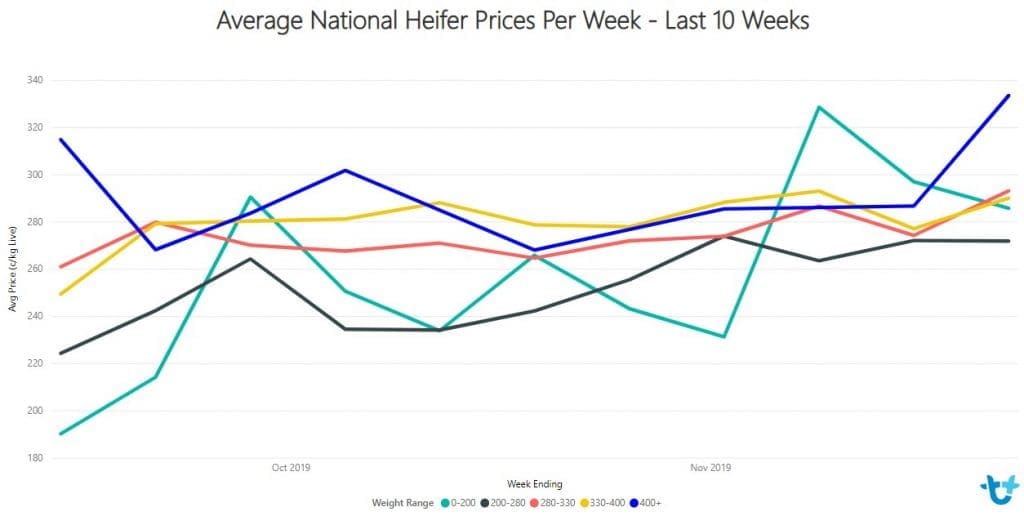 Source: AuctionsPlus