BUYERS were greeted by the largest AuctionsPlus cattle offering since November 2020 on Friday. The offering totalled 22,648 head, with overall results underpinned by the search for quality, light cattle.
Boosted by larger numbers out of Queensland, clearance rates through the young steer lines were largely in line with the previous week, while the young heifer clearance was lower through the mid-weight lines.
The return of some very wet conditions along the eastern fringe will conclude the La Nina summer, along with putting many producers through Southeast Queensland back on flood watch. Patchy storms through NSW will continue to foster restocker demand and offset the impact of the recent short run of warmer conditions.
Prices were lower for most of the young steer categories this week. Only 280-330kg steers averaged higher, edging up 12c on the previous week to 678c/kg. They also registered the highest clearance rate, at 86pc, for the 2325 head offered. Through the lighter 200-280kg lines, prices eased 4c to 744c on last week, with a 74pc clearance for the 1829 head offered. From Mitchell, Queensland, a line of 114 8-10-month-old Brahman/Droughtmaster steers 209kg, returned 842c/kg liveweight.
A jump in +400kg feeder steer numbers to 1979 head, contributed to a 16c/kg drop for the week, to average 531c. A line of 113 Angus feeder steers 439kg at 17-18 months from Holbrook NSW, returned $2710/head, or 618c/kg.
Steers 330-400kg eased 19c/kg to average 596c.
Some excellent quality young heifers helped to boost average prices this week, with 200-280kg lines averaging 41c/kg hgher on last week, at 733c. From Camboon Queensland, a line of 131 weaned heifers – Droughtmaster, Charbray, Santa Gertrudis and Brangus genetics – aged 8-15 months at 253kg returned 641c/kg.
Similarly, 330-400kg lines jumped 35c on last week, to average 635c, however 280-330kg heifers dropped 54c/kg to average 596c – missing out on the lots with exceptional bloodlines offered in neighbouring weight categories.
For the heaviest heifers over 400kg, prices edged $5 higher on last week, to $2438/head, with a 67pc clearance rate for the 936 head offered.
From Yambacoona Tasmania, three even lines totalling 120 Angus heifers returned $2700/head, or 633c/kg liveweight. The 427kg heifers were 16-18-months, and are set to travel into Victoria.
Breeding cattle
For the proven breeder lines, it was a largely cheaper week, albeit with most categories just giving back the gains of previous week.
PTIC heifers slipped back $104 on last week, to average $3015/head, with the clearance rate of 70pc for the 2604 head offered. The premium over PTIC cows narrowed slightly, with PTIC cows easing only $65 on last week, to average $2823/head.
Among proven breeder lines, a line of 41 Droughtmaster heifers, 2-4 years averaging 503kg, with black calves at foot, and rejoined, from Clermont in Central Queensland made 806.8c/kg to return $4060 per unit.
Prices as at 2pm, Friday 25 February.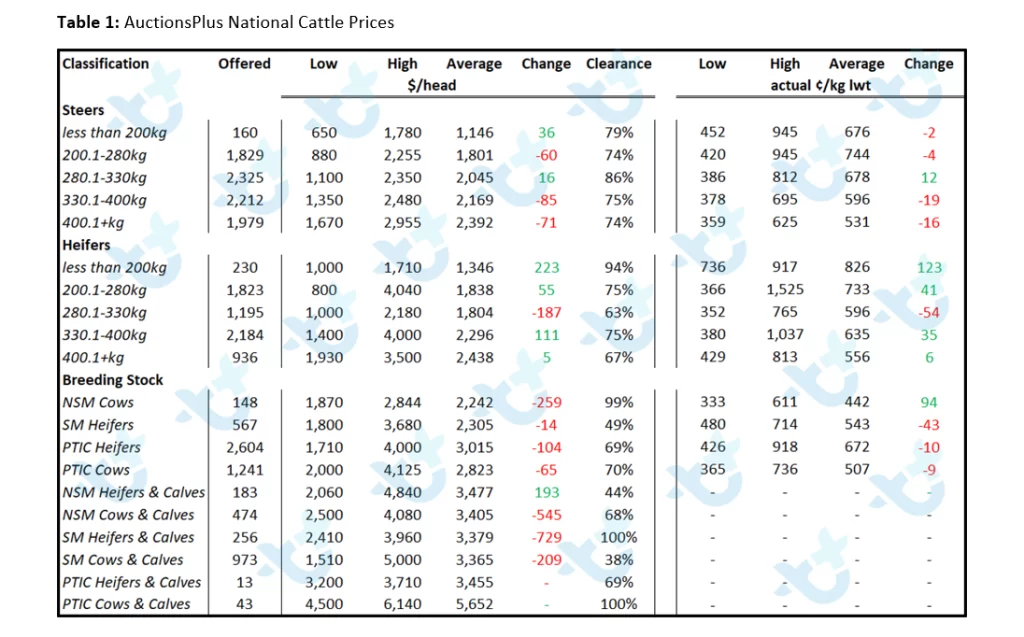 Source: AuctionsPlus