NUMBERS offered jumped to 10,171 head in AuctionsPlus this week, a sharp 46pc rise from the previous seven days. Listing was again dominated by the weaner and yearling sale with 7400 head offered.
Yearling heifers prices eased this week to average 233c/kg.
Outstanding clearance rates of 83pc were seen on Queensland weaner steers this week, with Tasmania also recording 100% clearance of weaner & yearling heifers and an overall clearance of 87pc.
Cow and calf units were dominated by listings out of NSW and VIC this week with 1866 head offered. The average price of  $1208/unit was up $30 on last week. The top price this week went to a line of Speckle Park cross cows out of Yass, NSW, which brought $1690, while a smaller line of Angus cross heifers out of Piallaway, NSW made $1620.
Further value of cow and calf units was seen with a small lot of Angus/Herefords, 6-10 years old, out of Deepwater, NSW which sold for $880.
The lighter end of steers on offer had plenty of value this week, with 2162 head offered. Weaner steers averaged 288c/kg live, with a top price of $570 or 302c on-farm for a large line of 115 Angus steers out of Holbrook, NSW averaging 189kg. Their lighter brothers also achieved top dollar with these 149kg steers receiving $410 or 276c on-farm.
Two lines of Angus/Hereford steers totalling 125 head, 13-14 months averaging 351kg out of Walcha, NSW, were sold for $1125 or 321c. Another notable line of Angus cross steers 302kg at 18-24 months from Cecil Plains, QLD, brought $700 or 232c.
Unjoined heifers saw 1363 head catalogued this week. Prices of weaner heifers strengthened averaging 247c/kg, while yearling heifers prices eased to average 233c/kg. Top price was received by a line of 10 Angus yearling heifers from Plenty, TAS which returned $1220 or 295c.
Another line of Hereford feeder heifers 354kg at 16-18 months of age out of Benalla, VIC, sold for $700 or 198c.
Among larger lines, 121 Angus weaned steers, 10-12 mths, 285kg from Muckadilla QLD made $880, and their lighter brothers 254kg made $790; from Deepwater NSW, 105 Angus yearling heifers, EU, 11-12 mths, 216kg, made 239c/$515; from Muswellbrook NSW, 107 Angus backgrounder steers, 12-13 mths, 223kg made 305c/$680; 124 Red Angus x Hereford backgrounder steers, EU, 12-14 mths, 290kg, from Wagga Wagga NSW made 278c/$805; and 108 Santa mixed sex yearlings, EU, 10-16 mths, 226kg from Hawker SA made 217c/$490.
In a breakdown of young cattle sold this week, by weightrange:
Steers less than 250kg sold from 234c to 330c to average 286c; while heifers sold from 190-275c to average 234c
Steers 250-300kg sold from 237-317c to average 291c; while heifers sold from 222-283c to average 251c
Steers 300-350kg sold from 181-232c to average 206c; while heifers sold from 233-250c to average 244c
Steers +350kg sold for 321c; while heifers sold from 142-295c to average 227c
Steer Highlights
10 to 13 month old, 227kg, Angus steers from BUNDARRA, NSW sold for 330c/$750
13 to 14 month old, 351kg, Angus/Hereford steers from WALCHA, NSW sold for 321c/$1125
10 to 12 month old, 289kg, Angus steers from INVERELL, NSW sold for 318c/$917.6
10 to 12 month old, 254kg, Angus steers from MUCKADILLA, QLD sold for 311c/$790
10 to 12 month old, 285kg, Angus steers from MUCKADILLA, QLD sold for 309c/$880
14 to 16 month old, 343kg, Braford/Friesian steers from NORTHCLIFFE, WA sold for 181c/$620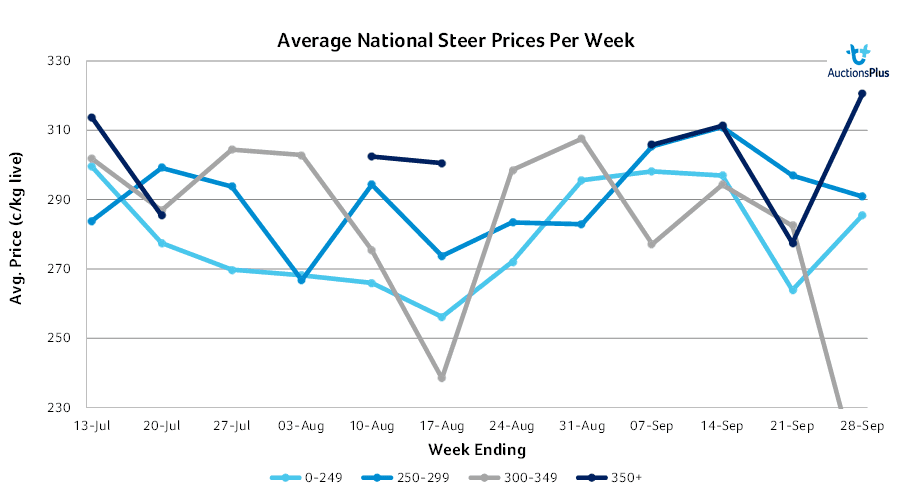 Heifer Highlights
9 to 10 month old, 242kg, Angus heifers from COONABARABRAN, NSW sold for 275c/$665
12 to 13 month old, 314kg, Angus heifers from DORRIGO, NSW sold for 250c/$785
13 to 15 month old, 268kg, Angus heifers from GOONDIWINDI, QLD sold for 258c/$690
13 to 15 month old, 304kg, Angus heifers from GOONDIWINDI, QLD sold for 234c/$710
16 to 18 month old, 394kg, Angus/Hereford heifers from BENALLA, VIC sold for 240c/$945
16 to 18 month old, 354kg, Hereford heifers from BENALLA, VIC sold for 198c/$700
13 to 14 month old, 414kg, Angus heifers from PLENTY, TAS sold for 295c/$1220
11 to 12 month old, 297kg, Angus heifers from AVOCA, TAS sold for 283c/$840