The AuctionsPlus commercial cattle offering lifted to two-year highs on Friday, when 24,993 head were catalogued.
While overall market sentiment remains robust, the surge in supply and patchy clearance rates, especially through the joined lines, tells a far more interesting story than just the average final prices.
The 'seasonal standoff' between vendors' expectations and buyers' willingness appears to have spread from the lamb market to several of the cattle categories this week, assisted by the larger offerings, with clearance rates falling.
Given the recent run of warm March days and patchy rain, there has been some reports of seasonal concerns rising, with mutterings of "we could do with a good drop" being heard through some inland parts of the eastern states.
The star performer for the week through the steer categories were the heavy lines, with plenty of competition for feeder-weight steers. Steers 400kg+ were 34c/kg higher on last week, at 580c/kg lwt, with a competitive 80pc clearance for the 1849 head offered.
Among them were 39 Angus feeder steers from Taralga, NSW Southern Tablelands, averaging 446kg, which sold for 582.8c, equating to $2600/head.
For the lighter steer categories, some mixed clearance rates were seen as offerings increased.
A very large increase in 330-400kg steers, at 3240 head, sold to only a 43pc clearance rate, with plenty of post-auction negotiations expected. Despite the large numbers, prices averaged up 9c to 617c.
In contrast, 280-330kg steers finished the week 9c lower at 689c, with an 83pc clearance for the 2,765 head offered.
Light, young cattle continue to be hard to wrest from cow-calf producers grip, with the large offering of 2572 head registering a 58pc clearance at the end of the auction. Given the 'high bar' being set by vendors for suitable lines, 200-280kg steers finished the week 28c/kg dearer at 734c. Among them were 76 weaned Angus steers from Penola, Southeast SA, averaging 255kg at 7-8 months, which sold for 815c/kg.
A run of 200 station-mated Brahman heifers 12-24 months averaging 252kg from Hayfield Station via Daly Waters NT made 534.2c/kg on Friday. A further 116 of their steer brothers 256kg made 547.7c/kg, while three mobs totalling 436 heavier feeder weight steers were either passed in, or received no bids.
The young and light heifer market matched the lower clearance rates and higher prices of the steer categories, with 200-280kg heifers finishing the week up 23c at 737c/kg – with a 50pc clearance for the 2138 head offered. 330-400kg lines averaged 28c/kg lower for the week, at 573c.
Breeding cattle
Despite inquiries and bids through the proven joined female categories this week, final clearance rates were subdued, with the 2998 PTIC heifers registering only a 45pc clearance at the end of the sale. Given the trend seen the past week, post-auctions negotiations may lift this rate considerably.
PTIC heifers finished the week averaging $284 lower, at $2919/head. Out of Yeppoon, Central Queensland, 44 Brahman/Santa PTIC heifers averaging 406kg, sold to $2220/head.
PTIC cow prices finished above PTIC heifer prices for the first time in many weeks, averaging $3003/head – down $83 on last week, with a 58pc clearance for the 1651 head offered.
From Ashford, Northeast NSW, 50 NSM heifers, with 50 CAF sold to $3920/unit. The Angus heifers, aged two years, averaged 396kg, with the CAF from Hazeldean bulls ranging from 2-12 weeks.
Out of Ironpot, Queensland, 35 SM cows with 35 CAF sold to $3000 head – with the Santa/composite cows averaging 519kg/head and ranging from 8-14 years of age.
Prices as at 2pm, Friday 25 March.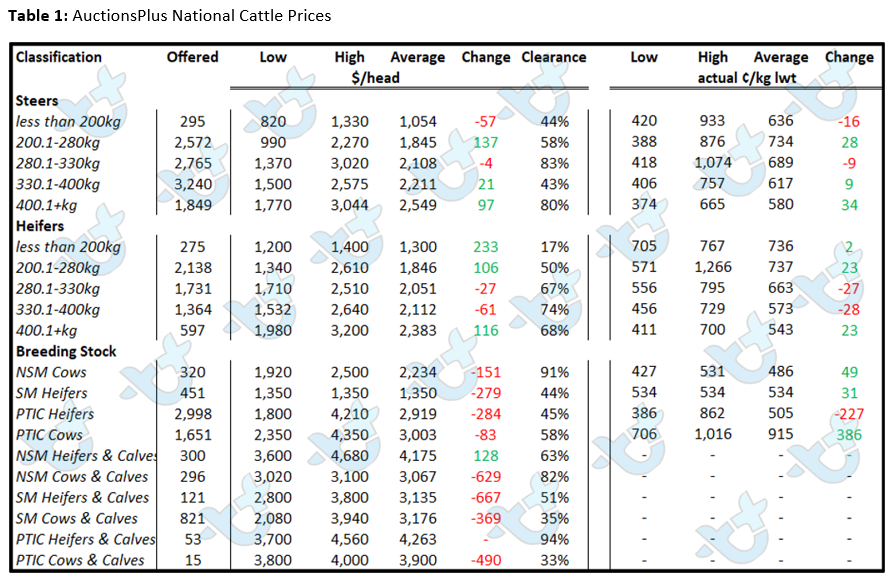 Source: AuctionsPlus