CATTLE numbers offered rose five percent to total 6321 head in sales on AuctionsPlus this week, with the majority of the offering again comprising young cattle coming out of droughted areas of New South Wales. Cattle out of Queensland remained in short supply, with just 863 head listed.
Price trends on young cattle, both steers and heifers, were mixed, with lighter steers trending  dearer, while lighter heifers were firm to softer.
This week's Weaner & Yearling sale saw a good clearance rate of 80pc among the 4948 head offered finding buyers.
PTIC heifers and cows were once more in short supply. Three lots of PTIC Angus cows, 3-7 years totalling 168 head from Carcoar, NSW hit a top of $910 and are all heading to Victoria.
Cow and calf numbers rose firmly to hit 1176 head and achieved a clearance of 85pc. A top price of $1780 went to a line of 22-26 month old Angus heifers and calves, from Gloucester, NSW, going to a local buyer.
Young Shorthorn cows & calves out of Cumnock, NSW, cows averaging 413kg topped at $1300, going to buyers at Narrabri.
Steers in the weaner & yearling sale averaged $743 or 296c live, while heifers averaged $629 or 254c. The top price of $1185 or 305c live went to a line of Charolais/Angus weaner steers from Woodhouse, VIC, averaging 388kg, which are making the 680km journey to Burra, SA.
The same buyer purchased a line of Charolais/Angus steers 310kg at 11-12 month of age from the same vendor for $910 or 294c live.
Other highlights include 112 Angus steers out of Walcha, NSW, averaging 278kg, hitting the market due to adverse seasonal conditions, which made $940 or 356c live.
A line of 54 weaned Angus steers 5-6 months averaging 160kg from Gundagai, NSW went for $520 or 323c live, finding a buyer near Adelong, NSW.
Speckle Park heifers from Cooma, NSW sold for $855 or 338c live. These heifers averaged 266kg and are making the trip down to Alcomie, TAS.
In a breakdown of young cattle sold this week, by weight range:
Steers less than 250kg sold from 247c to 323c to average 298c; while heifers sold from 199-290c to average 251c
Steers250-300kg sold from 249-356c to average 305c; while heifers sold from 182-338c to average 250c
Steers 300-350kg sold from 208-307c to average 277c; while heifers sold from 255-299c to average 281c
Steers +350kg sold for 306c, while heifers sold for 305c
Steer Highlights
10 to 12 month old, 263kg, Angus steers from WALCHA, NSW sold for 357c/$940
12 to 13 month old, 332kg, Charolais X steers from ARMIDALE, NSW sold for 280c/$930
10 to 11 month old, 249kg, Hereford steers from SURAT, QLD sold for 275c/$685
12 to 14 month old, 248kg, Shorthorn steers from THEODORE, QLD sold for 252c/$625
10 to 11 month old, 212kg, Angus steers from WALWA, VIC sold for 324c/$685
11 to 12 month old, 387kg, Charolais/Angus steers from WOODHOUSE, VIC sold for 306c/$1185
8 to 10 month old, 280kg, Angus steers from GERANIUM, SA sold for 314c/$881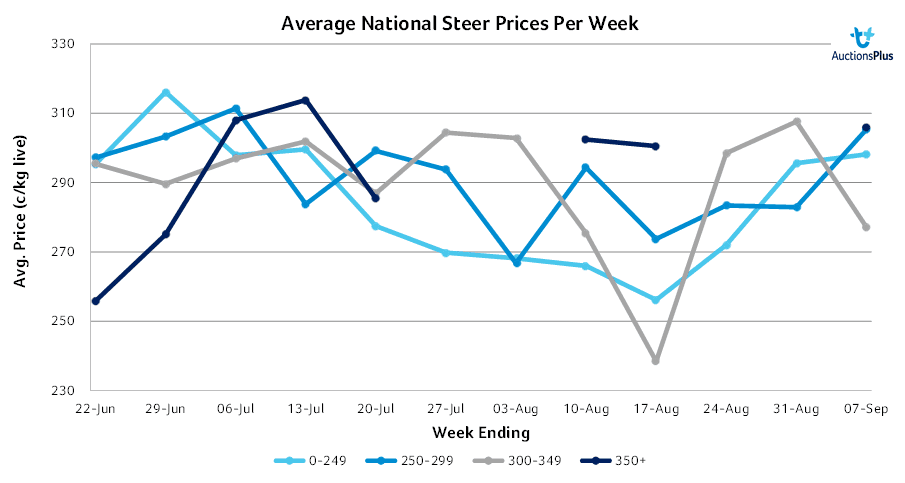 Heifer Highlights
11 to 12 month old, 253kg, Speckle Park heifers from COOMA, NSW sold for 338c/$855
12 to 13 month old, 347kg, Angus heifers from TENTERFIELD, NSW sold for 290c/$1005
10 to 12 month old, 271kg, Hereford heifers from SURAT, QLD sold for 264c/$715
10 to 12 month old, 280kg, Angus/Droughtmaster heifers from NOBBY, QLD sold for 234c/$655
11 to 12 month old, 370kg, Charolais/Angus heifers from WOODHOUSE, VIC sold for 306c/$1130
11 to 12 month old, 338kg, Charolais/Angus heifers from WOODHOUSE, VIC sold for 299c/$1010
8 to 10 month old, 272kg, Angus heifers from GERANIUM, SA sold for 262c/$712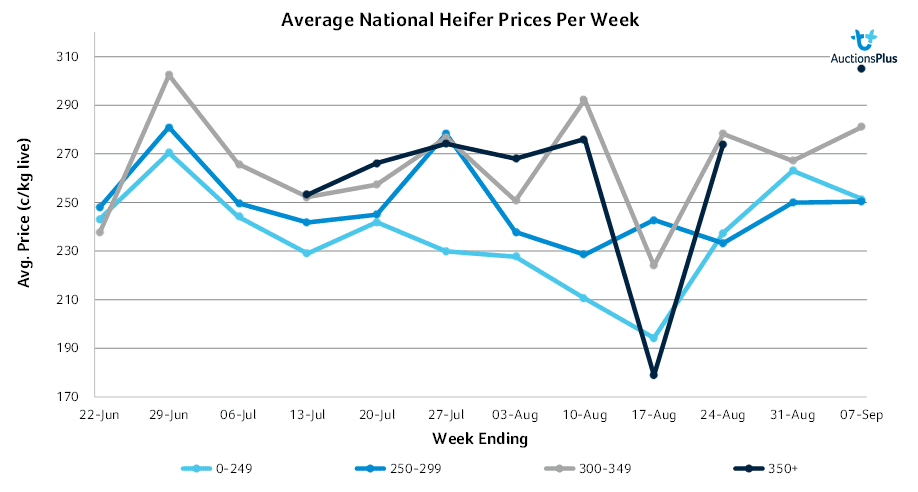 Source: AuctionsPlus