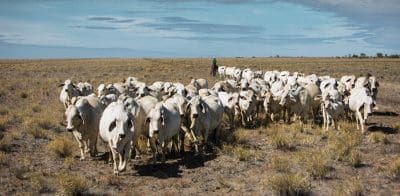 WITH cattle prices continuing to reach record highs, buyers from New South Wales have been heading a long way north to source stock.
This week the benchmark Eastern Young Cattle Indicator continued its upward trajectory finishing yesterday at 1072.94 cents-per-kilo-carcass weight.
While feeders made up most of the sales used to calculate the EYCI, the restockers were still present and paying premiums at the yards.
For that reason, McCulloch Agencies managing director Daniel McCulloch, from Tamworth, said he had buyers heading as far north as Charters Towers.
"It's been a massive season in NSW and cattle are only becoming harder to secure down here – so people are willing to travel further afield and pay a bit more freight," Mr McCulloch said.
"They traditionally wouldn't purchase the Brahman cross cattle from up there, but there is definitely a trading opportunity."
While the cheaper cattle have been a motivator to head north, one agent in north-eastern NSW told Beef Central stock he tried to purchase in Queensland were still too expensive.
Mr McCulloch said a lot of Northern NSW and the New England was still understocked, due to the high prices of restocker cattle in the area.
"It's very expensive to get back into cattle, so instead of buying a $4,000 cow and calf you could buy three-or-four weaners for the same money," he said.
"If cattle were more affordable, there would be a lot more cattle here. But with the low supply and high demand I can't see them becoming cheaper into the future."
Freight costs stacking up
The demand from NSW and booming cattle market has been a relief for many parts of western Qld which are still officially drought declared.
Winton-based agent, Jack Brodie, from Brodie Agencies had been selling a lot of stock south for the past two years. He said aside from a small dip in the middle of the year, the demand was still strong.
"There's still a little bit of a resistance to the Bos Indicus because the NSW buyers don't have quite as many options out the other end," Mr Brodie said.
"I haven't sold a great deal of feeder weight cattle or fat cattle because a lot of clients are offloading weaners straight off the cow, mainly because they don't have enough feed."
Mr Brodie said despite cattle travelling thousands-of-kilometres at times, freight costs were not prohibiting buyers.
"Freight was a bit of an issue straight after the drought because the NSW producers had de-stocked so much and they weren't used to such a large freight bill," he said.
"But freight has not gone up too much in recent years and buyers are becoming used to paying it. They've worked out it's not a big component in the grand scheme of things.
"Most times cattle are being delivered back to the farm gate at the same price or cheaper."
Some small and scattered storms have started in north, and the Bureau of Meteorology has given a positive outlook for the wet season.
Mr Brodie said herd numbers were down in the area and it would take some time to build up again if it continued to rain.
"A lot of people in the area have their core herd of young breeders, they don't have any empty cows and we've sold most of this year's weaners," he said.
"It will be interesting to see what they do with next year's weaners if it rains."